CU Times provides analysis of St. Petersburg, Florida-based payments credit union service organization PSCU's recent data release that shows continued growth of debit card transactions.
This trend started when the pandemic began as consumers concerned about their long term financial picture pulled back on credit spending and state and Federal benefits were deposited to their checking account where they could be spend on essentials with their debit card.
Armed with $600 checks from the federal government, credit union members in the PSCU network spent 25% more through their debit cards in the week ending Jan. 17 than they did in the third week of 2020.

The increase in debit card spend was in line with the four-week average gain of 25.1%, and the 4% gain in credit card spending matched the four-week average gain of 4%.

Consumers have continued to show strong adoption of digital payments, including contactless, mobile wallets and card-not-present alternatives, while using less cash. For the most recent week, the number of cash withdrawals was down 13%, in line with the four-week average drop of 13.4%.
The article provides this regional outlook of both debit and credit card spend, significant differences in payment type use: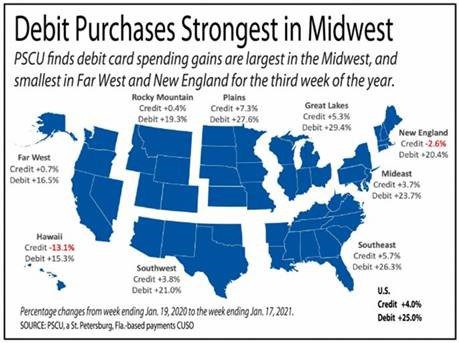 Mastercard and Visa both will be providing their quarterly financial disclosures this week, including details on card transactions for fourth quarter. This will provide a full picture for the calendar year and a basis for a forecast for 2021. The wildcard will be the impact of another round of stimulus funds which looks likely, but the amount and to whom it's directed will play a big role too.