Check use is in decline, particularly with consumer payments.  We know this, as it has been well documented. An article in PaymentsSource provides a more detailed analysis based on data released with the Federal Reserve's most recent payment study.  This can guide where to focus attention when looking to replace checks with a more efficient electronic transaction.  Here's one example of the analysis: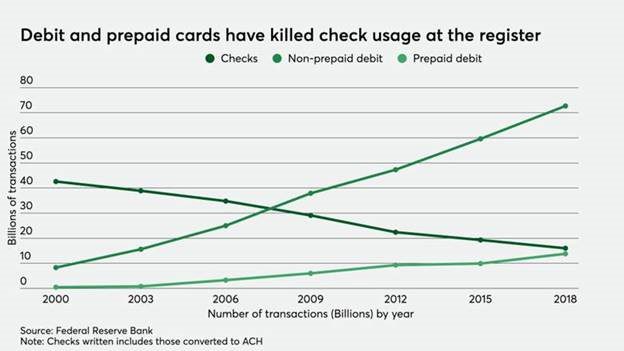 The biggest threats to the long-term viability of paper checks have been a combination of the attractiveness of debit and prepaid cards in-stores and the shift in consumer shopping habits to e-commerce.

Transactional interchange has always been a lucrative driver for banks to promote debit card usage among consumers, even after a rate cap imposed by the Durbin amendment took effect in 2011. Debit card usage has grown from 8.3 billion transactions in 2000 to 72.7 billion transactions in 2018, according to the Federal Reserve. Similarly, prepaid cards have gone from just 500 million transactions in 2000 to 13.8 billion transactions in 2018 — almost matching the number of check transactions.

Since e-commerce largely precludes cash and checks, it's been the realm of payment cards including debit and card. In the fourth quarter of 2019, e-commerce accounted for 11.4% of total retail sales according to the U.S. Department of Commerce. E-commerce sales grew 16.7% in the fourth quarter of 2019 compared to total overall retail sales growth of just 3.8% for the quarter in comparison to the same quarter in 2018.
Overview by Sarah Grotta, Director, Debit and Alternative Products Advisory Service at Mercator Advisory Group