No one could have predicted what 2020 would bring. That sentiment rings true across nearly every aspect of our lives, and the way consumers pay is no exception. Now well into 2021, changes in behavior offer insight into the evolution of digital payment trends since the pandemic began.
American Express periodically releases Amex Trendex, a trend report covering a slew of financial services topics. Its recently released Amex Trendex: 2021 Digital Payments Edition offers new data highlighting the trending topics in digital payments. Two of the trends addressed in the report are Buy Now, Pay Later (BNPL) and peer-to-peer (P2P) payments.
Now trending: Buy Now, Pay Later
Buy Now, Pay Later is one of the hottest digital payment trends in the industry. BNPL is a short-term lending option that enables consumers to make purchases without paying the entire cost upfront. Instead, they pay off the balance off in interest-free installments over a set period of time. The perk of these payments being interest-free generally only applies if customers make all their payments on time. Missing or being late on payments can result in customers acquiring interest or late fees for the purchase.
According to the Amex Trendex survey, two in five (39%) of consumers have used a BNPL option in the past year. Popular BNPL options like Afterpay, Sezzle, Affirm, and Klarna have made it possible for consumers to bring home those big-ticket items with the flexibility of not having to worry about the total cost on day one. Consumers are slightly more likely to use BNPL when making a purchase online than at a brick-and-mortar location.
"If you ever tried a BNPL loan, you'd find that the process works well for consumers and merchants. BNPL does not trump credit cards for convenience and long-term planning, but high consumer take-up indicates that this payment function is a preferred option for many consumers," wrote Brian Riley, Mercator Advisory Group's Director of Credit Advisory Service, in a recent PaymentsJournal article on the BNPL frenzy.
Merchants are increasingly recognizing the value that BNPL brings to the table. At the time of the Amex Trendex survey, 14% of merchants reported currently offering a BNPL option. However, another 19% plan to adopt it in the next 12 months and an additional 28% are considering adopting it. Over half of merchants offering or considering offering BNPL see it as a way to attract new customers, increase their overall sales, and provide customers with flexible payment options.
But some merchants aren't convinced that it's the right move. 39% of surveyed merchants say they will not adopt BNPL, with 67% of those naysayers saying they don't want to encourage consumer debt. High merchant fees, difficult qualification processes, and unfamiliarity with the service are among other reasons merchants are choosing not to offer BNPL.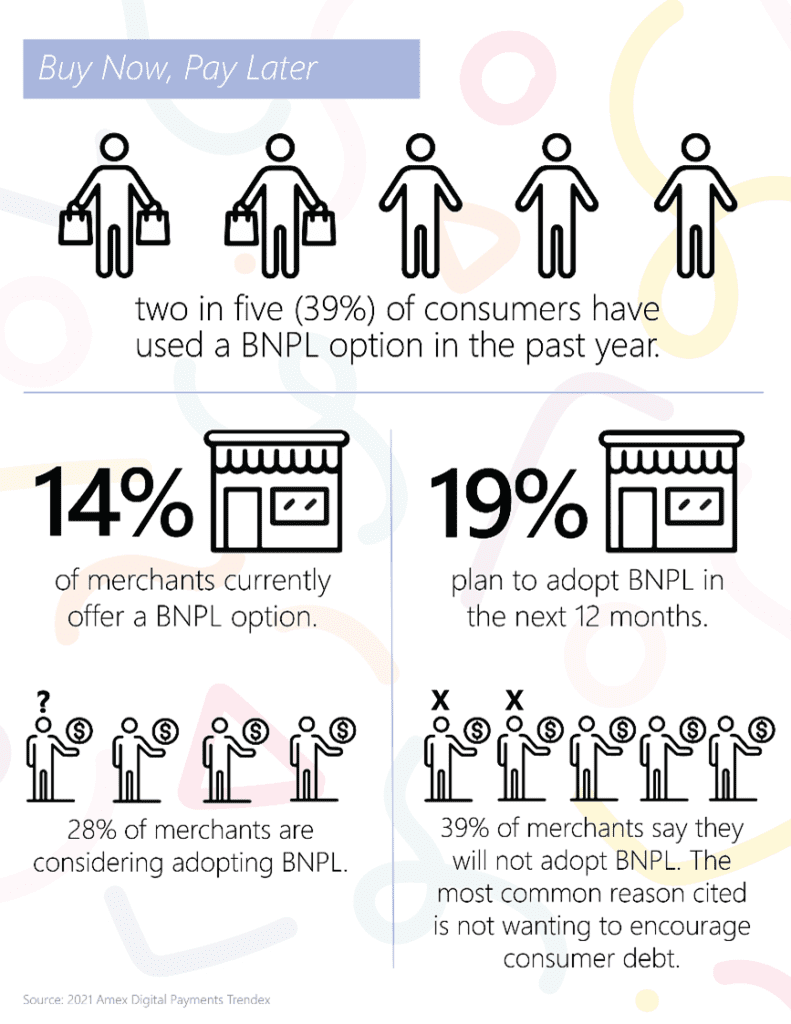 Despite some merchants' hesitation, the BNPL space shows no signs of slowing down. "In a few weeks, the global payments industry saw Affirm's stock catapult with the recent Amazon alignment, Paypal entered the Australian market—the ground zero for BNPL—and Square acquired Afterpay. These actions all follow BNPL developments by Mastercard, Visa, and a wide array of others," continued Riley.
Now trending: Peer-to-peer payments
P2P payments have also seen continued usage amid the pandemic. Consumers are opting to use popular peer-to-peer services such as Cash App, PayPal, Venmo, and Zelle in large part due to their convenience and flexibility. In fact, 73% of consumers surveyed for Amex Trendex cited convenience as the top reason they choose to pay using P2P services.
Of course, that's not the only reason consumers choose P2P payments. Over half of consumers cite the speed of the money transfer (54%) and one in three (30%) cite the flexibility of being able to choose where the money is being withdrawn from as top reasons for using P2P payments. 29% of consumers attribute their use of P2P services to the fact that their friends and/or family also use it, compounding its popularity among social circles.
There are several use cases for P2P payments. For example, almost half of consumers (46%) use P2P payments to send money to a family member or friend. Others use them to split a check or leave a tip in a restaurant and pay bills or rent. COVID-19 also influenced how consumers are using P2P.
"The pandemic created more and new scenarios where paying another person quickly, if not instantly, creates real convenience for senders and recipients. Splitting the cost of a pizza was replaced with paying someone back for doing grocery shopping or sending money to help an individual facing financial hardship. Not only are more P2P transactions occurring, there are now more users which begets more opportunities," Sarah Grotta, Director of Debit & Alternative Products Advisory Service at Mercator Advisory Group, explained in a PaymentsJournal article.
Like BNPL, many merchants recognize the value of offering P2P payment types. In fact, most merchants (71%) offer PayPal as a payment method, and over half (56%) offer other options like Venmo or Zelle.
While not as popular as frontrunners like PayPal, 30% of surveyed customers have used P2P payment features on a social media platform. In this category, Facebook Pay is the most popular. Unsurprisingly, Millennials are paving the way for Facebook Pay adoption; 39% of Millennials reported using Facebook Pay, compared to just 21% of Gen Z and 19% of Gen X. Compared to PayPal, however, merchant adoption of Facebook Pay has been tepid. Just 26% of merchants allow payments via social media, but 18% plan to adopt them in the next year.
Conclusion
These insights from the Amex Trendex – Digital Payments Edition offer a unique look into multiple major digital payment trends from 2020. While BNPL and P2P were major topics of interest, the report also covers how the COVID-triggered migration to e-commerce led to online fraud attacks and consumers' increasing comfort with card-on-file.
Understanding consumer adoption of digital payment types and what those types of payments are being used for is valuable for merchants. Data insights like these enable merchants to get an inside look at the behavior of both consumers and other merchants, allowing them to fine-tune their digital payments focal points moving forward.