Extra, extra read all about it: Real-Time Payments have officially arrived!
Payments industry professionals are experiencing a rapid and global shift toward payments modernization, with significant advancements in the creation of robust, real-time, front-end interfaces. However, the back office often falls to the wayside.
In the upcoming webinar – How to Transform Your Payments Back Office with Concourse – BHMI's Casey Scheer, Director of Marketing, and Cheryl Fitzgarrald, Senior Project Manager, will discuss some of the consequences of a batch‑focused back office and how the Concourse Financial Software Suite® addresses this real‑time, back office challenge.
The evolution of electronic payments
In 1950, Diner's Club made waves by introducing the first general purpose charge card. Soon after, companies such as American Express and Carte Blanche entered the market. Eight years later, Bank of America introduced the concept of revolving credit, which led to the credit card that we know today. Bank issued debit cards took hold in the 1970's and grew in use dramatically over the next 40 years.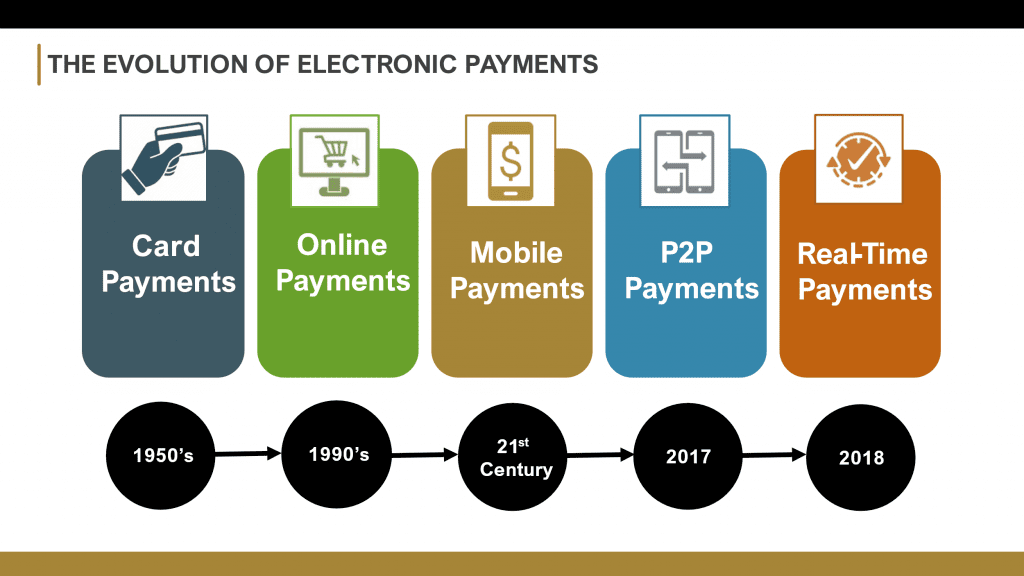 It wasn't until the 1990s, however, with the use of the internet gaining popularity in the average household, that online payments were introduced. Stanford Federal Credit Union was the first financial institution (FI) to offer online payments to all of its members. A few years later in 1997, Coca-Cola made history by enabling a certain number of vending machines with mobile payment technology. The customer would send a text to the vending machine to authorize the payment, and once the transaction was approved the machine would dispense the product.
Peer-to-peer (P2P) payments originated in the 2000s with PayPal, and by 2017, 57% of American adults reported using a P2P service. After the 2020 pandemic accelerated digitization of the payments marketplace, it seems these merchants' prediction may come to fruition sooner than expected.
Challenges for companies
The back office does the heavy lifting for an organization's payments process, but its importance is often overlooked. Because of this, many companies continue to rely on legacy back-office systems that are decades old and not equipped to support the requirements for faster payments.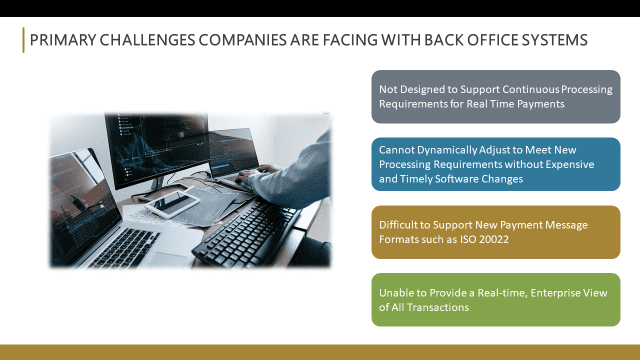 The biggest challenge companies are facing is how to get the older, batch-focused back office of payments processing to keep up with a real-time front end. The typical legacy back-office system creates batches of funds, transfers transactions, and processes them to settlement throughout the day. No matter how many transactions are processed, they are not being settled in real time.
Additionally, older back-office systems have difficulty supporting new payment message formats such as ISO 20022, and they are unable to provide a real-time, enterprise view of all transactions.
With the goal of transferring funds from the originator to a recipient within a matter of seconds, RTP networks require up-to-date processors in order to successfully complete these transactions.
Concourse Financial Software Suite
BHMI's Concourse Financial Software Suite® is designed to remove the batch focus from back-office processing so that it more closely resembles the front end. Additionally, the software provides the following upgrades:
Designed to support continuous processing requirements for faster payments
Dynamically adjusts to meet new processing requirements without expense and time of software changes
Supports new payment types and message formats such as ISO 20022
Provides real-time, enterprise view of all transactions and financial positions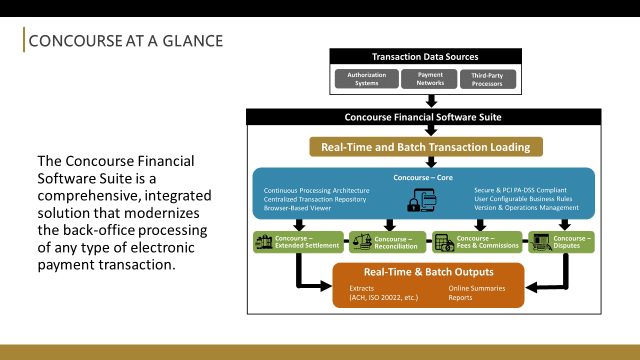 Concourse can process any transaction, regardless of transaction type and where it originated. Results and reports for users will be available nearly instantaneously, mere seconds after the transaction reaches the back office. The software will accept the transactions and put them in a repository, and then process them in near real time, with no transaction batching taking place before the occurrence of the final payment.
Interested in learning more about the Concourse Financial Suite Software? The webinar will take place Thursday, June 10th at 2 p.m. EST. Click here to RSVP.