If you have read any of my earlier posts regarding post-COVID prognostications, you will know I'm not a huge fan. There are still far too many unknowns for anyone to say what the future will look like. Modern times have not experienced an economy where consumers have been stuck indoors and many businesses have effectively shut down. With no historical precedent, it's hard to know whether consumer behavior will change or return to pre-pandemic ways.
That said, it is still worth listening to what some people have predicted. As they say, even a broken clock is right twice a day.
It is with this somewhat jaundiced eye I read a recent article in Retail Dive. The article, A look into the future: How COVID-19 changed payments takes a shot at predicting what the payments landscape will look like in the year 2022.
The basic premise of the article is that in 2022 more consumers will be shopping cross-border.
In 2020, COVID-19 drove consumers to look outside their immediate geography for goods and services. Major drivers of this included price point, quality of products, and availability due to global supply chain challenges. The opportunity for merchants to sell across their borders became even greater and acted as a solution to bridge revenue gaps and increase reach to an entirely new, global audience. Now, in 2022, most large and medium-sized retailers are selling across-borders.
With the move to cross-border shopping they posit that companies will need to accommodate the payment methods that consumers are used to while shopping. As an example, an e-commerce retailer based in Canada will need to accept GrabPay payments from shoppers in Singapore.
While I'm not necessarily sure there will be a big surge in cross-border e-commerce as a result of the pandemic, I do see the logic in accepting payment schemes that people want to use. Soon to be published insights from the Mercator Buyer PaymentsInsights Study shows that the choice of payment method in the U.S. is among the top three attributes consumers want when shopping both offline and online.
The graph below shows our most recent data from the Mercator Buyer PaymentsInsights Study on the frequency with which American consumers shop at cross-border e-commerce retailers. Currently, the frequency of shopping outside of the country among U.S. consumers is relatively low. That said, I know that these numbers are much higher for consumers in other countries where the e-commerce offerings may not be as strong as they are in the U.S.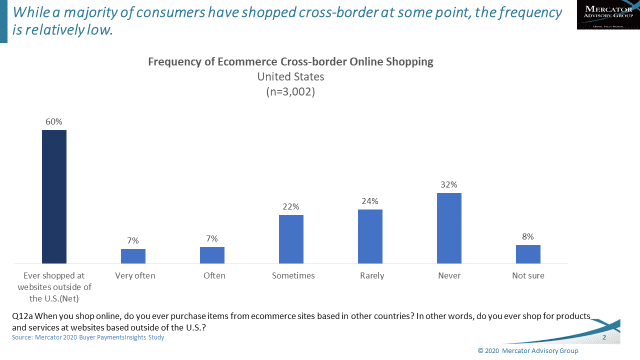 The operative question here is; will cross-border e-commerce grow significantly in the next two years to warrant adding more payment options to the already crowded checkout page? Further, it has been my experience that changes to the checkout page are something most retailers do not like to do.
In summary, I guess I'd say that the predictions for 2022 may be a little premature. That doesn't mean that we shouldn't keep a keen eye on the cross-border trend as the global economy starts to recover.
P.S. Will we get to a time where checkout pages have more logos on them than a car in a NASCAR race?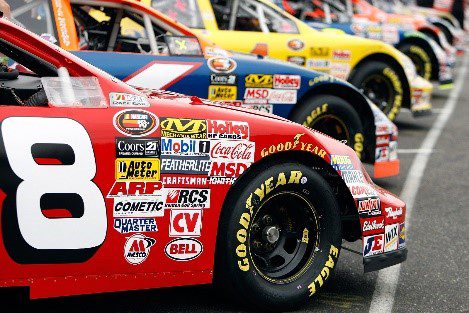 Overview by Peter Reville, Director, Primary Research Services at Mercator Advisory Group