As debit card usage continues to grow among all consumers, the industry is taking note especially of Gen Z consumers—among the top demographics with a preference for debit. In fact, roughly half of Gen Z consumers, who now comprise one-fourth of the U.S. population, rely on debit for grocery store purchases, while more than 40% use debit for everyday transactions at gas stations and small businesses.1 This segment of the population is gaining particular attention as those in the demographic slide increasingly into the workforce and become a dominant customer base.
Debit's status among top-of-wallet choices, together with credit, doesn't stop there. Debit cards have increasingly become a preferred method of payment for many U.S. consumers, both for purchases made at brick-and-mortar stores and for online transactions. Indeed, 55% of consumers used debit significantly or somewhat more than they did a year earlier, according to a recent study conducted by Mercator Advisory Group for Discover® Global Network.1
"The trend makes sense that consumers self-direct their spending methods," the Mercator study noted. "Debit cards fill the need for everyday spending."1
Digital payments are driving much of the growth
Among the several reasons for the rise of debit is its prevalence in digital payment adoption in various ways. A vast majority (91% of millennials and 90% of Gen Z) are using some type of digital payment, the survey showed, with a decided preference for debit in digital channels.2
Forty-six percent of shoppers between the age of 20 and 24, and 44% of those 18-19 years old, said they are more likely to use debit in digital channels compared with other payment types. That compared with 35% or less for older age groups.1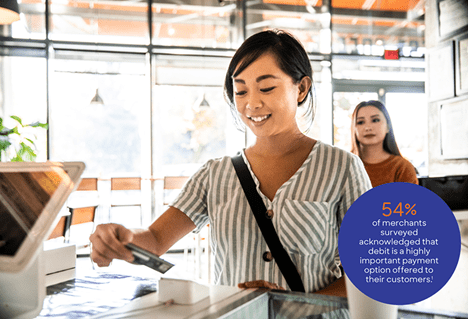 The use of digital wallets is also giving rise to the popularity of debit. Overall, according to Mercator Advisory Group, 66% of consumers have debit cards as the default payment type in their preferred digital wallet.1
This preference comes at the same time that the use of digital wallets generally is growing. "Because one in five customers prefer to use their debit card and credit card by storing it in a digital wallet like Apple Pay, Google Pay, or Samsung Pay, merchants should be sure that their customer-facing PIN pad or payments terminal is enabled with contactless, near field communication (NFC) technology, also known as tap and pay," the study noted.3
Merchants are responding with acceptance and new technology
Ninety-five percent of merchants surveyed said they accept debit cards today and that they are aware of the need to provide support for consumers that prefer to pay with debit.3 In fact, 54% of merchants surveyed acknowledged that debit is a highly important payment option offered to their customers, while 46% noted that it is the most popular payment method chosen.1
Meanwhile, merchants looking to meet the expectations of younger consumers need to make sure they enable debit acceptance for e-commerce transactions, as Gen Z consumers expect to be able to make almost any purchase with a debit card. Merchants that accept a broad range of debit options, including cards and digital wallets, will be well-positioned to earn Gen Z loyalty.
Accepting more forms of debit also benefits merchants as it lowers some of the business costs associated with handling cash and check payments. Debit transactions also create less friction for merchants than handling cash or checks.
Further, debit cards also carry the added benefit of strong fraud protection, a top concern of merchants, the study noted. In fact, the Mercator study noted that fraud prevention is a key factor merchants consider for offering a new payment type.3
Consumers enjoy the convenience of debit card transactions
This rise in preference for debit, clearly accelerated by the pandemic, is part of the trend that saw more people making purchases with a payment card rather than cash as consumers chose debit for purchases under $100, including for everyday items such as groceries and fuel. A full 49% of consumers attributed their increased use of their debit card to the COVID-19 pandemic.1
Especially at businesses where the average transaction falls between $25 and $100, consumers expect to be able to pay with a debit card and will go elsewhere if debit is not an option, the survey showed. Debit cards are also often preferred in the rapidly growing market for subscription services.1
This comes as consumers are also looking for more efficiency and convenience when getting cash. As a result, rather than searching for a bank or an ATM when they need cash, 57% of consumers choose to get cash back either sometimes or often with their debit card at stores where they regularly shop.
The growth of debit is here and is expected to continue
Overall, the recent Mercator study concluded that debit cards are the payment of choice for a growing number of consumers and that this habit will persist. Debit is the preferred choice in nearly every consumer demographic. Going forward, 43% of consumers expect to use debit for everyday purchases—more than any other single payment type.1
With 66% of merchants selling both online and in-store, it's increasingly clear that those accepting debit in all its forms, including in digital wallets and for e-commerce transactions, are well-positioned to capture repeat business from Gen Z and millennials, especially as their purchasing power grows.1
---
1 Mercator Advisory Group, Debit Consumer Trends Study, February 2022.
2 451 Research, part of S&P Global Market Intelligence, Key Findings: Global Fintech Vendor and Consumer Study commissioned by Discover Global Network, completed January 2021.
3 Mercator Advisory Group, January 2023. "Debit Trends Driving Commerce: 2022 Edition."