Podcast: Play in new window | Download
Last January, Equifax announced a definitive agreement to acquire Kount, a digital identity trust and fraud prevention solution provider. On February 11, 2021, another Equifax announcement declared that the acquisition was complete.
One year after the acquisition, Equifax has made noteworthy progress in combining the strengths of the two organizations to help businesses better engage with their customers online while combating fraud. With plans to move even deeper into the digital enablement space, Equifax is enabling businesses to thrive in a digital-first world with Kount, an Equifax company.
To learn about what's in store for the future of digital enablement, PaymentsJournal sat down with Brad Wiskirchen, SVP and GM of Kount, Mark Luber, Chief Product Officer at Equifax, and Tim Sloane, VP of Payments Innovation at Mercator Advisory Group.
PaymentsJournal
Digital Enablement Capabilities Enhance the Online Customer Journey
Bringing together physical and digital identity
With access to a larger pool of data than either organization had alone, following the acquisition of Kount, Equifax has the combined digital identity and physical identity signals to create a safe and seamless online experience.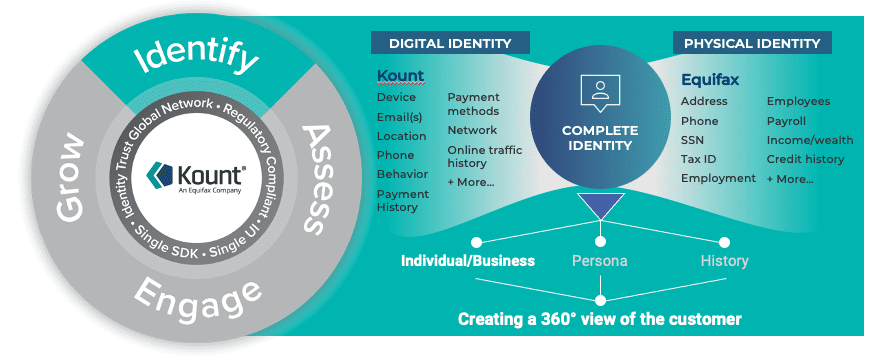 Luber used the example of an auto loan to define physical identity signals. "When you get your auto loan, you are typically in-person for at least certain parts of the [process]. There are a lot of checks that go on throughout that," he said. "For example, in-person buyers may provide a car dealership with paper proof of identification such as a payroll stub, utility bills, and a driver's license."
On the other hand, digital identity relies on an ongoing stream of data from online interactions. "This is confirming the identity on an ongoing basis. It creates ongoing impressions of [a] consumer's online behavior [and] creates ongoing confirmation of the identity associated with that person," Luber added.
When combined, digital and physical identity become even more powerful. "When you bring those together, you're really creating a great experience. Because of the confidence we bring to these identities, the experience of your online transactions can have much lower friction on an ongoing basis," explained Luber.
Lower friction = higher revenue
When a company has a high level of trust in a customer's identity, it can reduce the amount of friction needed in the customer experience. This translates to more money on the table for businesses. "The more friction you have, the less transactions you have. I always say… that 5% of CFOs have a fraud problem [but] 100% have a revenue problem. The more friction you introduce into any digital interaction, the more that revenue problem is exacerbated," said Wiskirchen.
This is where the value of combining Kount digital identity signals with Equifax physical identity signals becomes apparent. "To the degree that you can take these very unique data sets and reduce friction, you can simultaneously increase conversion rates, which increases top line revenue," he added.
Moving into the realm of digital enablement
Another significant aspect of the acquisition is that it has allowed Kount to shift its focus to digital enablement. According to Wiskirchen, this is "far more important to anybody engaged in digital commerce–not just retailers, but anybody engaging in selling insurance or literally any digital interaction."
As a digital enablement solution, Kount will be able to stop fraud without alienating customers by introducing too much friction. "It strikes me that the breadth of this solution presents an opportunity to go after new markets and perhaps even a couple of new products that are associated with particular use cases within the merchant environment," speculated Sloane.
Digging deeper into digital enablement capabilities
In every digital interaction, there are opportunities to evaluate who a customer is and then use that evaluation to streamline the customer experience. "In just one year following our acquisition by Equifax, we've created solutions which enable you as someone engaged in digital commerce to identify who [a customer] is very early on in your interaction," said Wiskirchen.
By the time that customer gets to the end of their buying experience, Kount has already addressed regulatory needs, such as conducting anti-money laundering (AML) and Know Your Customer (KYC) checks, in the background. This means that by the time the customer gets to that transaction point, merchants can focus on improving the customer experience with important data related to their identity. In Wiskirchen's words, this makes it "possible for [retailers] to make decisions about [the customer] in real time."
Reimagining the digital roadmap with Kount
With its acquisition of Kount, Equifax is now able to better support businesses' digital transformation journeys. "Every offering, every product, [and] every customer interaction needs to be digital-first as a result of the last couple of years. Even every legacy offline step or process or product either has or will be re-engineered to be digital-first. And that's really what Kount enables," said Luber.
Equifax is also focused on digital enablement and improving the customer experience. "What we are working on is leveraging digital identity and frictionless experiences…to make it easier to access and leverage a customer's credit to make the next best decision for that customer," he added.
For small and medium-sized businesses, satisfying consumers' digital-first expectations can be a challenge. Fortunately, Equifax, with the addition of Kount is prepared to support businesses of all sizes as they execute a digital strategy.
"We can bring data–and we talked about bringing that frictionless experience through data–to create great customer experiences in order to attract consumers and help those businesses grow," Wiskirchen concluded.