Podcast: Play in new window | Download
Over the last few years, mobile banking with financial institutions across the country has soared as consumers happily embrace the shift to digital. It is important for both banks and credits unions to continue to grow their accountholders' adoption of digital payment methods – specifically mobile check deposits – to not only drive greater end-user satisfaction, but also to address the massive shift to remote and digital transactions.
To learn more about mobile check deposits, best practices to drive greater accountholder adoption, and the challenges financial institutions face as they continue to search for ways to mitigate risk, PaymentsJournal sat down with Chuck Doherty, Director of Client Relations for Deposit Solutions from Fiserv, and Sarah Grotta, Director of Debit and Alternative Products Advisory Service at Mercator Advisory Group.
PaymentsJournal
Driving Accountholder Adoption of Mobile Check Deposits
Checks are still relevant
For 40 years people have been saying that checks would disappear – and yet they are still in use. Billions of checks were written last year in the U.S. alone, and although check use is steadily declining, checks still account for 7% of all consumer transactions.
Typically, check users write about three checks per month and the average dollar value of each check is about $300, versus the $87 average across other payment types. Checks are often used for household phone or cable bills, as well as payments for tradespeople such as plumbers or landscapers.
"Even if a consumer may use a digital interface [for bill pay]," noted Grotta, "on the back end, that actual payment may still go by check."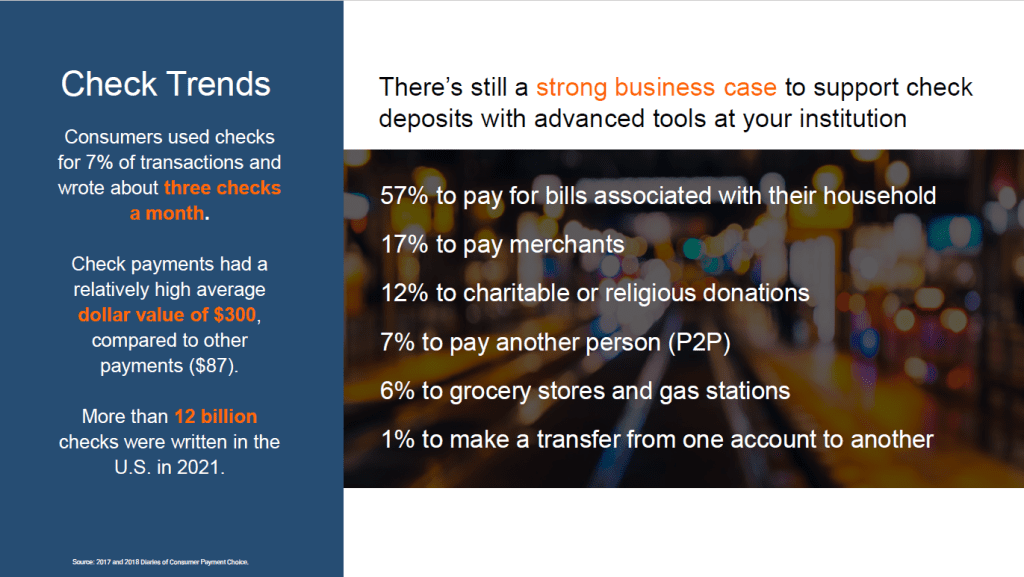 Businesses tend to write even more checks than consumers, in large part because many accounts payables systems are based on paper and those departments are comfortable with checks. Between consumer and business use cases, financial institutions must continue to address the traditional payment form of paper checks.
"Somebody once referred to payments as a superhighway," said Doherty. "You don't necessarily take away lanes… you add another lane, then another lane, as the traffic keeps increasing."
Moving towards digital deposits
Alternatives to depositing paper checks at a branch, such as electronic images and scanning, have been around for years, but financial institutions have been slow to drive customers toward adoption. That is changing as accountholders are asking for easy, quick, and convenient deposit transactions such as mobile deposit.
Mobile deposit is most prevalent among 18-24-year-olds. It seems the instinct among younger generations is to rid themselves of any physical funds as fast as possible.
It is not only Gen Z preferences that are shifting towards mobile deposit; the second largest group is ages 45-54, for whom 50% prefer mobile as the most frequent check deposit method. Even among ages 55-64, 32% use mobile deposit most often. Regardless of age, the COVID-19 pandemic caused people to start seeing the convenience of mobile deposit solutions.
"We used to talk a lot about the digital divide, where the young folks were digital and the rest of us were just kind of lagging behind," Grotta pointed out. "We're certainly seeing that change quite a lot. It's what I call the blurring of the digital divide."
Best practices for mobile deposits
Once upon a time, most bank customers and credit union members preferred to deal with their financial institutions one-on-one and in person, but all signs point in the opposite direction these days. Doherty recommended several ways financial institutions can match current consumer expectations: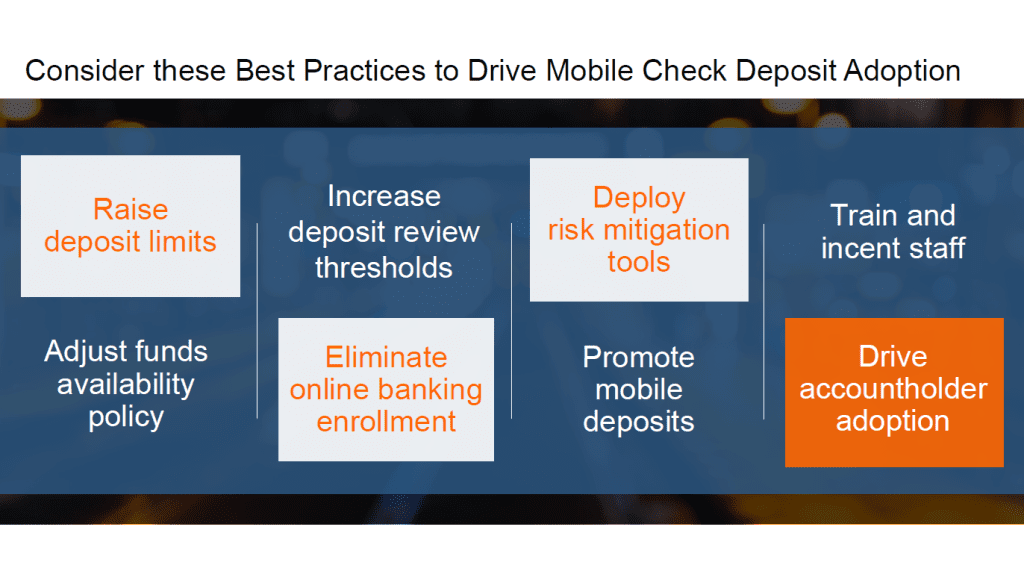 Raise the deposit limit – A higher dollar limit increases the likelihood that accountholders will use mobile deposit more often. And the opposite is also true – accountholders have indicated that low limits are a main reason they don't deposit this way.
Increase deposit review thresholds – Financial institutions may initially claim they want their staff to review every mobile deposit that they receive but will quickly realize it consumes too much time. Picking a comfortably high review threshold value and giving clear guidance to staff can make reviews much more efficient.
Deploy risk mitigation tools – This technology is key to assuage any charge-off fears that come with higher deposit values. Financial institutions should use tools to verify digital signatures, check for identity alterations and counterfeits, and monitor consumer or member behavioral patterns, deposit velocity, number of deposits, and more.
Adjust funds availability policy – Slower access to funds is one of the main reasons people avoid mobile deposits; if someone deposits a $5,000 check and only sees a $100 credit that day, they might be more likely to visit the branch in person, which may provide full same-day credit.
Eliminate online banking enrollment – Automatically enable mobile deposits through mobile apps for new customers or members, rather than adding an extra hurdle to the process.
Promote mobile deposits – Market the mobile deposit feature through promotions to encourage customers and members to use the mobile deposit channel, regularly.
Train and incent staff – Progressive banks and credit unions often have "Digital Ambassadors" who help customers or members figure out how to make mobile deposits, use mobile banking and more. Ensuring consumer-facing staff understand the value and benefits of mobile deposit turns them into advocates for the service.
Impactful for branches and financial institutions at large
Mobile check deposits can make a significant difference to banks and credit unions. "It really can lessen the burden on branches and allow the staff to focus on sales or on other things – what a lot of institutions call universal banking," Doherty explained.
In addition to driving greater deposit volume, increased mobile deposits can also reduce branch expenses. "There's been a lot of talk about the Great Resignation… a lot of banks and credit unions have experienced that," mentioned Doherty. "We're in a very tough period for hiring and retaining employees. This might be one way of addressing that, since having more deposits coming in digitally would reduce the need to have as many people in the branches."
Finally, mobile deposit solutions help banks and credit unions remain competitive. Moreover, these solutions align with broad digital transaction benchmarks that financial institutions might set. At the end of the day, the move towards digital depositing is all about enhancing the accountholder's experience and driving deposit growth at the financial institution.
"Bank and credit union customers and members want these products," concluded Doherty. "They want to be able to make mobile deposits, they want to make other digital deposits, because it just makes their lives so much easier."