At a high level, the bill payment ecosystem supports three main players: consumers, billers, and financial institutions. However, in order to support those three players, the industry has created a complex structure made up of multiple rails and paths that must be taken in order for a payment to go from point A to point B.
At every step along the way, consumers, billers, and financial institutions expect the bill payment ecosystem to meet their individual needs. But–with each passing year–those needs grow increasingly complex and the already overtaxed ecosystem struggles to keep pace.
At the end of the day, consumers want seamless and speedy experiences, billers are seeking price-savvy, fast settlements, and FIs are looking to enhance customer engagement in new products and services, as well as a higher volume of transactions. And the bill pay ecosystem is failing on all fronts.
In a recent webinar hosted by BillGO titled "Consumers, Billers & Banks, Oh My," Russ Chacon, SVP of Product Strategy at BillGO, and Sarah Grotta, Director of Debit and Alternative Products Advisory Service at Mercator Advisory Group, discussed the current state of the bill payment ecosystem and how the industry can better serve its participants. The webinar was the third in BillGO's three-part, interactive Bill Pay Knowledge series.
The evolution of the U.S. bill pay market
According to a recent Mercator report, paying bills is nearly a $4 trillion dollar money movement activity in the U.S. alone. While most bills paid get to their destination, many require excess time and effort on the part of the payee. In recent years, billers have been looking for seamless ways to complete bill pay transactions, something that will require less of the payee's day-to-day attention.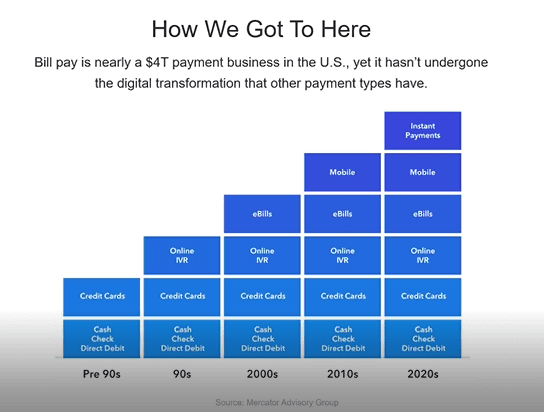 In the pre-1990s, paper checks were the primary form of bill payment. "The other [was] some ACH direct debit activity primarily for banking products, like mortgages and car loans, other personal loans, and some other critical payments, like insurance," explained Grotta during the webinar. "Then a small number of bills were paid over the phone with credit, credit card credentials."
But in the 1990s and early 2000s, bank bill pay started to take off both online and over the phone. This new payment method offered users a single application to pay their bills and only one payment option—the checking account. It even charged its users a processing fee when paying bills.
Moving into the 2000s, e-bills were factored into the equation, "which was great for adding more details. But not all billers went the e-bill route, and that kind of created an uneven experience for users," added Grotta. At the same time, banks began using bill pay, and particularly online bill pay, as a competitive differentiator. They dropped the fees that were previously charged for transactions, and free bill pay became the industry norm.
Billers took matters into their own hands, offering payment options on their own websites and eventually through mobile apps, and the result was improved bill collection. "We saw this this big shift with consumers leaving their financial institution Bill Pay solution for the better experience of the biller," said Grotta.
While the options for payers have improved somewhat, the evolution has created a bit of chaos in the system. What is working for payees isn't necessarily the most optimal for billers, bill payers, and FIs.
It's a complex bill payment ecosystem, and billers are livin' in it
Billers are dealing with all kinds of payments types, as illustrated in the crowded chart featured below. And while options are good for consumers, for the biller, each of these payment types come with its own processing, settlement procedures, rules, and regulations.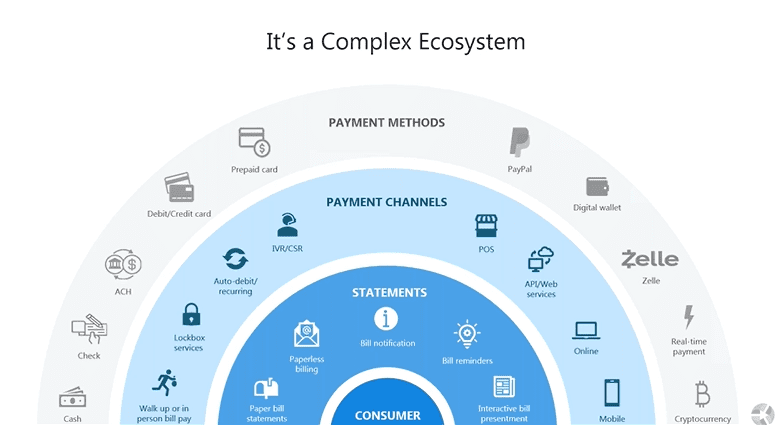 Image provided by BillGO and Aite Group
Billers are also struggling to manage costs associated with the many different payment types. "The [billers are responsible for the] costs of maintaining online and mobile site, maintaining data security for each payment type, their reconcilement issues, managing bad payment data that they get from payers, and the list goes on," remarked Grotta.
If that isn't already a lot for the billers to handle, the pandemic has certainly expedited the implementation of real-time and faster payments, as well as contactless payments and QR codes.
The other dilemma bill payers are faced with—with companies like Mastercard, Venmo, Zelle, and PayPal all offering new and advanced solutions—is which one should I invest in? "As complex as this is, [bill payers are] being approached with even more complexity," concluded Chacon.
A shift in bill pay strategy
Obviously, there is a lot of chaos in the bill pay arena, but there are strategies that can simplify that complexity and create value. There are four fundamental ideas that an FI or biller needs to be thinking about when considering this shift in bill pay strategy, which can be seen in this graphic, which BillGO shared with webinar attendees: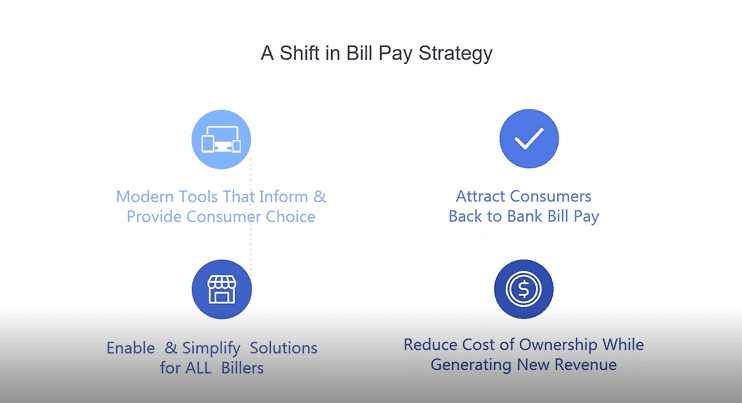 Modern tools

Simple to use and easy to understand
Up-to-date data that allows FIs and other banking institutes to have broad views of customers' finances
Allows customers to send money and manage their finances, all in one place

Enable & simplify solutions

Simplifying solutions will keep consumers from seeking alternative bill pay options outside of their banks and FIs
Reduces the costs of ownership
Creates new revenue for FIs and banking institutions

Attract consumers back to bank bill pay

BillGO has created a platform that provides consumer choice payments—using checking, debit, or credit—with additional layers of security
With this platform, consumers get to choose how they make their payments, all in real-time
BillGO does the heavy lifting for banks and builders so that they may bring order to the complexity of the ecosystem

Reduce cost of ownership while generating new revenue

The networks of today bring much of the value and speed necessary to provide consumer-centric bill pay options, which reduces the cost of ownership and generates new revenue
In an effort to minimize the chaos that has evolved in today's bill pay ecosystem, BillGO has created a single platform that links the customers to the banks and the billers. "That's what we're excited to be providing to our customers and their customers today. And [we're] excited to continue to invest in it as we bring this ecosystem, and bring simplicity to the ecosystem for our banks, customers, consumers and our builder participants," confirmed Chacon.