Certain FIS new hires are about to have one less problem without student loan payments.
It's no secret that college students in the U.S. are being bogged down by astronomically expensive student loans—according to Forbes, cumulative student loan debt topped $1.54 trillion in 2020, over double the amount in 2010.
And while the standard repayment plan for federal student loans is designed to take a decade to pay off, income-driven repayment plans allow certain buyers to make smaller payments instead. As a result, the actual average amount of time it takes college graduates to pay off their students loans is 20 years.
Unsurprisingly, not all college debt is created equal. Minority and women college graduates are living with more student debt than their white and male counterparts. Black college graduates have an average of $52,726 in student loan debt, which is nearly $25,000 more than white graduates' $28,006 average. Meanwhile, women account for a disproportionate amount of America's outstanding student debt and take longer to pay it off than men (thanks, in part, to the persistent gender wage gap).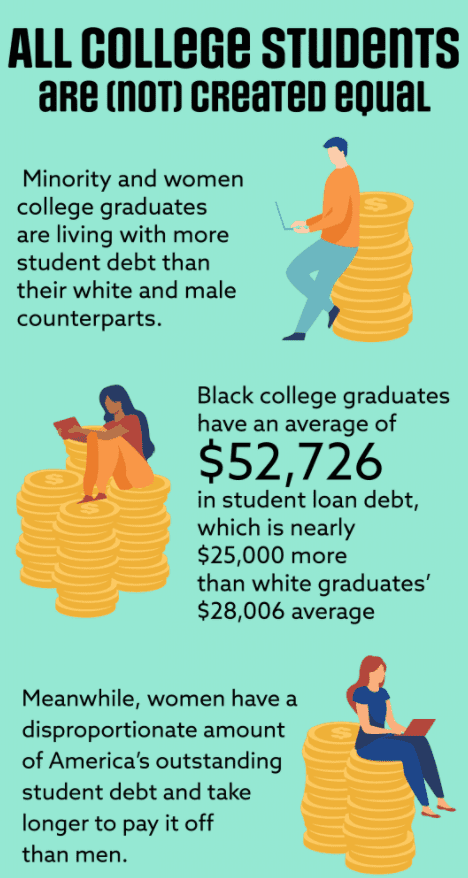 With this information in mind, FIS recently announced a new student loan repayment program for qualifying U.S.-based college graduates that the company hires. The program is the first of its kind within the financial services industry. It applies to college graduates who are hired through the FIS University Program, a global program for developing and retaining entry-level interns and full-time associates at FIS. Around 400 students will join FIs through this program this year.
Here's how it works: FIS will start to pay off the principal student loan debt balance of FIS University recruits beginning one year after they join the company. The company will pay off the complete principal debt after 10 years of service for employees that are still employed with FIS.
"As the company that empowers the financial and commerce world by advancing the way the world pays, banks and invests, it's important that we invest in the development of future FIS leaders," said FIS chairman and CEO Gary Norcross. "I'm excited about this new program and what it means for the future of FIS and the clients we serve."
This is good news for more than one reason. Student loan repayment programs offered by employers make it possible for recent graduates to focus less on paying off their loans and more on integrating into a work culture they're actually passionate about.
A Handshake study of current college students conducted in 2020 found that nearly three in four (73%) students reported they will be graduating with student debt and that 61% of them would take a job they aren't passionate about because of the pressure to pay off their loans. Half would take the first job they're offered, with 62% listing financial pressure as their reasoning for doing so.
Referring to the survey results, Handshake CEO and co-founder Garrett Lord explained why it's problematic that Gen Z workers have student loan debt at the forefront of their minds when making career decisions. "A workplace performs best when it's fueled by passion and built on strong relationships, and employers can give early talent the opportunity to focus more on their transition into the workforce by proactively addressing financial concerns," he said.
Luckily for recent grads in the FIS University Program, the company has been recognized for its positive and inclusive work culture. It was recently named a Best Place to Work for LGBTQ Equality by the Human Rights Campaign Foundation for the fourth consecutive year. WayUp recognized FIS as having one of the Top 100 Best Internship Programs, and Fortune Magazine included it on its 2021 World's Most Admired Company list.