Podcast: Play in new window | Download
Automating and future-proofing operations with digital processes has become a priority for most organizations. This is especially true given the added disruption brought on by COVID-19.
To optimize their processes and decrease the risk of error, companies must automate and modernize existing accounts receivable (AR) processes. But what is the best method to do so? As more companies prioritize digitization and outsource accounts receivable, there is opportunity to implement a payment solution that solves for the common pain points of existing AR processes.
To learn more about the current state of AR and how organizations should approach their payments process transition, PaymentsJournal sat down with Beth Bourgoin, Receivables Product Manager at Deluxe, Anna Tallo, Senior Solutions Consultant at Deluxe, and Steve Murphy, Director of Commercial and Enterprise Payments Advisory Service at Mercator Advisory Group. 
PaymentsJournal
Future Proofing AR Operations with Digital Processes
Businesses understand the value of AR automation
For the past two years, Deluxe has partnered with Strategic Treasurer to survey the state of AR processing, gathering insights on pain points, trends, and key findings within the market. Noteworthy findings from the 2021 Accounts Receivable Survey Report, in which 150 corporates and banks were surveyed, can be found in the infographic below: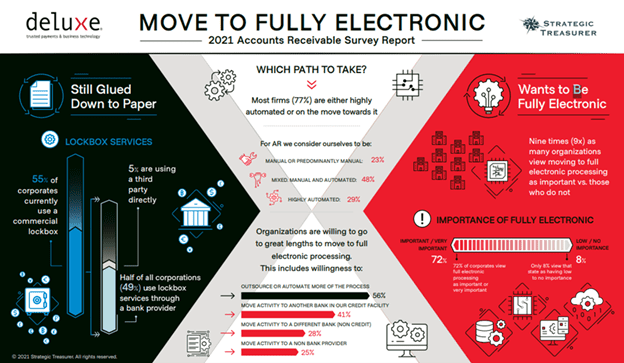 "Over 50% of corporates surveyed still maintain commercial lock boxes for the processing of paper payments. That's just an interesting fact considering the COVID-19 pandemic that we're moving through and what we know about payers and their desire for less touches in the payment process. Paper payments are still there, they still exist, and they're still pretty common," said Tallo.
On the other hand, these corporates are very much interested in moving toward a more fully electronic accounts receivable process, with 72% of corporates saying that a fully electronic AR process is important or very important to them.
"That kind of demonstrates, or tells us, a couple of different things," Tallo continued. "The first is that they're looking for a better payer-payee relationship, and they know that offering additional payment channels—more electronic options—is what the payers are looking for… I [also] think that corporates are seeing the benefit of moving to fully electronic processes."
These benefits are plentiful. Corporates that automate AR processes can not only collect payments more quickly, but they can apply them and use that cash flow to grow their companies more quickly as well. All in all, even though paper processes still dominate many companies' AR processes, they are eager to automate moving forward.
The sheer percentage of organizations that see automation as important "shows that they're ready," said Bourgoin. "And the question these businesses are asking themselves is: Who's ready to partner with me and support my strategy? I'm ready to do it, but who is going to walk alongside me?"
The current state of AR automation
As reflected in the survey data above, most corporates have forward-looking goals to highly automate their AR processes. At the same time, some have become attached to their manual processes in certain arenas.
"They kind of have an unfounded confidence. [Manual processes are] working and they just don't have that moment to take a step back and see what sort of value that automation can bring," said Tallo. Another portion of corporates have achieved partial automation, such as the introduction of electronic payment options for consumers, but fail to see other obstacles in their way when it comes to streamlining AR.
For example, organizations that have introduced digital payments may now have cash application teams that spend a majority of their time associating invoices to payments. These corporates may fail to see that there are automated solutions in the marketplace even for that reassociation piece of the process. They are missing the bigger picture.
There are also several major pain points when it comes to AR automation, with the most noteworthy pain point being limited IT resources. "There are only so many of them, and they're crucial to bringing an [AR automation] solution like this to bear if you're wanting to do it in-house," Tallo added.
Competitive benefits of AR automation
Some businesses lack trust in their technology since they worked long and hard to cobble their processes together. However, they must start somewhere: AR isn't going to request automation itself. The benefits of taking the plunge are worth it.
"The benefits are just truly exponential, and it's not until you start whatever you decide to call it—your journey, the transformation, bringing the strategy to life—it's not until you start that process that businesses start to unlock the visibility to those benefits and really what that means for them and how they operate as a business," said Bourgoin.
Multiple competitive benefits of automating existing accounts receivable processes include increased efficiency, decreased time in the order-to-cash cycle, reduction in manual errors, and a greater ability to scale and grow business and support large volumes as needed.
Reducing the AR errors inherent in manual processes can also strengthen organizations' relationships with their customers by not taking up their time with questions regarding billing. Rather, organizations can deal with AR issues themselves and leave customers more satisfied.
Bourgoin used the analogy of a restaurant to underscore this point. "You, as the customer, should not know whether or not there's chaos in the kitchen, whether someone called out, whether your food got burnt on the first try. You should not be aware of that. And the more automation is brought to AR, the happier customers are going to be," she explained.
How organizations should approach automation
Approaching AR automation may seem daunting, but a good place to start in knowing what can be automated.
"A lot of times [corporates] underestimate what can be accomplished with help from a solution and with automation and machine learning, and that's one of the things that I do in my day-to-day, is help them realize what their pain points are and then see if there's a way to automate that process," said Tallo.
Murphy agreed that understanding is crucial, explaining that automation is an evolutionary process. "You need to understand the direction you're going in and what you want to evolve into. And I also think the other thing is remembering that you can approach this from multiple angles," he advised.
By understanding what can be automated, businesses no longer have to settle for partial automations. "Half the time, I don't even think they know that they're settling. They think they've done what they came to do, and they need help understanding what more there is out there to help them with their accounts receivable automation [and] getting it where it is truly end-to-end with very little manual interaction," concluded Tallo.