When it comes to fraud, are people worried about the wrong things? New research of consumers' attitudes to fraud[i] suggests that there is certainly good awareness of potential risks. But one of the biggest threats seems to be flying under the radar. That is the tactics and techniques that fraudsters use to trick people into giving away their money – also known as Authorised Push Payment (APP) fraud.
The financial impact of scams is staggering. In the UK alone, APP scams accounted for £479 million in gross losses in 2020.
You might think that fraud accounting for hundreds of millions of pounds of loss would be a top concern for consumers. But according to FICO's recently completed Consumer Fraud Survey: 2021, it is not. Globally, consumers had the least amount of concern around being tricked into sending payments to a fraudster (less than 7%), even lower than their stated concerns about being pickpocketed (7%). That finding stood out for me like a neon sign on a dark street and was one of the most surprising results of our survey.
This laissez-faire attitude is despite the dramatic and devastating uptick in scams. In September 2021, UK Finance reported a 71% increase in APP fraud during the first six months of the year.
Clearly, fraudsters are finding fertile ground for their nefarious actions. But other findings from our survey shed more light on how and why scams are succeeding and give a glimmer of hope on how to fight them.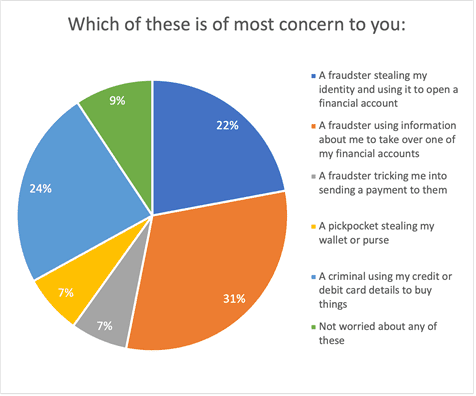 Preferred Communications Channels are Susceptible to Fraud
When we asked consumers how they prefer to verify payments, nearly 80% globally said they prefer to use digital channels including text messaging, emails, bank apps, and 3rd party messaging services. The majority prefer texts (43%) despite security flaws outlined as early as 2016, while another 17% prefer email.
If a mobile phone becomes compromised because of the user unknowingly downloading malware, fraudsters can control their programmes and monitor incoming and outgoing text messages. They will, for example, be looking out for one-time passwords sent from a financial organisation. With this in hand, they can swoop in and gain control of the consumer's account – whether that is for a bank or a platform that handles any sort of payment.
Fraudsters can exploit our addiction to immediacy and urgency as well as our tendency to respond to text and emails reflexively without carefully considering exactly who is contacting us and why.
How to stop scams
The only way to keep up with the ingenuity and speed of fraudsters is to be equally determined in the fight against scams. Much is being done to educate customers about the danger from scams and to deploy the tools available such as confirmation of payee. But alone these measures are not proving enough to outwit the scammers.
Turning to technology means that additional protection can be layered in. The use of AI and machine learning is not new in fighting fraud, but models that specifically identify behaviour indicative of scams add a frictionless layer of protection for consumers.
It's important to develop innovative and proactive tools to engage consumers, using the channels they want and when it is most appropriate. Customer communication services for fraud should offer capabilities for low-friction, two-way, real-time outreach. When a customer is acting in a way that indicates they are being scammed, their financial services provider needs to be able to make timely, appropriate, and effective interventions.
This is especially helpful in the always-on, immediate response world we find ourselves in today. And it is another powerful arrow in the fraud-fighting quiver that banks and other financial institutions can use to combat fraud.
---
[i] FICO surveyed 1,000 UK consumers aged 18 to 85 as part of a global survey in late 2021. The survey also included consumers in Brazil, Canada, Chile, Colombia, Germany, India, Indonesia, Mexico, South Africa, Thailand and the USA.