Podcast: Play in new window | Download
With the backdrop of the global COVID-19 pandemic, the need for new and evolving digital payment services has become even more urgent. The global crisis has accelerated the timeline for businesses to eliminate the need for physical checks and manual processes by moving to a streamlined digital process.
Attempting to make this shift on a legacy platform comes with challenges that render quick implementation of digital real-time payments difficult or even impossible. Therefore, cloud-based APIs and open architecture are critically important for companies wanting to get payment platforms and services to market in a timely manner.
To speak more about how traditional financial institutions can leverage cloud-based APIs to enable fintechs and other payments industry participants to accelerate the growth rate of faster digital payments capabilities, PaymentsJournal sat down with Robert Conery, COO and EVP at Avidia Bank, and Tim Sloane, VP of Payments Innovation at Mercator Advisory Group.
PaymentsJournal
How Banks Can Work with Fintechs to Meet Evolving Digital Payments Needs
Cloud-based APIs Enhance Companies' Digital Payments Offerings

The chart below comes from an in-depth Mercator Advisory Group analysis of the evolution of API platforms in the United States and Europe. According to Sloane, this detailed dive revealed that there is "a range of innovation and new businesses being created using APIs revolving around payments." He adds that APIs present "a huge opportunity for organizations in the U.S. market to start building out new and differentiated payment platforms."
The next visual shows the significant real-time payment (RTP) growth anticipated in upcoming years thanks to the introduction of the Clearinghouse payment rail. "The backdrop behind real-time payments is really an open architecture provider of APIs, which the Clearinghouse provides," notes Conery.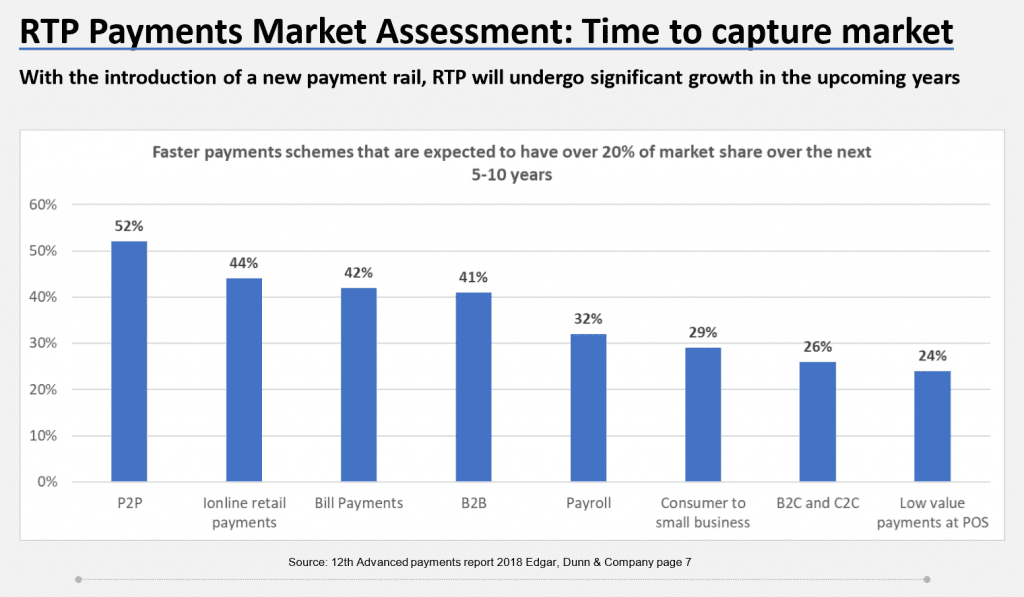 COVID-19 Has Accelerated the Need for Businesses to Digitize
Businesses need to modify their payment structures to make them more streamlined and provide liquidity, creating one of the biggest opportunities for banks and fintechs in the B2B payments space. By streamlining services and providing better liquidity, businesses will be better able to remove the challenges that come with manual processes during and after COVID-19.
Unlike the past, businesses aren't necessarily turning to banks primarily for payment services. They are also looking for digital software services that meet their need to digitize by enabling features like RTPs and direct biller platforms. But legacy software platforms used by many traditional banks operate slowly and aren't well-equipped to best serve these needs.
Fintechs are Seizing Market Opportunities, But Banks Still Have a Role to Play
To fill in the gap, fintechs are emerging as disruptors by seizing the opportunity to provide services for businesses. This doesn't mean that traditional financial institutions can't be part of the process, however. Financial institutions can provide APIs to fintechs and independent software vendors (ISVs) that allow them to access payment rails.
The result is a win all around. The business is getting a modified payment platform from a software provider or fintech, which is relying on a traditional bank that can grant access to payment rails through APIs. "It's kind of a magical combination where all three parties work together in collaboration," explains Conery.
By granting access to a cloud-based API, banks are providing fintechs what they need for their own services to work. Access to API libraries and software development kits means that fintechs can begin coding, developing tests, and producing a platform or service that quickly goes to market.
An API Translation Layer Enables Payment and Banking Service Development
Having disparate sets of API libraries with separate points of access is not up to par with the level of agility fintechs need to respond to market demands for new products and services. This is why Avidia embedded a translation layer into its library. Translation layers mean that financial institutions can provide fintechs a single point of access to an entire API library.
For example, Avidia is using the software vendor Mulesoft to offer a translation layer that sits between fintechs working with the bank and the multiple API libraries and software development kits Avidia has access to. This translation layer shows fintechs one set of uniformed APIs through a single access point, even though there are several separate API libraries.
By offering fintechs licensed access to APIs, banks allow them to code a service or platform at the front end of that translation layer, which accelerates the development process and allows them to go to market as quickly as possible in a convenient and seamless way.
The Takeaway
The shift to digitization in payments and banking services has been long coming, but the unprecedented pandemic has accelerated the need for businesses to make the shift. While banks and fintechs are notoriously rivals in the payments space, this doesn't have to be the case. Financial institutions can play a key role in digital product development by providing fintechs access to the cloud-based APIs needed to quickly develop and release new products into the market.
To learn more about Avidia Bank's partnerships, you can view their page at: