Today's Chief Marketing Officers (CMOs) are facing unprecedented pressure and urgency, which is driven in large part by significant change and uncertainty in the consumer and commerce landscape. Amid this change, the role of the CMO is evolving. Gone are the days where they are just the Chief Marketing Officers. They are now responsible for many of the functions typically afforded to roles like Chief Experience Officers, Chief Customer Officers, Chief Commercial Officers, and Chief Revenue Officers.
It's in this context that CMOs are starting to rely on commerce partners to grow better and faster. In these newly formed relationships, marketers are able to put consumers at the center, prove measurable return on investment, and provide easy to implement omnichannel solutions.
To learn more about the challenges marketers are facing today and how payments partners can help them meet the need for omnichannel experiences, PaymentsJournal sat down with Marcy Campbell, VP of Digital & In-store Commerce, SME Sales and Global Professional Services at PayPal and Ted Iacobuzio, VP and Managing Director of Research at Mercator Advisory Group.
PaymentsJournal
How Payment Partners Are Helping Marketers to Leverage Omnichannel Platforms
Marketers are facing new challenges
As stated above, the role of the modern CMO is significantly more evolved than it was in years past. Coinciding with their expanding responsibilities are new priorities. "When we look at the marketers' priorities and how they've changed, we're seeing that the pace of change has significantly impacted their role and that many look at anything in terms of longer-term transformation as a complete luxury," said Campbell.
Instead, marketers are focused on a few key priorities that drive immediate results including driving revenue, attaining valuable customer insights and accomplishing their goals with fewer resources. A key component of meeting these priorities is the successful implementation of an omnichannel commerce experience.
What is omnichannel commerce done right?
Simply defined, omnichannel commerce is a sales approach that uses multiple channels and payment options to give customers a unified experience across in-store and digital channels. Omnichannel platforms, which often come from payment providers, are tools that enable these omnichannel experiences. Retailers with both storefronts and e-commerce sales can utilize an omnichannel strategy to combine 'brick' and 'click' and maximize the customer experience.
In the wake of COVID-19, during which many brick-and-mortar retailers shifted some or all of their sales to online channels, an omnichannel experience became increasingly important to CMOs. "What the pandemic has done is it's demonstrated the inevitability of an omnichannel approach to merchants of all sizes," said Iacobuzio.
Campbell agreed, adding that "CMOs… are very interested in the omnichannel commerce experience. Now we're talking to them about how to build a true omnichannel experience by connecting things like loyalty points and understanding who your customer is when they're on your site and also when they're off your site."
Omnichannel commerce experiences can help marketers face these challenges
Payment providers like PayPal have stepped forward to partner with marketers to assist them in acquiring new customers, maximizing customer value, retaining customers, and increasing visit frequency.
One way PayPal is helping merchants is by enabling them to create true omnichannel experiences that seamlessly blend the online and offline experience. "We provide those true omnichannel experiences through QR codes," explained Campbell. "That is a contactless way for customers to pay in-store using their preferred options, and this includes their PayPal and Venmo balances."
What's more, when customers use QR codes, PayPal can prompt them to sign up for or use a merchant's existing rewards program, making it possible for merchants to seamlessly drive customer frequency and build shopper loyalty with their customers.
Partnering with an organization that enables a true omnichannel experience also enables merchants to target customers at the right time, through the right channel, with the right message. This results in them reaching new, incremental customers and re-engaging those who haven't made a recent purchase.
PayPal has already had proven success doing this: one of its merchant partners, a major flower delivery company, leveraged the retargeting marketing tool PayPal Store Cash and saw an over 1000% average return on ad spend.
Finally, payment partners can help merchants maximize customer value and grow their average order value with each transaction. "We just announced our [Buy Now] Pay Later solution Pay in 4 in the U.S. and Pay in 3 in the U.K., and this provides an option for customers to pay in installments instead of in full, which has been really important during these times," said Campbell.
The takeaway: Payment partnerships give marketers an omnichannel edge
The multiple benefits of partnering with a payments provider that can deploy omnichannel solutions is data-proven. In fact, recent Nielsen research that analyzed the purchase behavior of more than 15,000 online shoppers and surveyed more than 2,800 consumers found that merchants that partnered with PayPal reaped several benefits: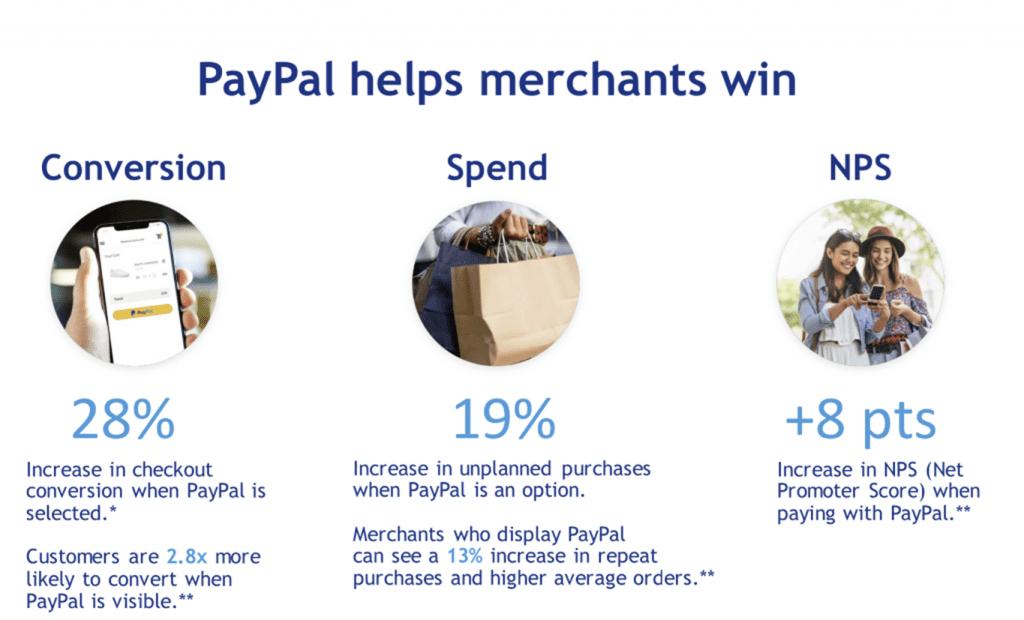 "What this [study] showed was that merchants are able to increase their brand loyalty, drive higher conversions and repeat purchases, and provide an overall better customer experience [by partnering with PayPal]," noted Campbell. "CMOs and marketers should take a look at payments as a differentiator, as part of their toolset, and how they do these things," she concluded.