In the time of COVID-19, nations across the globe have become germ-centric. People wear masks, stand six feet apart, and constantly sanitize their hands in fear of contracting the virus. Because of this newfound desire to exist in a touchless world, there has been an influx in the use of modern cards—credit cards that exist in a digital wallet, directly on the card holder's smart device.
With contactless payment options, consumers no longer have to interact with communal screens, styluses, and keypads, lowering the risk of contraction. In additional to these pandemic-safe options, there is also a convenience factor. Card modernization eliminates the need for a physical wallet, and it allows card holders to manage their accounts without having to contact a customer service representative.
To learn more about the need to modernize payment card portfolios and consumers' rising expectations of digital card options, PaymentsJournal sat down with Christopher Jacoby, Product Marketing at Ondot Systems, and Sarah Grotta, Director of Debit and Alternative Advisory Service at Mercator Advisory Group.
PaymentsJournal
Issuers Beware: Modernize Payment Card Portfolios, or Risk Being Left Behind
Why FIs should focus on payment cards
More consumers than ever are using universal and retailer wallets, such as contactless cards and QR codes, for the first time. According to a chart created by Ondot Systems and Mercator Advisory Group, "typically we see year over year growth between two and 3%. But this year, the growth rates are between 10 and 12%," said Grotta.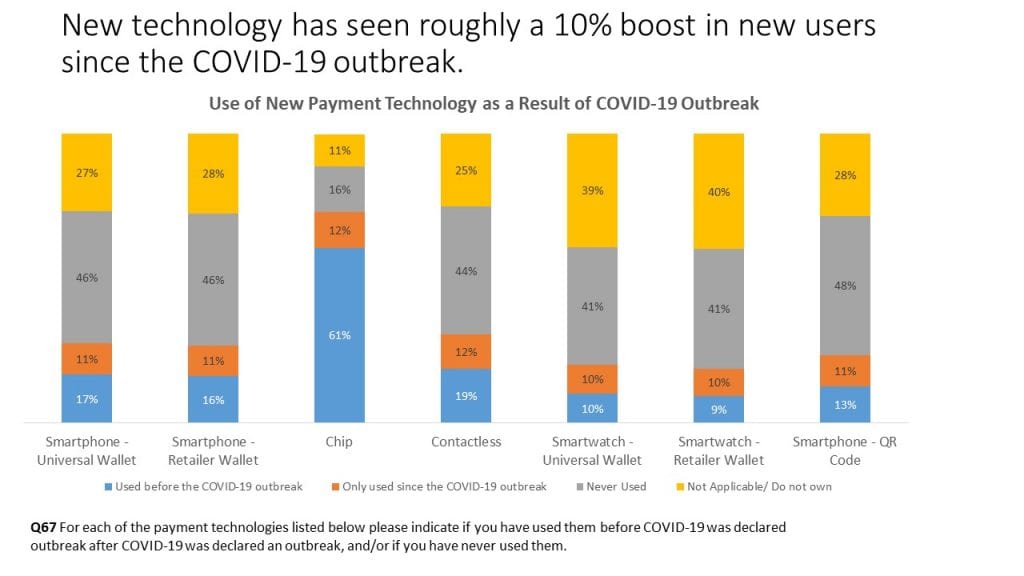 With such rapid growth, it is crucial for financial institutions to adapt their technology to keep up with the evolution of the payments industry. "You don't want to be too early in the curve, you don't want to be too early to market and expend resources on something that will take time to achieve really meaningful adoption," said Grotta. "But on the other hand, you certainly don't want to be too late to the market and look really out of step or not competitive."
Although these technologies have been around for years, the global climate has brought on a newfound interest in the average consumer in terms of contactless payment options. Without the implementation of credit modernization, companies risk being left behind.
Payment cards in a post-pandemic world
With the rapid growth of card modernization in such a short span of time, the question must be asked: will this technology trend stick long-term, once the pandemic is no longer a concern?
Jacoby certainly thinks so. "Payments is all about habit, like we're used to pulling out our wallet," he said. And he expects these new habits to stick because modern cards will become the new standard, even post-pandemic. The biggest hurdle will be getting people to try the new technology for the first time.
Normalizing modern cards and making them a part of the average buyer's behavior is the main goal in terms of this technology. "As more and more merchants make this stuff available, and make it very easy for consumers to utilize this technology, whether it's a QR code, whether it's a digital contactless terminal or a card on file…that card less experience is going to be standard, and consumers are [going to] expect it," said Jacoby.
Features of modern cards
Spending with convenience is the new norm, and modern cards are a part of the equation. People live hectic lives. They have children, families, classes, and work commitments. "So the ability, when you think of these things, being able to [make purchases] immediately and conveniently as possible is really important," says Jacoby. "And so delivering all this functionality to the mobile phone allows consumers to do that."
With modern cards, consumers can do all the same things they once did with their original cards, but quicker, easier, and without having to directly interact with a technical service provider. Jacoby believes that what's important is "being able to deliver the card digitally and to [the card user's] device as quickly as possible." Modern cards enable cardholders to begin making purchases immediately upon approval, rather than forcing them to wait to receive a hard copy of their card in the mail. This both reduces costs and increases revenue.
Most modern cards will have an app to go with them, which allows users to track and understand their spending behaviors quickly and manage cards from anywhere. They can also do things like lock their card if they believe it's lost or stolen, or order a new one while continuing to use the one in their mobile wallet.
Short term solutions for FIs
Many financial institutions have longer term plans and strategies when it comes to digital innovation. But because these modern card technologies are being used more and more frequently and growing at a quicker pace than anticipated, FIs may ask the question: what can I do now?
"You're already getting [increasing revenue] by allowing people to use [the technology] more frequently, in ways like card on file," said Jacoby. Enabling the community and the industry to store consumers' cards is one step closer to card modernization. Although it is not the same as a digital wallet, card holders can still store their card, and if they lose that card or if it's stolen, the card on file capabilities allow their information to be updated in real time.
When financial institutions decide to prioritize the modernized card experience, there are two options: "It's just a matter of either a partnering with a technology company or a fintech company that makes these kind of turnkey solutions available, or building it out and creating an experience."
Building out the experience internally requires three things:
The ability to issue a card digitally
Access to the benefits of the digital card
Enabling the digital experience with your own contactless payment technology or the technology that consumers use, such as Apple Pay, Samsung Pay, and Google Pay
Every financial institution has the capability to make card modernization happen, whether it's right now, in the near future, or somewhere down the road. The biggest decision they have to make is how to begin.