For digital organizations, the ease with which their customers can make online payments is the lifeblood of their business. It represents the final checkpoint in the website funnel where customers have finally made the decision to go through with the sale. Naturally, any hurdle in this process is bound to affect conversion rates.
The race for unmitigated customer experience is no longer about on-boarding prospects. Instead, the real battle lies in forging a trustworthy relationship with them. Every year in the United States alone, around 15 million people have their identities stolen and misused. And this amounts to losses of more than $50 billion!
The trick is to make the payment process as smooth and trustworthy as possible so that customers have complete control over it. Remember that customers shop online mainly for convenience. Any major hiccup can make them instantly forsake a website.
Here are some practices and technologies that can help you make your digital payment processes safe, fast, and easy to follow:
1. Have a Transparent Payment System
It is important to tell the customers exactly how much you are charging before they reach the checkout page. Not only does this keep their trust intact, but it also results in fewer drop-offs.
But, what makes this crucial? You'll be surprised on how easy it is for customers to abandon their digital carts. In fact, the global average of cart abandonment rates stands at a whopping 77.24%.
And reports from Statista attribute the primary reason for this to be the high costs of shipping, placing it above critical fallout elements such as invalid coupon codes or high shipping durations.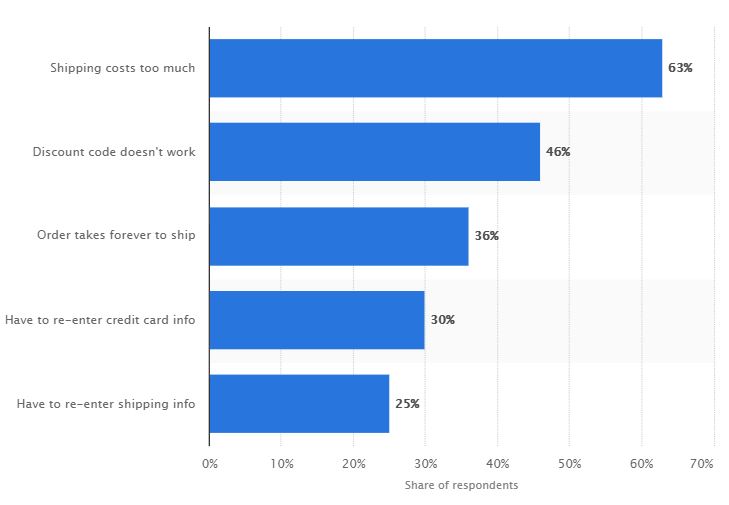 Such costs are usually added on the checkout pages, keeping the customer in the dark until the final moment. Instead, telling them about every hidden and additional charge as early as possible in the website funnel would make them trust the brand more. When the amount they see translates to the amount they eventually pay, your conversion rates flourish.
2. Keep the Payment Process Smooth and Easy
There is an entire case study on how buying on a major digital commerce player – Envato Market – is way harder than it should actually be. Unnecessarily long and complex workflows before the completion of the payment process will naturally result in more drop-offs. While the shortest path in the checkout funnel of your website may not always be the best, you need to experiment and find the most ideal scenario that works for you.
Consider the case of Magento that achieved an increase of 88.6% in their conversions by transforming their checkout process from a 2-step to a 1-step process. On the other hand, Telestream was able to gain a 6.8% conversion rate boost when they moved from a complicated 3-step to an easier 4-step checkout process.
Hence, the key lies in delivering a seamless design experience with only the requisite number of steps in the payment process. Important tactics here include:
Allow payments without an account: Makes the checkout process faster and less intrusive, especially for first-time and single-buy customers. The best bet here is to include the options of both login and one-time payments. For instance, Apple provides this by adding a quick guest payment option.
Eliminate redirects: If customers have made their way to your website and walked through the entire funnel, redirecting them to a third-party website for the final payment can interfere with their buying intent. For instance, having the Paypal payment option may seem like a good idea at first, but it can negatively impact the conversion rate due to redirection.

Reduce the number of distractions: According to

studies

, the average attention span of a human now is about 8 seconds. This is less than that of a goldfish. The checkout page thus needs to do away with anything that can distract a customer.
A good collaborative example of the above-mentioned steps is the checkout page of Couture Candy. Not only have they imparted simplicity to their payment process, but they have also integrated four different pages into a single scroll interface.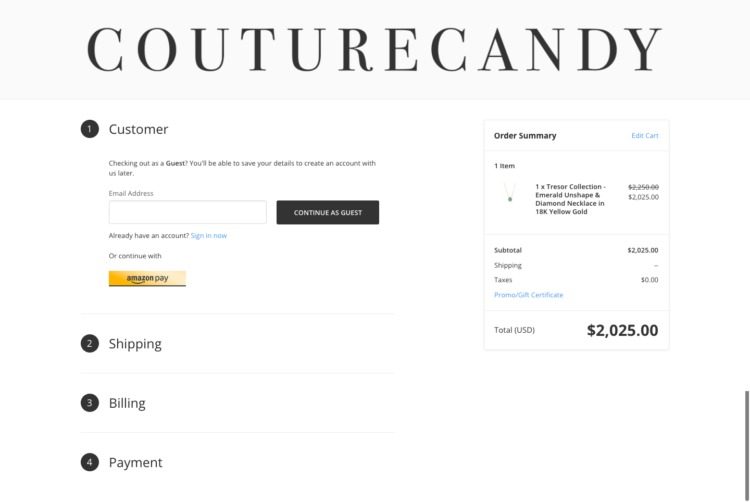 3. Integrate Payments with Chatbots
Chatbots have been the latest wave of technological development in customer support and they have now made their way to digital payments as well. The following graph gives an account of the various industries that are actively leveraging chatbots today.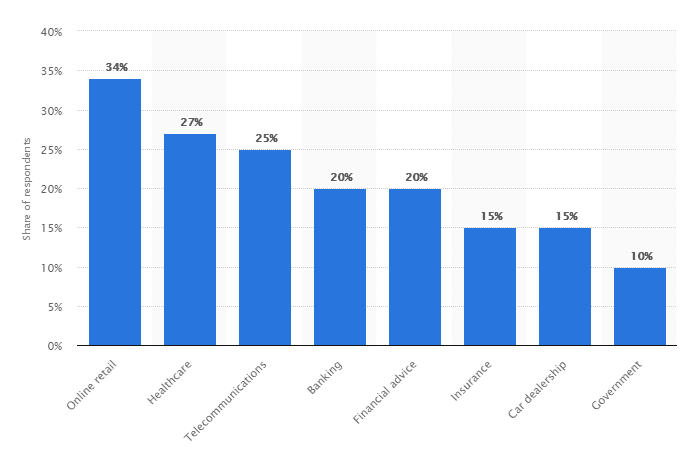 Companies are constantly experimenting with various payment models, such as allowing customers to store payment-related data in messaging platforms and enabling chatbots to retrieve them at the time of payments. For instance, the United States arm of Uber is now completely integrated with Facebook Messenger, including the payment functions. Similarly, Paypal now has a payment chatbot in the form of a Slack integration that makes it easy for users to execute peer-to-peer payments.
And the use cases do not end here. Including chatbots in their payment structure can help companies to:
Upsell and cross-sell to customers by helping them transition between the likes of free trials and paid subscriptions.

Extend voice-controlled payment systems and payment-related insights to customers.

Deliver engaging mobile notifications that bring customers back to the platform and increase conversions.
Integrating payment bots with middleware comes with a plethora of benefits. Firstly, to facilitate this, the chatbots require access to the API tool of the bank. When integrated, they automatically send requests to the API which returns with the associated links. Customers then make the payment through an interlayer, directly via the messaging app. Keeping aside the technical jargon, benefits of such a system include:
Higher security with multi-factor authentication.

Better payment integration with any messaging app.

Measurement of the impact of digital campaigns on sales.

Substantial boosts in the overall customer engagement levels.
Apart from payments, chatbots are a worthy investment as they simply allow businesses to simultaneously handle millions of support queries. They can also cut down on the associated support costs, boost the outlook of the brand, and help businesses to attract more millennials.
4. Leverage Next-gen Technologies like Co-browsing
As is evident in the case of chatbots, improving the quality and ease of customer service can directly affect the number of transactions. This is primarily because a significant chunk of support queries in every company is directly related to sales, pricing, and checkout processes. This is especially true for businesses that have complex payment or lead generation forms.
New-age customer support technologies like co-browsing helping companies usher their customers to the finish line. This is achieved by enabling customers and agents to seamlessly interact on the same web page. Agent's can access a direct view of the customer's browser tab and provide them with real-time and personalized solutions. Major use cases that companies are using chatbots for include the following: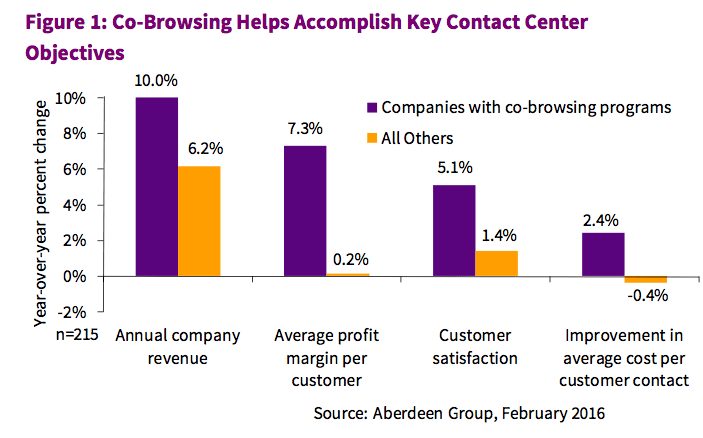 And to put the most common misconception to rest, this is not even close to screen sharing. While the latter introduces a lot of security issues by giving agents unlimited access to the customer's screen, co-browsing nips such loopholes in the bud by giving customers complete control over what they want to share and protect. With such restricted access, security is instantly enhanced. Various benefits of co-browsing include:
Resolving customer queries even before they escalate.

Delivering hands-on product demos to customers.

Successfully on-boarding customers with seamless support.

Instantly responding to queries and eliminating miscommunication.
All of the above use cases can act as the perfect precursor for a smoother payment process. Once an agent has resolved a customer's query, he/she can continue the conversation and help the customer to go through with the final payment.
5. Focus on Security and Privacy
For a superior payment process, you also need to reassess the amount of information that you might be asking from prospects. Limit your queries about personal information only to the necessary blocks that are required to complete the payment. Anything bolder than that can induce a sense of concern and caution on the part of the customers.
A relevant example of this is payment forms that make it mandatory to add the complete address of the buyer, even for individuals who might be shopping for personal reasons. In such a case, they are practically being forced to enter their complete home address, a process that many can choose to do without.
Apart from this, it is also important to give reassurances about the safety of sensitive information. This includes the security norms that the website is deploying to save the payment information and an explanation about how any additional personal detail (if absolutely required) will be used. Various security norms in this regard can also include:
Using a Secure Sockets Layer (SSL) certificate for the website.

End-to-end encryption for credit card payments.

Making the website PCI compliant.
Conclusion
Apart from all this, it is also important to not keep website visitors guessing and using clear call-to-action buttons instead. While these tips can surely help you decrease your shopping cart abandonment rate, it is always a good idea to A/B test different strategies before drilling down to the best option that is working for your use-case.
About the Author
Ashwini is passionate about Business, Entrepreneurship, E-commerce, and Digital Marketing. She is working with Acquire as a digital marketing expert. She is a free soul and adventurous scholar who spends her free time with herself, loved once, music, as well as watching & playing sports. She is ocean addicted and on roads being a thrill-seeking traveler to get new experiences as she looks at life as our very own works of art.