Podcast: Play in new window | Download
The market for financial services has never been more competitive. Digital banks, neobanks, challenger banks—even merchants like Walmart, groceries, and drugstores—and other fintechs are all offering financial services in a less regulated setting than that of financial institutions (FIs). How can earned wage access make a difference?
Offering digital services is of paramount importance to financial institutions, but it can be very hard for FIs to acquire the technology and talent they need without having it funneled toward new regulatory and compliance needs. As a result, many FIs are partnering with fintechs to outsource the development of innovative payments technology.
Earned wage access (EWA) is one of the hottest new features that fintech and FI partnerships are adopting. EWA is the ability for employees or contract workers to request immediate access to some of the pay they have already earned.
To learn more about EWA and how financial services providers can participate in the on-demand pay movement, PaymentsJournal sat down with Rob Nardelli, Director and Business Development Lead for Strategic Partnerships at DailyPay, and Sarah Grotta, Director of Debit and Alternative Products Advisory Service at Mercator Advisory Group.
PaymentsJournal
Leading the FI Pack with Earned Wage Access
Fintech/FI Partnerships Are the Future
After the 2008 Great Recession, the banking industry saw a massive regulatory overhaul. "Compliance became critical," said Nardelli. Know Your Client (KYC), the Office of Foreign Assets Control (OFAC), and anti-money laundering (AML), according to Nardelli, "ruled the day, and in some instances, at the expense of the client/customer experience. Innovation became challenging, to say the least."
Meanwhile, fintechs with fewer regulatory hurdles were filling the gap in customer experience enhancement. Now, semi-post-pandemic, banks have made major adjustments to a full customer experience (CX) commitment and are looking for strategic partnerships to provide value and innovation. Ergo, there is an increase in FI-fintech partnerships.
However, many FIs are wary of the longevity and scalability of such partnerships, not to mention security concerns and the risk of long-term commitments with new partners. "Banks know they have to partner with fintechs," Nardelli clarified. "It's where the industry is heading. But they are not sure who is real and who is not."
The Effect of the Great Resignation Rotation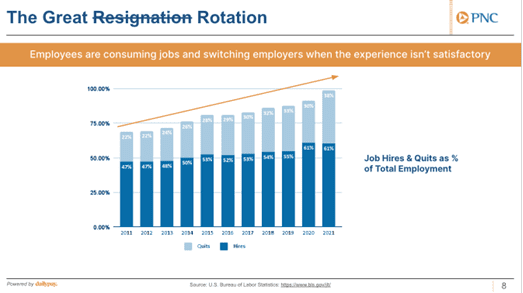 According to DailyPay research, the last ten years have produced a tectonic shift between quits and layoffs. Quits are up 102% and layoffs are down 23%. But rather than seeking early retirement, most workers are simply "rotating" into new positions that offer better pay and benefits.
"The American worker's choice has become the new hallmark for employment," stated Nardelli. "On-demand pay has become the must-have employee benefit." Information from the Bureau of Labor Statistics earlier this year showed about twice as many job openings as people looking for jobs. "Workers have never had more leverage than they have right now," Grotta added. "Employers have never been looking for more solutions to help them attract and retain workers."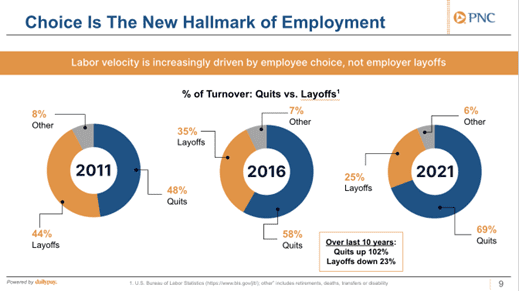 That is where DailyPay comes in. "DailyPay helps employers hire 52% faster and retain employees for up to 73% longer, which has a significant impact on the bottom line," said Nardelli, citing a recent survey. As for employees, 73% of DailyPay users say they used the app to pay bills on time and in full, to avoid costly overdraft fees; and 70% said it helped them avoid taking out a payday loan. "We're trying to give folks another option," Nardelli summarized.
DailyPay users also check their available balance almost every single day. "You go out for your lunch break, you come back, your balance went up," Nardelli offered as an example. "It's the psychological benefit of knowing that those funds can be made available to you when and if you should need it, by the click of a button."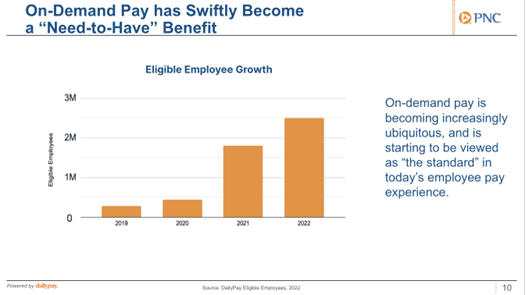 Earned Wage Access Today and Tomorrow
We are smack in the middle of the "on-demand generation" right now. Everything from media to food is expected instantly, and banks need to connect with customers who want the same speed and control with their money. As a result, people turn to DailyPay—the industry leader in EWA growth and adoption—to make their lives more manageable.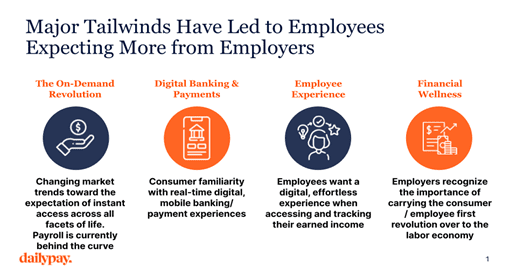 "DailyPay is all about choice," explained Nardelli. "The choice to make a decision of what is best for you and your family. And by that same token, it is all about trust. America's largest employers and their millions of employees trust us with their pay. We have the highest security accreditation in the industry. That is what sets us apart."
Partners with DailyPay gain access to proprietary on-demand pay capabilities including PAY, the flagship program giving employees earned wage access prior to payday. There are three "flavors" of marketplace partnership to choose from:
White label partnership
White label + card platform
Embedded application programming interfaces (APIs) for retail and digital bank accounts
Most employers will offer EWA in the next three to five years and, with DailyPay's recent white label partnership with PNC bank, this is only the beginning. "Ask yourself this," Nardelli concluded. "Do you want to be a financial health and wellness champion, or do you want to be a follower two years from now that has to fill a product gap?"