As the old business idiom goes, "you gotta spend money to make money." Credit card companies are certainly peddling that idea to their consumers, as they promise monetary rewards for using America's favorite plastic. And consumers love these rewards.
Credit card companies have gotten more creative with how consumers can use these points. Some promise the perfect card for travelers, some offer increased rewards on certain purchases like groceries and gas, and even some brands have hopped on board by offering ample awards when using their store credit card.
But what rewards do consumers love most? Do these preferences change by age? In this post we'll use online consumer conversations to determine:
Consumers' favorite credit card rewards
Millennial preferences
Older generational preferences
Credit Card Points
Consumers love credit card points, and they also love talking about them. Consumer conversation surrounding credit card points has risen meteorically over the past decade.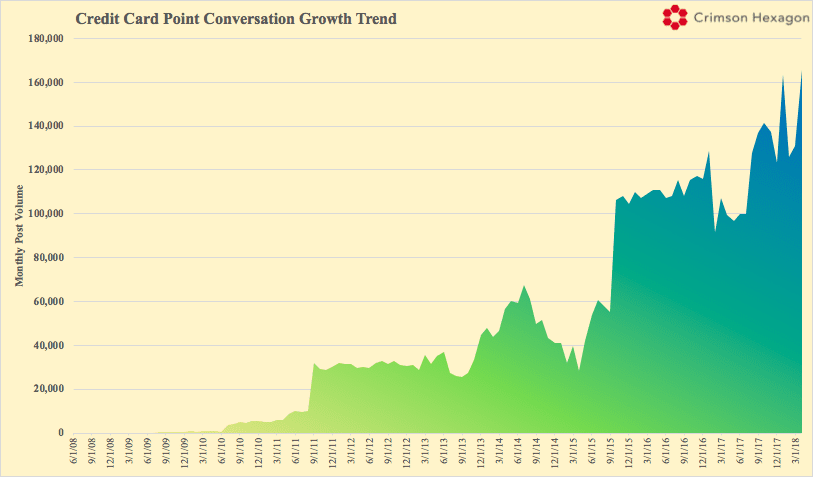 In the past decade, consumers have produced 5.8 million posts about credit card points, peaking with 165,000 posts in April 2018. But we all could guess that consumers love credit card points — but what types? There are so many options out there, whether that's travel rewards, cash back, or brand-specific credit.
So which are consumer favorites? Consumer conversations reveal that travel points dominate the credit card point conversation.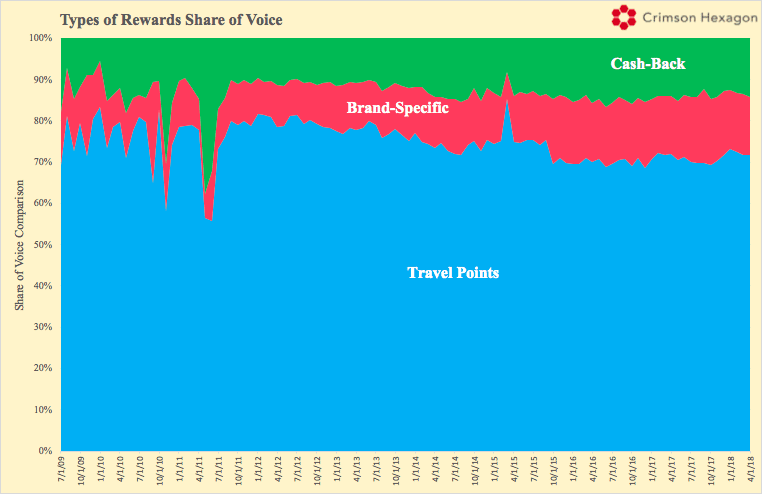 Travel points have dominated the credit card reward conversation since 2009, but brand-specific credit cards, such as the Amazon Prime card, Target Red, Macy's, and more, have grown by about 5%. Cash-back credit cards have consistently been the least popular credit cards in online conversations.
But do the credit card interests change if you look at different generations? Turns out, quite a bit.
Millennials Want to Travel
Turns out that millennials are more interested in travel credit cards than the general population. Millennial conversation around travel points makes up about 90% of the credit card point discussion.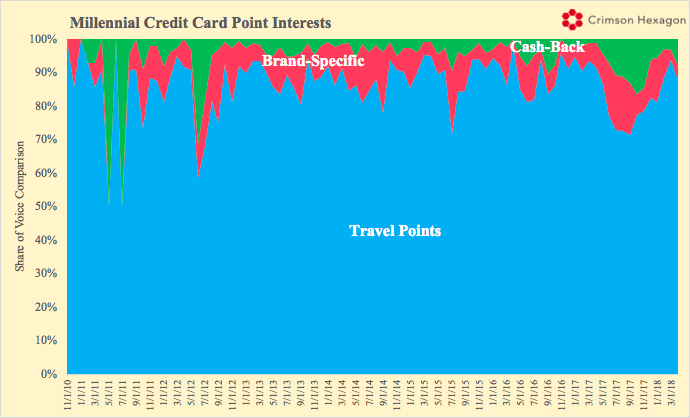 Brand-specific credit cards are currently the least discussed type of credit card reward, but second place has been a back-and-forth battle with cash-back cards for years.
This conversation heavily follows the recent reports that millennials would rather spend money on experiences than tangible goods. There have been reports claiming millennials as the "wanderlust" generation, value travel more than previous generations.
Old Spending Habits Die Hard
But what about older generations? Do they also love travel points?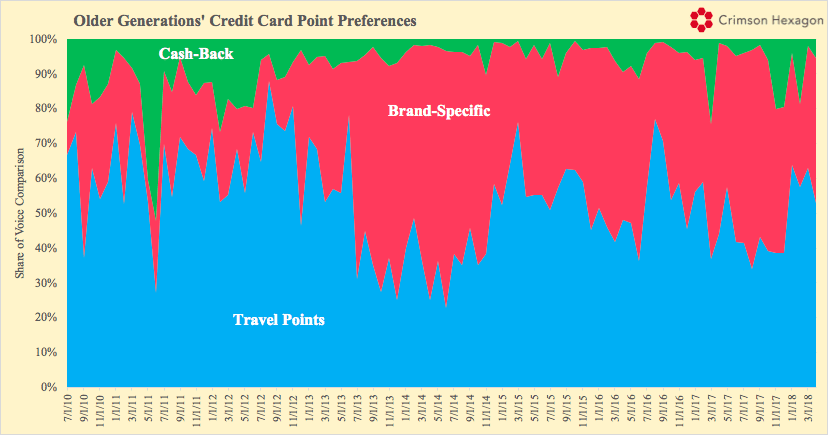 While travel points still makes up the slight majority of the conversation in the point conversation, brand-specific credit cards aren't far behind. Older generations discuss brand-specific credit cards at much higher rates than millennials.
Again, this suggests that older generations are more interested in tangible goods than millennials. While older generations do still like to travel, it's more than 30% less than millennials.
One thing that older generations have in common with millennials is that there seems to be a universal lack of interest in cash-back credit cards. Cash-back cards often come with less favorable rates of return since they are more general than travel-specific or brand-specific rewards. Consumers are more interested in getting more bang for their buck, even if that comes with some limitations on where they can spend those rewards.
Credit card companies can use these consumer insights from social media data to see that younger people are more interested in travel points, so the better they can make their credit card deals for the wanderluster, the more likely they can attract more customers. And the more they beef up their travel cards, the more they can pull back on cash back cards.
So while credit card companies hopefully beef up their travel points, we can all enjoy taking our credit cards everywhere and earn enough points to start checking more things off our bucket lists.