The majority of consumers are split into three segments when it comes to paying for things: those who prefer credit cards, those who prefer debit cards, and those who prefer cash. Many times, the reason for these preferences are the same. People feel that they can best control their finances with their favored payment type. In research I did a number of years ago, I was able to prove this empirically.
This morning I read an article from Business Insider that discussed how Millennials are using debit cards more than, perhaps, the author thought they should.
About 23% of millennials don't carry a credit card, TD Bank's Annual Consumer Spending Index found in March. And that means many millennials are leaving big rewards on the table.
The author went on to discuss the merits of credit cards as a way to earn rewards and to build credit. While these are both very valid incentives for credit card use, there may be other reasons this generation is using debit cards more frequently than credit cards.
To explore this issue in a little more detail, I turned to the Mercator Advisory PaymentsInsights data and did a little investigating. What I found was pretty compelling. First of all, millennials who choose not to use credit cards may not be missing out on rewards. As the charts below illustrates, our research shows that those ages 25 to 44 (the closest approximation our data has to Millennials, which is defined by Pew as ages 24-39) are much more likely than their older counterparts to get rewards from their debit card use.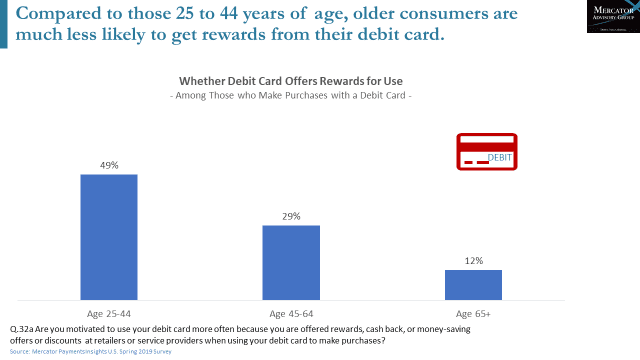 While debit rewards may be one motivation for debit card use, the choice of payment type also hinges on a number of other choices the consumer makes. The consumer consideration set also contains concerns like ticket size, the amount of money in their bank account, their internal money management scheme, and a host of others.
While rewards are a motivating factor for many, it is not the only decision criteria. Regardless of generation, the decision on what type of payment to use involves a number of rational and irrational factors.
Overview by Peter Reville, Director, Primary Research Services at Mercator Advisory Group