Most respondents still don't plan to take preventive action, even after the well-publicized breach.
The recent Equifax data breach may have grabbed headlines, but it has thus far done little to change Americans' actions or attitudes toward fraud preparedness and prevention.
That's according to a recent survey from CompareCards.com by LendingTree, which queried 1,000 credit or debit card-holding American adults on issues related to fraud prevention and detection.
The survey was done Sept. 22-25, well after the Equifax breach was disclosed and began making front-page news. (Its margin of error was +/- 3 percent.) It reveals that the great majority of Americans remain unmotivated or unwilling to take the steps needed to better guard against fraud.
According to the survey, only 10 percent of cardholders have placed a freeze on their credit since learning about the Equifax breach, while 76 percent of cardholders claim they still have no plans to freeze their credit at any point in the next two months.
In the wake of a massive breach in which the Social Security numbers, birthdates, residential addresses and even driver's license numbers of 143 million Americans were compromised, the survey paints the picture of a nation alarmingly unprepared to protect itself against the now heightened threat that fraud represents.
 Proactive prevention lags
Most Americans are simply not taking the steps necessary to proactively safeguard against fraud. That applies to simple protections such as changing PINs, as well as to more complex protections like initiating a credit freeze.
According to the survey, more than three-quarters of consumers (78 percent) have never put a freeze on their credit, while less than a quarter (22 percent) pay for a credit monitoring service. Similarly, just 25 percent of respondents report having free alerts set up on all their credit and debit cards. At the same time, eschewing the most basic of fraud prevention techniques, 60 percent of Americans have not changed their PIN in the last year, with 30 percent have never changed it.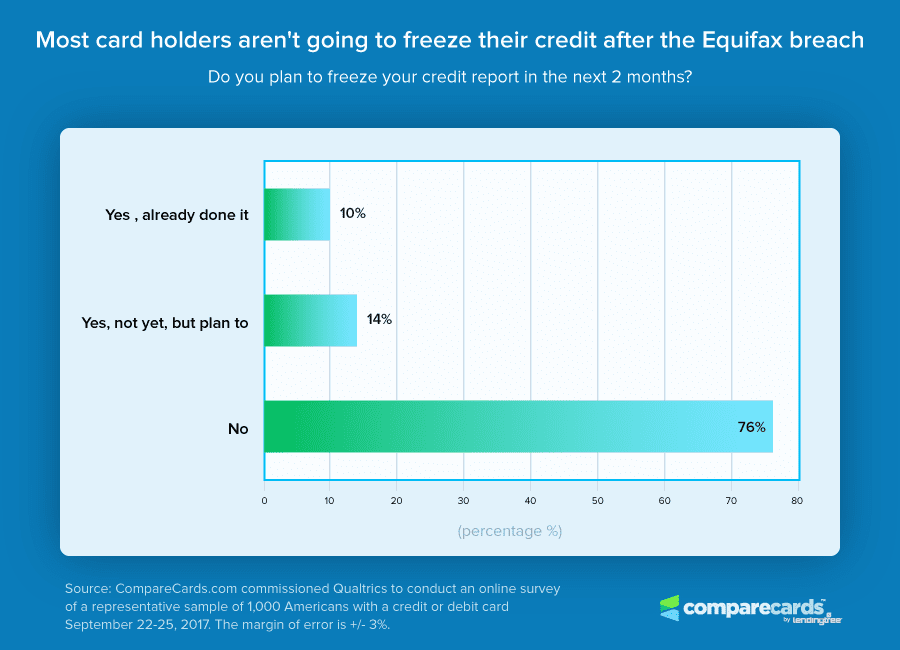 The apparent apathy toward proactive prevention is made all the more surprising by the fact that 42 percent of survey respondents report having had fraudulent charges on a credit card, debit card or bank account at some point in the past two years.
Part education, part indifference
 Lack of education and awareness plays a key role in limiting Americans' overall fraud preparedness.
Among survey respondents who do not have free alerts set up on any of their credit or debit cards, 41 percent didn't know such alerts existed in the first place.
Similarly, among respondents who have never placed a freeze on their credit, 22 percent weren't even aware that it's possible to do so, while 15 percent don't know how.
Lack of education isn't the only culprit, however. General indifference is also a factor. Among respondents who have never placed a freeze on their credit, nearly half (47 percent) report that they just aren't concerned about identity theft.
Age-related variance
 The CompareCards.com survey also revealed significant variance between the behaviors of baby boomers and millennials, with the latter group far more likely to take advantage of fraud prevention techniques. For example, 74 percent of millennials leverage credit alerts in some form or fashion. By contrast, 46 percent of baby boomers don't use credit alerts.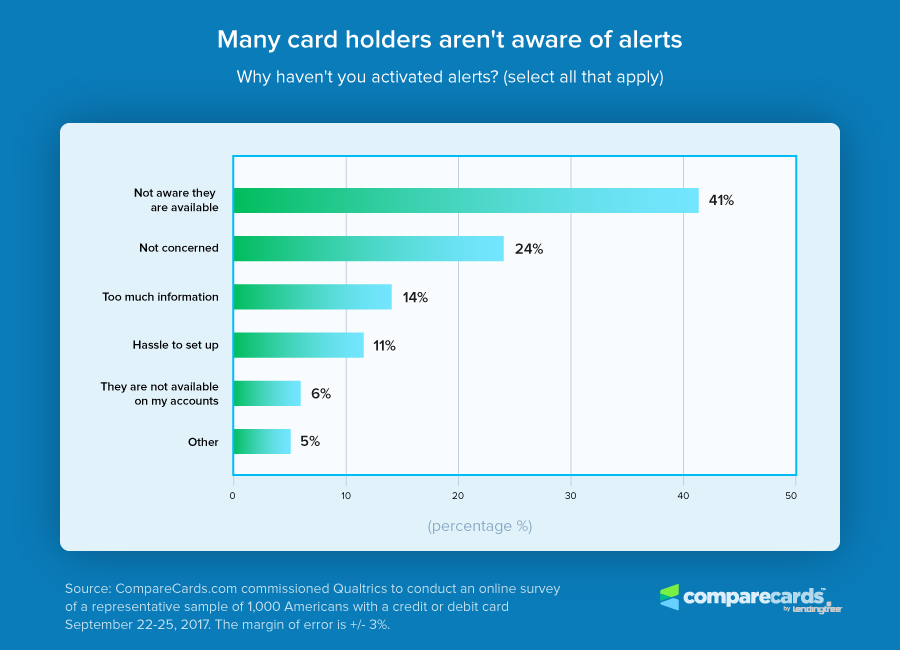 Millennials are also nearly twice as likely as people 55 and up (28 percent versus 15 percent) to pay for a credit monitoring service. The irony, of course, is that baby boomers, as a consequence of their age, naturally tend to have a wider array of credit accounts — with higher balances and credit limits — than their millennial counterparts, making them a more appealing target for identity thieves.
Simple steps, big impact
 Given the scope and seriousness of the Equifax breach, and the growing prevalence of identity theft in general, the time is now for everyone — young and old alike — to get educated and proactive about preventing fraud. The good news: There are many simple steps everyone can take to better guard against this growing threat. When it comes to fraud prevention, basic steps such as changing your PIN numbers, setting up credit alerts, signing up for credit monitoring and putting a freeze on your credit reports can make a major difference.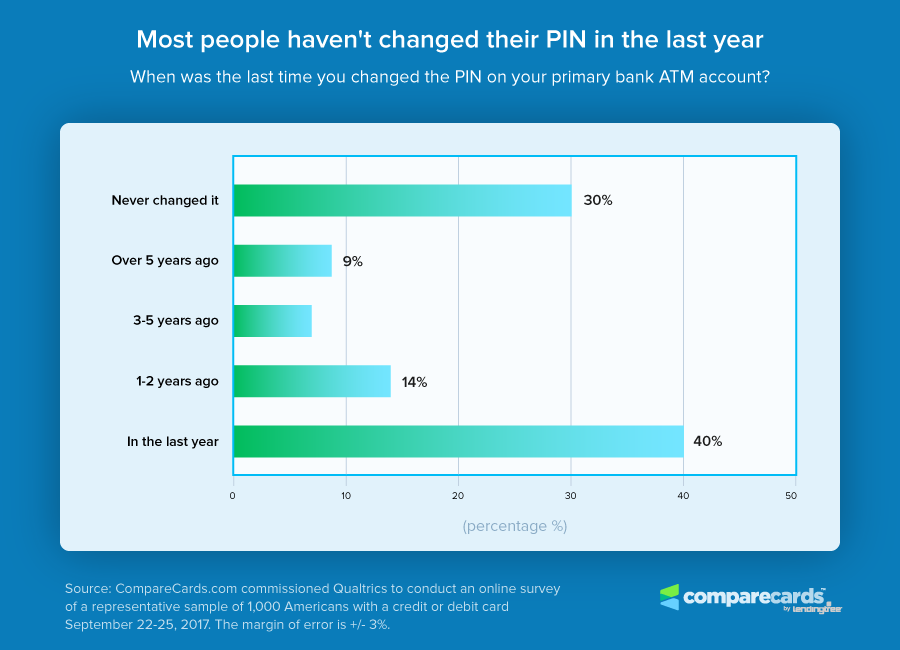 Article originally appears on Compare Cards: http://www.comparecards.com/blog/most-americans-still-unprepared-forfraud-after-equifax-breach/