Podcast: Play in new window | Download
Unified commerce is table stakes—but often misunderstood. For a truly compelling customer experience, retailers need to adopt a truly unified solution that brings their business's backend closer to their customer.
Whether a customer is shopping in-store, online, or via their mobile device, unified commerce guarantees consistent pricing, promotions, and inventory levels—and establishes a fully integrated customer journey.
During a recent PaymentsJournal podcast, Max Kirby, who works in Comms and Strategy at Stripe, Dil Hussain, Co-founder and CEO at Dines, and Daniel Keyes, Senior Analyst of Merchant Services at Javelin Strategy & Research, dug into unified commerce, its role in the customer journey, and how it can enhance the overall consumer experience.
PaymentsJournal
Unified Commerce Is More Than "In-Store or Online"
Understanding Unified Commerce
When merchants first hear of unified commerce, the idea of omnichannel strategy also comes to mind—particularly as both involve developing a cross-channel shopping experience online and in-person. However, it's much more than that, Kirby explained. Unified commerce means meeting customers where they are, throughout various channels and at any stage of the buyer's journey.

"I think people miss that it's about bringing the front office and back office together," said Stripe's Kirby. "Unifying commerce means unifying both the customer's commerce experience and the merchant's commerce infrastructure.
"Merchants today want to sell direct to the customer, but also through retail partners. Maybe they're an online marketplace, they may want to set up a loyalty scheme, they may want to offer membership subscriptions, and no matter the interface, they want to have a really coherent experience with the customer. So that's how we think about unified commerce."
Through unified commerce, merchants can gather and connect all the essential data points as well as customer interactions, revealing a comprehensive view of their customers. Hussain, a Stripe client, explained it this way: "Unified commerce is about bringing all the data, all the information, all the kind of personalization that a customer may have remotely or on-site in a retail or a restaurant environment and bringing them together."
There is a distinction between omnichannel and unified commerce, but they're often used interchangeably. Whereas omnichannel speaks to consistent experiences across siloed channels, unified commerce speaks to consolidating systems and data into a single integrated platform.
"Unified commerce allows you to do much more," said analyst Daniel Keyes. "It connects data, it connects experiences, it connects backend processes, these things that are really important and really do transform the experience much more than just the ability to be in-store and order a product shipped to your home."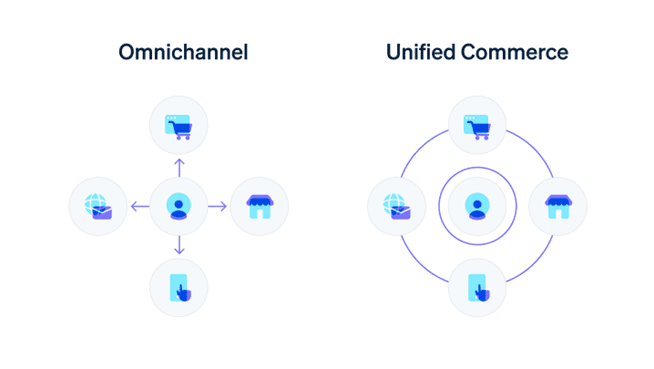 The Importance of a Unified Commerce Strategy
Unified commerce aims to offer a seamless, efficient, and consistent customer experience across all channels and touchpoints, including transactions made on mobile devices, in-store, and online. As the demand for frictionless commerce increases, adopting a unified commerce strategy can deliver on that front.
"We start from the premise that customers will choose experiences that are convenient, secure, and intuitive," Kirby said. "And if you don't have a unified commerce experience that delights the customer, then they're going to go elsewhere."
Hussain explained: "If you're thinking about what's so powerful about unified commerce, it's a quick win in my opinion. If you're thinking about the different ways that you can try and make the customers' experience better—across any channel and within any industry—then you need to create something that's unified, something that feels like the customer is being remembered, regardless of how they engage with the business. That is just a very surefire, quick way to delight them. And it's not that hard if you think about it, with the rails and the platforms available to you now."
Amid the proliferation of personalized customer experiences, businesses can't afford not to have a unified commerce strategy. Not having one puts them at risk of disappointing their customers. It's no longer a "nice to have" strategy. Rather, it should be regarded as "should be done."
Dines reported simplified back-of-the-house operations with unified reconciliation and reporting across mobile and in-person payments, saving up to 40 hours a week on administrative duties and boosting staff satisfaction. Additionally, after introducing a solution from Stripe, Dines has seen a 150% increase in revenues per venue.
"It's becoming closer to table stakes," Keyes said. "And that means if you don't have them, you're losing sales as much as you might be gaining sales by having these experiences. So it really does need to be a priority to build this sort of experience with unified commerce."
Connecting the Online and In-Person Experiences
Connecting the online and in-person experiences, Kirby explained, comes down to the business's mindset. A business must ask itself how it views every transaction. Is it simply a purchase that is disconnected from other transactions? Or is it a critical touchpoint that a business can leverage to develop a long, meaningful customer relationship? By adopting unified commerce, businesses simultaneously adopt the consumer's mindset and perspective.
"It's the data that underpins a truly composable architecture so that your business applications work seamlessly together," Kirby said. "A prerequisite for unified commerce is having a unified view of the customer. Can you recognize an existing customer when they walk into a store? If you've visited a store, do you recognize them online? Is your inventory database unified? If someone buys something in the store, does that mean you're now sold out for an online customer?"
In speaking to merchants, Stripe has found that many have in-store systems complete with point-of-sale terminals that are completely siloed from their online system. In essence, they're running two businesses. The aim of unified commerce is to merge systems, consolidating them into one business.
Unified Commerce—Reaping the Benefits
The benefits are clear: businesses with unified commerce strategies stand to remove unnecessary overhead, implement a unified tech stack for online and in-person payments, and run more efficiently, all while elevating the customer experience.
---