Podcast: Play in new window | Download
As a payment system that universally connects all U.S. bank accounts, the ACH Network supports a tremendous amount of transactions. Between Same Day ACH and core ACH payments, the transaction volume on the ACH rails has been steadily rising.
To learn more about the ACH Network's growth, and to better understand the difference between faster payments, real-time payments, and Same Day ACH, PaymentsJournal sat down with Michael Herd, senior vice president of ACH Network Administration at Nacha.
Joining us in the conversation was Sarah Grotta, director of the Debit and Alternative Products Advisory Service at Mercator Advisory Group.
PaymentsJournal
Unpacking the ACH Network's Significant Growth
Defining the difference between payment types
Before delving into the growth of the ACH Network, Herd and Grotta began by explaining the differences between faster payments, real-time payments, and Same Day ACH. Too often, the media and public use these terms interchangeably, leading to confusion.
"Same Day ACH is the easiest to define and understand because it is an ACH payment that settles on the same day that it is initiated," began Herd. In contrast, the typical ACH payment—sometimes referred to as core ACH—would settle on the next day or even two days after being initiated.
Defining faster payments proves to be a little harder because it's a general term that can encompass a lot of different payment types. Herd described how faster payments can be understood in three ways. First, and in the broadest sense, "faster payments can be anything that's faster than a paper check," he explained.
Second, faster payments can refer to a method that has accelerated processing in an existing payment system. A prime example of this is Same Day ACH because it is processed quicker than its traditional counterpart.
Finally, faster payments could refer to an entirely new payment type that did not exist a few years ago. For example, Zelle would be fit this definition, as would Same Day ACH.
Herd described that because of these differing definitions, faster payments "can be a term that means different things in different contexts, and this can be confusing."
Real-time payments can also be confusing because it can refer to two different things. One is the payment rail run by The Clearing House, known as the RTP network (for Real-Time Payments). This is distinct from the generic term that refers to any rail that moves in or near real time. To tell them apart, The Clearing House's Real-Time Payment is capitalized since it is the actual trade name of the product, whereas the other is lowercase.
The growth of ACH
With the terms now defined, Herd and Grotta discussed the volume growth of the ACH Network. Put simply, the ACH Network is doing phenomenally well.
In the third quarter of 2019, the ACH Network volume reached 6.2 billion payments, growing 9.5% from the same quarter the year before.
"We're in record territory for growth on the ACH Network," said Herd.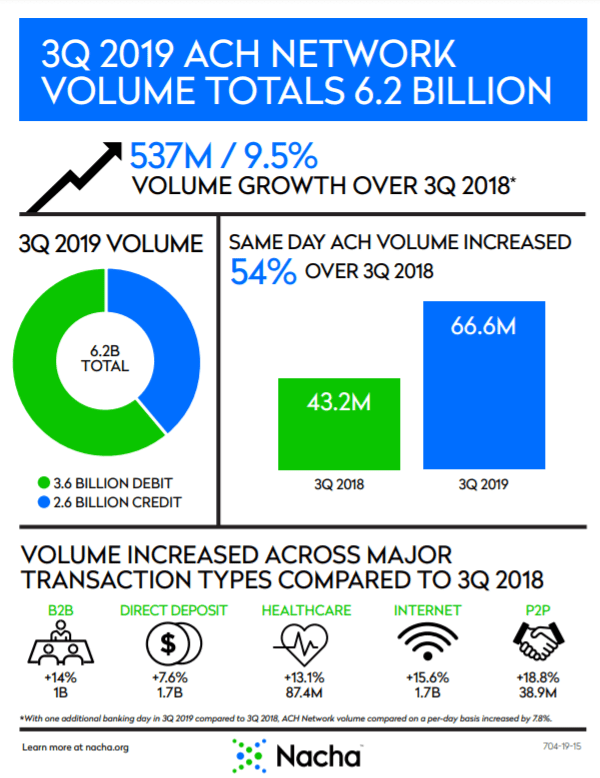 These numbers include both Same Day ACH and core ACH transactions. But when you break it out and look just at Same Day ACH, the numbers are even more impressive.
"Growth for Same Day ACH is up over 50% on a year-over-year basis," Herd said. Part of this tremendous growth can be explained by how new the payment method is, having just become available in September 2016. Even with this growth, Herd noted that Same Day ACH amounts to about 1% of overall ACH Network volume.
"We're still on the very early end of the adoption curve for Same-Day ACH," he said.
The causes of ACH growth
Strikingly, ACH payments is experiencing growth across a variety of use cases. Herd said this was indicative of where the overall marketplace is moving, as paper check use is declining in both consumer-oriented use cases and B2B transactions.
Grotta said the growth across all the various channels shows that different organizations are finding utility for many different use cases.
Herd agreed, highlighting one particularly interesting use case involving charitable organizations. Organizations that frequently receive recurring donations, including charities, nonprofits and religious institutions, are increasingly turning to the ACH Network to receive the transactions.
How the FedNow announcement will impact ACH
Herd noted that since FedNow will not be rolled out for up to five years, it's hard to forecast how ACH volume will be impacted in the future.
"I think one of the big unknowns collectively for the industry is what else [could] be different four to five years from now that [could] affect the ecosystem and the payments industry," he said.
Grotta agreed, noting that it will be fascinating to see how everything will unfold. She speculated that the FedNow announcement could actually prove beneficial for the ACH Network, at least in the short term.
Her reasoning is that since the FedNow solution won't be available for a few years, businesses might explore Same Day ACH
In addition to discussing how FedNow might impact ACH volume, both Grotta and Herd spoke about interoperability between the faster payment rails.
Grotta said that the question of interoperability is one that Mercator Advisory Group will be focusing on in the coming years. Herd noted that there exists a template for how to implement interoperability: the ACH Network.
"We almost forget when we call it the ACH Network, singular, that it's actually two interoperable networks," Herd said. Since it's completely seamless to end users, they don't realize it's actually two networks, operated by The Clearing House and the Federal Reserve.
The Network works so well because there's a defined governance model, consisting of business rules, formatting standards, definitions of liability, warranties and the responsibilities of all the parties. These are known as the Nacha Operating Rules, a topic PaymentsJournal has covered before in an earlier conversation with Herd.
The upcoming improvements to the ACH Network
Herd described a number of recent and upcoming improvements that will enhance the ACH Network.
In September 2019, Nacha implemented a faster funds availability standard. The next improvement will come in March 2020 when the transaction dollar limit for Same Day ACH will be increased fourfold to $100,000.
Herd explained that this is one of the biggest requests from corporates, so Nacha is excited for the change to take effect.
"It certainly expands the realm of use cases and transaction volume that will become eligible for Same Day ACH, particularly within the B2B space," he said.
Another forthcoming change is extended hours for Same Day ACH, which is planned for March 2021. The change will add an additional two hours to the window in which Same Day ACH payments can be initiated. Such a change will prove especially beneficial to businesses on the West Coast due to the time zone. However, Herd said it is important to note that the change is contingent on the Federal Reserve approving a request to extend its settlement service hours.
If the request is granted then the National Settlement Service (NSS) would stay open one hour later until 6:30 p.m. ET, which in turn means Fedwire would keep running another 30 minutes until 7 p.m. ET. It wouldn't be the first change in hours. The Fed extended the NSS closing time by 30 minutes to support Same Day ACH back in 2016.
By continuing to improve upon the ACH Network, Nacha is ensuring that an already popular payment rail will stay competitive and useful in the shifting payments landscape.