Podcast: Play in new window | Download
Over the past year, the pandemic has created a sense of urgency for innovation of all kinds. Restaurants have enabled contactless ordering and payments, QR code menus, and curbside pickup. Schools have adopted virtual learning to allow students to study from home. The wellness sector has embraced fitness apps, livestreaming, and on-demand workouts. Healthcare saw not only the rapid development of COVID-19 vaccines, but also innovations in data collection apps and the rapid shift to telehealth appointments.
The financial services industry has also been a part of this change. Digital payments, which include account-to-account (A2A) transfers, gained a new level of appeal in a Covid-conscious world. Anything that can be done digitally, will be.
To learn more about why digital account-to-account (A2A) transfers are growing and why that matters, PaymentsJournal sat down with Derek Swords, VP of Product Management at Fiserv, and Sarah Grotta, Director of Debit and Alternative Products Advisory Service at Mercator Advisory Group.
Necessity is the mother of innovation
Driven in part by the pandemic, consumers are increasingly moving toward online and mobile payments. While this trend was in evidence prior to COVID-19, the pandemic influenced further consumer adoption of digital services. "As they say, innovation is often driven by situations and solving real-world problems. This is no different," explained Swords.
The pandemic added what Swords referred to as an "exclamation point" to digital payments growth.
The growth of A2A transfers
Over the past 12 months, Fiserv has seen overall A2A transfer transactions increase by 19%. "We've seen ongoing growth in the leveraging of digital methods of moving money from one account to another year-over-year. That's been a consistent story, and we have certainly seen some spikes along the way," Swords added. This growth is illustrated in the graphic below, provided by Fiserv: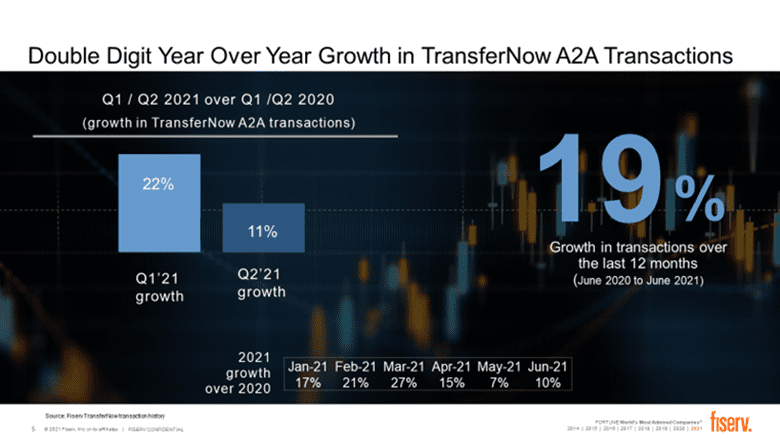 "Clearly, people have needed to move money in the past and… we've had maybe less efficient ways of doing that. So now we want this to be a more digital experience," said Grotta.
Now, the ability to transfer funds between accounts at different institutions is quickly becoming a must-have offering for the online-banking experience. Many consumers bank with both a primary and secondary institution, and the interfirm moving of funds should be a seamless process.
"More and more, it's what consumers are expecting and increasingly what financial institutions are offering and realizing that it's just a necessary part of the overall set of value that they've given their consumers," said Swords.
Stimulus checks and volatility in the stock market that caused consumers to move money into and out of investment firms were two factors contributing to the increase in A2A transfers in the last year.
Every age cohort utilizes A2A transfers
While Gen Zers, Millennials, Gen Xers, and Baby Boomers all account for a portion of A2A transfers, Gen Z and Millennial consumers are moving money at a more rapid pace. "They've got more transactions. [Gen Zers and millennials] are about 48% of the transaction volume and 45% of the dollar volume, and that's 666 million transactions valued at about $1.6 trillion," explained Swords.
In comparison, Baby Boomers and seniors account for approximately one-quarter of transaction volume and dollar value of interfirm A2A transfers for a total of 337 million transactions valued at $901 billion. And while Gen Xers represent a smaller share of the U.S. population than Millennials and Baby Boomers, they generate a sizable $1.1 trillion in interfirm A2A transfers per year.
Gen Xers are at the peak of their earning years and are largely focused on asset accumulation for retirement, which makes it crucial for institutions looking to manage retirement accounts to understand how this generation moves money across financial institutions.
More FIs are adopting digital A2A transfer solutions
An increasing number of financial institutions are recognizing the value of adopting digital A2A transfer solutions. "Talking to financial institutions, I think what a lot of advisors have found in the last 18 months are some of the gaps that they may have in some of their digital product capabilities… Given the pressure to develop more digital transaction capabilities, again, many found that their account-to-account solution may not be up to snuff," said Grotta.
Swords agreed, adding that the ability for consumers to conduct A2A transfers between their institutions is increasingly becoming a table-stakes offering for banks. "In fact, [Fiserv] just had our 900th customer go live with TransferNow, which is our premier A2A service that allows consumers to move money quickly and safely across accounts that they own," noted Swords.
But not all financial institutions have adopted A2A, and among those that have, some have yet to adopt a truly digital experience. "A number of financial institutions may offer basic capability, and they may offer that through the desk-top experience only, and they're neglecting the mobile channel," continued Swords.
But in the mobile-first world, that's not enough. "That's also something that we are emphasizing with our customers, and we see increasing adoption because if they don't see it in mobile, they may not see it at all," he warned. "And so TransferNow and the capabilities that we help deliver there makes [A2A] more widely available."
Why financial institutions should care about A2A capabilities
Convenience and speed are at the center of what's driving consumer adoption and innovation at financial institutions. Modern consumers are looking for and expecting expanded online and mobile options. The ability to transfer money digitally to and from their accounts is critical to serve customers in the ways they now expect.
With that come additional challenges, such as completing transfers quickly and safely while mitigating risk and ensuring identity management. Effective and efficient decision-making by financial institutions requires that they adopt a solution that increases revenue, reduces losses, meets regulatory requirements, and improves the customer experience through faster real-time approvals.
So what's in it for financial institutions? Simply put, digital banking consumers are among a financial institution's most valuable customers. Providing them with the services they crave drives revenue and contributes to lower expenses for financial institutions.
A Fiserv study conducted in partnership with a large credit union has proven this value. "In general, digitally engaged TransferNow users deliver 113% higher net profit than non-digitally engaged TransferNow users. They carry 16% more product holdings, they've got 39% higher deposits in general, and from a savings perspective, they've got a 75% higher rate of savings," explained Swords.
These customers also use fewer checks and ATMs than non-digitally engaged customers. "All of this means less expense for the financial institution, driving more engagement from a digital perspective, more loyalty, and really delivering services that customers want and need. So it offers a really clear value proposition for financial institutions," he concluded.