Are you getting frequent fliers rewards – airline miles – from your credit cards?  Have you ever redeemed them?  Do you know how the program works?
Silly questions?
Not if you read a recent article from The Ascent from the Motley Fool. This article, 45% of Airline Loyalty Program Members Don't Know How to Use Their Rewards, cites a recent J.D. Power study that found nearly one-half of those getting airline rewards don't know how to use them and 43% don't know how to earn the miles they are supposed to get. As the article points out:
This is a serious issue, both for the airlines and the consumers. Customer satisfaction rates plummet among those who don't understand how miles work, and if you're in this category, you won't be able to get the most value from your travel rewards. To help with that, let's clear up the confusion regarding earning and redeeming miles.
These findings shouldn't be all that surprising for people who are familiar with restrictions like blackout dates, steerage seating, and all of the other limitations placed on airline rewards programs. If fact, you may recall Capital One used to run commercials touting the fact that they eliminated all these restrictions. That said, the over-complication of airline rewards programs has, obviously, left a certain part of the population understandably confused.
The article goes on to explain, in simple terms, how to get airline rewards if your card provides them. It also goes on to explain that cash back cards may be the way to go.
Our U.S. PaymentsInsights survey demonstrates that cash back is the most popular reward program feature among cardholders and has been for a number of years. Airline rewards was one of the first notable perks of credit card reward programs, but times have changed and rewards programs have slipped to the middle of the pack.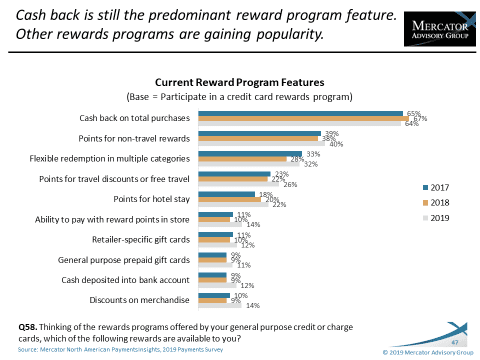 The dissatisfaction mentioned above has likely led consumers to rethink their rewards programs and find programs that have easier redemption programs produce more overall value.
If you think about it, cahs back suits most people very well. There's no guessing why it's number one.
Overview by Peter Reville, Director, Primary Research Services at Mercator Advisory Group