Podcast: Play in new window | Download
Europay, Mastercard, and Visa (EMV) chip card technology have been widely adopted in recent years in the United States, with millions of merchants successfully making the shift away from sliding a card with a magnetic strip. The reason why is simple: EMV cards are more secure.
It is nearly impossible for fraudsters to intercept and steal card information from EMV cards. By reducing fraud, the number of chargebacks also decreases. Card issuers today don't have much leverage to win chargebacks against merchants experiencing fraud, so gas stations themselves don't usually pay the price of poor security. Because of the looming deadline, however, that will soon no longer be the case.
To talk more about the looming EMV activation deadline, challenges fuel stations are facing in meeting it, and the potential consequences for those that don't, PaymentsJournal sat down with Bobby Koscheski, Director of Solutions Consulting at ACI Worldwide, and Raymond Pucci, Director of Merchant Services at Mercator Advisory Group.
PaymentsJournal
Even with an Extended Deadline, the EMV at the Pump Requirement is Quickly Approaching: Here's What Unprepared Fuel Merchants Can Expect
EMV at the Pump: Some Background
Widespread installation of EMV capable point of sale systems began in the U.S. in 2015 because card companies issued a deadline of 2015 for most merchants. After that deadline, merchants without chip card acceptance would be responsible for card fraud losses.
Gas stations had a later deadline of October 1, 2017, which was extended to October 2020 when it became clear that fuel merchants were struggling to migrate to chip. The extended deadline coincides with fuel merchants' unique needs that make deploying EMV a bigger undertaking than it is for most merchants. In May 2020, Visa extended the deadline a second time to April 17, 2021, this time due to the unprecedented impact the COVID-19 pandemic is having on businesses.
After all, "it's not just the pump that needs to be upgraded. There are multiple systems, like pump controllers and in-store payment systems, that fuel merchants need to upgrade to deploy EMV," said Koschenski. The biggest challenge in doing so? It's expensive.
A Majority of U.S. Consumers Regularly Visit Fuel Stations—and Use Cards to Pay
Data from Mercator Advisory Group (shown in the chart below) has found that 84% of U.S. consumers visit a gas station at least once a month, including 29% who do so on a weekly basis. Further, more than half (57%) use a credit or debit card to pay.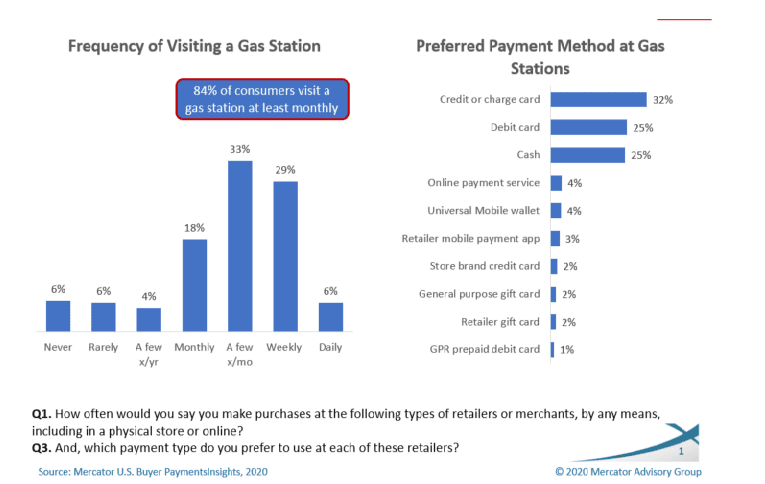 Therein lies the core issue related to EMV at the pump. Most consumers go to gas stations, most still use plastic to pay, and non-EMV card readers are highly susceptible to fraud. Thus, it's critically important that gas stations prepare to fully implement EMV capabilities at their pumps and convenience stores, especially because they will soon be the ones held liable for card fraud that occurs.
Even with the Deadline Extension, Many Fuel Merchants Aren't Ready
The high expense, labor, and physical infrastructure replacement that's needed in order to be in compliance have caused some fuel merchants to fall behind in implementing EMV. Some are simply waiting to see what happens, while others are scrambling to start their projects and make the capital investments to enable chip cards.
The high installation costs, which is the largest hurdle for gas station operators, disproportionately impacts local convenience stores and gas stations. Gas stations that are "independent don't have the deep pockets that some of the national retailers do," explained Pucci.
Of course, COVID-19 isn't making things any easier. Even so, it is important that fuel operators take steps to inch closer to compliance now, and not wait until the new April 2021 deadline to convert to EMV.
Businesses that Don't Meet the Deadline Will Suffer Fraud Losses
The exact cost is difficult to pinpoint, but the fraud liability shift means that fuel merchants without upgraded pumps will suffer the costs associated with fraud. Fraudsters are smart and sophisticated, so it's likely that non-compliant fuel merchants will be targeted by fraudsters that know they can exploit the lack of chip acceptance to use cloned, stolen, or fake cards at that fuel station.
"Merchants that don't deploy chip acceptance will see a significant increase in the number of chargebacks they receive from banks, and will in some cases absorb additional costs of two to three times the cost of original fraud in law labor costs and chargeback fees," noted Koschenski. There are also non-financial costs, like brand reputational damage due to angry customers that were targeted.
Interim Measures Fuel Merchants Should Take to Protect Themselves
The most important thing to do is to continue to work towards EMV implementation. While doing so, it's also necessary to have a robust fraud screening solution in place that screens fraud and data across payments made at the pump, inside a convenience store, or whatever touchpoints and payment types a specific merchant enables.
Even if a card is still being used to pay, different ways to use it come with their own security needs. As newer digital technologies gain traction, such as paying with a mobile app or even with a smart connected car, having this robust screening solution will enable merchants to prevent a majority of fraud from happening, whether or not EMV is enabled.
Conclusion
The EMV at the pump deadline is fast-approaching, but many fuel merchants are unprepared to meet it. Those that don't can expect to face increased fraud attacks and potential losses associated with chargeback liability and legal fees. Getting up to speed on EMV implementation, while also prioritizing a robust fraud screening solution, is necessary to protect consumers paying with plastic at gas stations.
Those with further questions on the EMV at the pump mandate can reach out to ACI directly at merchantpayments@aciworldwide.com.