Podcast: Play in new window | Download
The world continues to move further away from COVID-19 pandemic-induced restrictions. It is moving back into a state of somewhat normalcy. The 2022 holiday season will take on interesting new trends in gifting and how those holiday gifts are paid for. In fact, 58% of consumers are planning to change their shopping behavior. They are seeking to use more discounts and promotions, according to research from Blackhawk.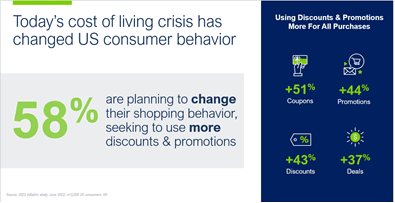 The holiday seasons of 2020 and 2021 were largely marked by limited in-person gatherings and remote connections. 2022 will be a unique blend of pre- and post-pandemic trends. The massive adoption of alternative payments during the last two years is still in effect. But many consumers are desiring in-person, in-store experiences more than in the past two holiday seasons.
In this podcast. we learn more about the unique trends that will shape the 2022 holiday gift shopping season. PaymentsJournal sat with Jay Jaffin, Global Chief Marketing Officer for Blackhawk Network, Sarah Kositzke, Senior Global Insights Manager for Blackhawk Network, and Jordan Hirschfield, Director of Prepaid Advisory Service for Mercator for a two-part discussion about 2022 holiday insights. In Part 1, they focus on what to expect this holiday season, as well as the importance of gift cards.
PaymentsJournal
Gift Cards Will Be a Focal Point This 2022 Holiday Season
Holiday Gifting and the Economy
Holiday get-togethers will be more prevalent this year. Blackhawk data shows there will be a 23% increase in in-person holiday gatherings in 2022. "This is not only the case for Gen Z and Millennials, but Gen X and Baby Boomers as well," said Kositzke. "And more get-togethers lead to the potential for more gifting opportunities," she added.
Many are planning to purchase holiday gifts earlier this year than in years past. This is due to fear of missing out on potentially out-of-stock items due to global supply chain shortages. It is also due to trying to stay on budget in the current inflationary times, Kositzke explained. Thirty-seven percent of consumers plan to spend on holiday gifting before November, while another 43% plan to begin in November.
"People have concerns on out-of-stock items, and they're also trying to stick to their holiday budgets," Kositzke said. "They are also really looking for deals. They want to take advantage of any kind of deal or savings discount."
This is backed up by Blackhawk research. It shows that the top reason for early holiday shopping is budgeting, coming in at 42%, followed by out-of-stock concerns at 38% and seeking deals at 37%.
Despite the state of the economy and the many unknowns, consumers are planning to spend 8% more this year on holiday gifts, said Jaffin.
"This really speaks to the idea of the resilient consumer," he added.

The Power of Gift Cards
For the 16th year in a row, gift cards are the preferred gift to give others, according to research from NRF and Prosper Insights & Analytics. On average, a consumer will purchase 36 gift cards — both physical and digital — this holiday season, Jaffin said.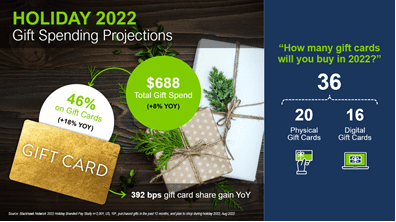 "That number might sound big, but think about the things we do over the holidays," Jaffin continued. "You might buy your kid's teachers each a $20 gift card. There are all the people we interact with on a day-to-day basis that we want to show a small token of appreciation to."
Overall, gift card spending represents about half of the total holiday gifting spend, according to Blackhawk data. Gen Z in particular are planning to increase their holiday gift card spend by 57% in 2022, from $185 to $290. Younger consumers (Gen Z and Millennials) are also significantly more likely to shop before November for gift cards (41% vs. 29% of Gen X and Baby Boomers).
Many will physically hand a gift to the recipient, or send it via digital means. But we are seeing a new trend of hybrid physical/digital gifting as in-person get-togethers come back.
Gift cards are especially popular this year amid an uncertain economy. This is because of the potential rewards purchasers can receive, Hirschfield noted. For example, he cited getting fuel points back on gift card purchases. This is very appealing with the current high gas prices.
"As a purchaser, if I'm buying five $10 gift cards for my kid's teachers and I can save on gas at the same time, that's very appealing," he said.
Consumers also like the promotional incentives that can come with buying gift cards, such as receiving a bonus $10 gift card with the purchase of a $100 gift card, said Hirschfield, which is especially appealing in the current economic climate.
Furthermore, eGift cards allow consumers to send "last minute gifts" up and through the holidays. About 20% of consumers are expected to send digital gift cards directly to a recipient.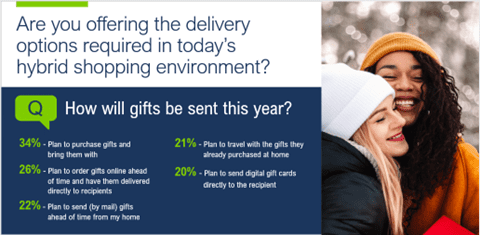 Kozitzke added that recipients like gift cards because they won't need to return an unwanted item. Essentially gift cards give consumers flexibility, not only on what they can buy, but also how they buy it — online or in-store. They can also use the gift cards to make more practical, everyday purchases, or be able to treat themselves.
"Instead of a dreaded return day, you can have a day that's more retail therapy," she said.
Rise of Alternate Payments
The last two years have seen the rapid rise of not only digital payments, but digital wallets as well. In particular, the rise of retail-branded payments apps, such as digital wallets for a particular store or restaurant.
"There's hundreds, if not thousands, of different digital wallets now," said Jaffin.
These merchant apps "blur the line between physical and digital," Jaffin added. As an example, he cited being in a mall and purchasing food on a restaurant's app in a completely digital manner, but then going to that restaurant to physically pick up the food.
"So, it is super easy to pay for things on these different retailer apps, then go from store to store and pick up my stuff," Jaffin said.
Mercator data from 2021 showed that more than 30% of younger consumers have used a retail-specific app to make a payment, Hirschfield said, adding that when the 2022 data come out, "I expect that number to increase even more."
Consumers are also leveraging alternative forms of payments such as buy now, pay later (BNPL) to pay for holiday gifts. This is especially true for younger consumers; 27% say they will use BNPL to pay for holiday gifts (versus 10% of older consumers), while 17% of younger consumers will use cryptocurrency to do so (versus 4% of older consumers).
In general, "consumers are much more nimble now in how they not only fund their shopping expenses but also how they pay for their shopping as well," Jaffin said.
Part 2 of this podcast episode is now streaming HERE.
---
About Blackhawk Network:
Blackhawk Network delivers branded payment solutions through the prepaid products, technologies and network that connect brands and people. We collaborate with our partners to innovate, translating market trends in branded payments to increase reach, loyalty and revenue. We reliably execute security-minded solutions worldwide. Join us as we shape the future of global branded payments. Learn more at blackhawknetwork.com.
All BHN data noted in this article can be sourced to:
Source: Blackhawk Network 2022 Holiday Branded Pay Study n=2,001, US, 18+, purchased gifts in the past 12 months, and plan to shop during holiday 2022, Aug 2022
---