Podcast: Play in new window | Download
Holiday shopping season is in full swing. With the second COVID Christmas just around the corner, consumers are eagerly embracing this year's gift giving season, resuming some in-person festivities and returning to brick and mortar stores.
With changing consumer priorities and ongoing supply chain disruptions, retailers are facing unique challenges in 2021. Gift cards can help them overcome holiday hurdles such as shipping delays and out-of-stock merchandise. For consumers, gift cards stand as a tried-and-true way to give the gift of both convenience and choice in a changing world.
To learn more about how holiday shopper attitudes and behaviors have evolved since the start of the pandemic and break down the overall shopper outlook for the 2021 holiday season, PaymentsJournal sat down with Theresa McEndree, Global Head of Marketing and Corporate Brand at Blackhawk Network, and Don Apgar, Director of Merchant Services Advisory Service at Mercator Advisory Group.
PaymentsJournal
How Retailers Can Win Consumer Spend in the 2021 Holiday Shopping Season
'Tis the season… for a supply chain crisis
Recognizing the importance of the holiday shopping season for retailers, Blackhawk Network conducts an annual study looking at consumer trends for holiday spend. "We are keenly interested, especially in the last 20 months, in how consumers are going to behave. Consumer behavior has taken an unprecedented hit in how they buy, what they buy, and what is driving their brand affinity, so we wanted to dig in and understand how that applied to the holiday 2021," said McEndree.
An interesting dichotomy this holiday season is that even though consumers are eager to embrace holiday gifting traditions, ongoing supply chain and labor shortages have resulted in a lower in-stock merchandise and delayed delivery times. "With the supply chain shortages, it'd be interesting to see if everybody gets what they want this Christmas," noted Apgar.
Rather than settling for printing out a picture of an item that did not make it in time, consumers can turn to gift cards as the perfect holiday present for their loved ones. "It's really the ability to give somebody something tangible at the holidays when you don't know if something is going to be back in stock or when that toy is going to be available," McEndree added.
In the post-pandemic world, gifts take on a whole new meaning
Another noteworthy trend identified by Blackhawk is the increasing importance consumers place on meaningful gifts that align with their values. A growing number of consumers, and in particular younger adult generations, are emphasizing spending their money at charities or retailers that align with values like diversity, inclusion, and environmental justice.
In fact, 61% of overall consumers surveyed by Blackhawk expressed wanting to find a way to give back with their gifting. This trend is heavily driven by younger generations: 79% of Millennials and 78% of Generation Z consumers intend to purchase gift cards that give back.
"When you look at where they spend their dollars and their time, charitable giving brands have an alignment as far as things that are important to them, whether it's community or the environment. Things like that have become increasingly important and you've seen a lot of the leading brands either strengthen their position or grow their position when it comes to these types of initiatives," explained McEndree.
This aligns with a separate study conducted by Accenture, which defined half of today's consumers as "Reimagined." This means that 50% of consumers surveyed by Accenture–not segmented by age, gender, or location–said the pandemic caused them to rethink their personal purpose and reevaluate what is important to them.
"There's a drive, almost to the point where [consumers] won't do business with a brand unless [they] can validate that it aligns with [their] news on the world and social issues. The whole give back concept is very important, especially in the gift card space," said Apgar.
Gift cards will "sleigh" this holiday season
Last holiday, consumers searched for convenient, contactless ways to send gifts to family and friends. As one of the most resilient gifts, gift cards recorded a banner year in 2020. Now in 2021, consumers are wanting to give more thoughtfully and meaningfully. At the same time, they must navigate out-of-stock issues and shipping delays caused by supply chain shortages. Gift cards fit the bill for these consumers nicely, which is why 2021 will be another record-setting year for holiday gift card sales.
Consumers surveyed by Blackhawk anticipated spending 41% of their holiday budget on gift cards, a 27% year-over-year increase from 2020. They are leaning on gift cards due to supply chain bottlenecks and potential shipping delays, with 83% of consumers reporting wanting to give a gift card instead of a physical gift this year.
Consumers also appreciate receiving gift cards as a gift, with 69% of consumers preferring to receive a gift card and shop for themselves instead of a physical gift. While consumers overall are more likely to prefer a physical gift card over a physical one, younger adults are significantly more likely to want digital gift cards for all spend categories.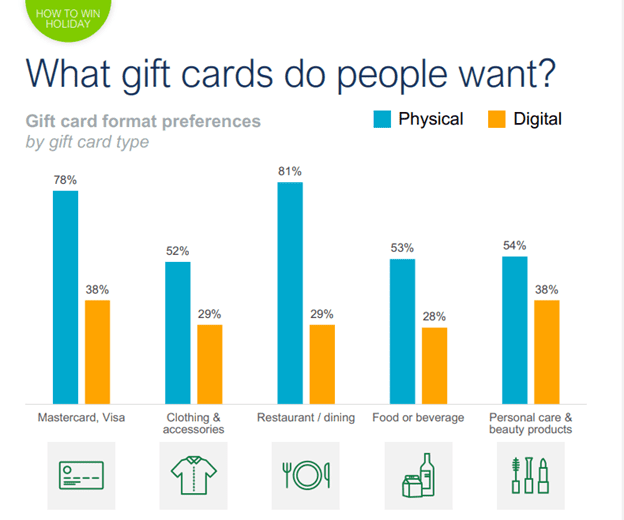 Give consumers the gift of choice
As the holiday shopping season continues into the month of December and the impact of the pandemic continues to ebb and flow, retailers must be prepared to meet consumers where they are comfortable shopping. Many customers will be in-store, which could increase if consumers want to ensure they avoid delivery delays. Others will flock online, especially those who are concerned about the newly named Omicron COVID-19 variant.
Regardless of how the season plays out, both physical and digital gift can help retailers meet consumers where they are at and enable them to give their loved ones the opportunity to shop where, when, and how they want.
"There are strong trends overall from an economic perspective, strong trends from an overall gifting perspective, and an increasing strength when you look at gifting. So overall, [there are] some great trends for gifting, gift cards, and the industry as a whole," concluded McEndree.
To learn more, fill out the form below to gain access to Blackhawk Network's complimentary eBook, 5 Ways to Prepare for Holiday 2021.