More and more people prefer online payment.
It's well-known that tech-savvy millennials and Gen-Xers prefer online shopping and cash-free (and now credit-card-free as well) payments.
However, according to the report by CNBC, the number of online payment admirers keeps growing, since more and more Baby Boomers get introduced to modern technology and its perks, including high security and versatility.
The general landscape of mobile payments shows rapid growth and development. Current stats on online payments show that:
The use of mobile payments and e-Wallet is expected to increase from 15% last year to 28% by 2022.
On the other hand, the use of cash payments is expected to decrease from 32% last year to 17% by 2022.
It is reported that global mobile transactions will be worth more than $4 trillion by 2023.
Since the demand for online payments is only expected to grow, more and more businesses are getting ready to invest in the technologies that will make the process of online payments faster.
There are, however, simple steps that you can follow to speed up the payment process on your website.
Let's take a look.
1) Allow No-Sign-In Payments
It's a common practice for e-commerce businesses and online payment systems to have their customers sign-in first, before completing the payment.
Although it might seem that you're taking an extra precaution step, sign-in forms are the reason why your website conversion rates are so low.
While browser autofill feature may speed up the payment process a little bit, your customers will still have to fill out the tabs that don't allow autofill, hence increasing the time of completing the transaction.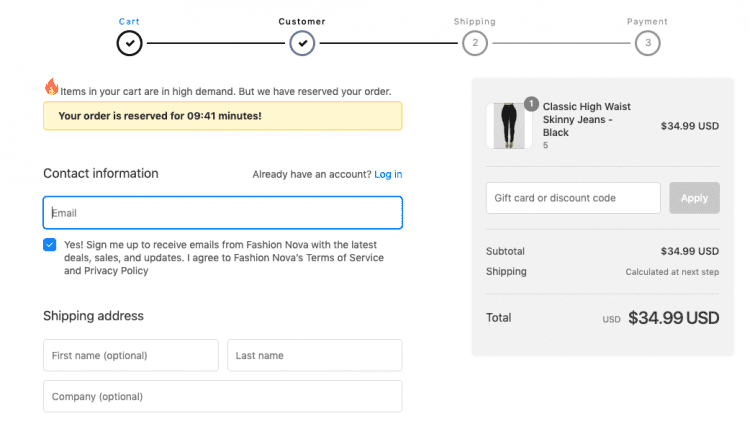 With current technology, you can avoid required sign-in forms and still keep the online payment process transparent. Current security measures, like SSL certificate, PCI Data Security Standard compliance, tokenization, 3D secure, etc., allow fraud prevention, the extra protection of sensitive information, and data encryption without requiring a sign-in form.
You can, however, still offer a sign-in form without making it mandatory. Apple Store offers such an option, inviting returning customers to sign in, and for guests to proceed to checkout without creating an account: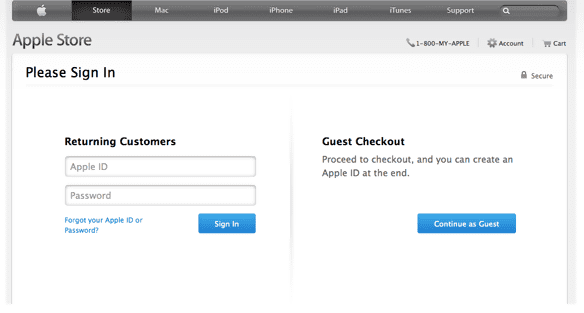 Sign-in forms significantly prolong the completion of a payment process. However, with today's options for better online payment security, you can avoid this unnecessary step and speed up payments on your website.
2) Avoid Redirecting
Online businesses and e-commerce shops often use online payment services like PayPal. And, while PayPal is a secure payment service to use, there is one main disadvantage to it – it redirects buyers from your website to PayPal's website to complete the transaction.
While businesses still continue working with PayPal (as it's one of the popular payment platforms), some report that they've noticed it affecting the purchase decisions of some consumers. An international real estate company Flatfy reported that 15% of their customers don't complete the payment due to PayPal redirecting them to their website.
Thus, besides delaying the transaction, redirecting causes other issues that may affect your business, namely:
Abandoned carts
Lower website conversion rates
Less trust in a brand in general
Redirecting to another website to complete money transactions also raises a question, who to contact in case any issues occur.
So, since redirecting causes so many issues that slow down the payment process, offering a variety of payment options that don't require redirecting to another website may be a good solution to speed up money transactions on your website.
3) Specify Payment Information
Although you may ditch a mandatory sign-in form, you will still have to require essential payment information to complete the transactions.
Some websites ask buyers to provide their full name, location, date of birth, etc., besides the payment details. This information is not necessary and is hardly ever required for online payment, but rather for the company to keep track of their customers.
For the customer, however, it is another bureaucratic obstacle, which adds up to negative customer experience. A study by Forrester conducted several years ago has shown that 11% of U.S. adults abandoned an online purchase because a website was asking too much information.
This is still true today. However, the average customer has become even more demanding, and this percentage is likely to have grown.
For your website and business in general, this may result in lower conversion and customer satisfaction rates. Since your customers want a more seamless experience, when buying your products, try not to put extra weight on them by asking too much information.
Final Thoughts 
No matter, how advanced online payment technology gets, you still slow it down by requiring to fill in the forms that ask too much information and redirecting your customers to other websites in order to complete the transaction.
If you want to speed up the payment process on your website, try avoiding these mistakes. Thus, you'll contribute to positive customer experience, keeping your conversion and satisfaction rates high.
Ryan is a passionate writer who likes sharing his thoughts and experiences with the readers. Currently, he works as a digital marketing specialist at https://flatfy.ro. He likes everything related to traveling and new countries.