Podcast: Play in new window | Download
With a pandemic raging across America and the globe, daily life for billions of people has been disrupted. Everything from normal economic activity to routine social behavior has been forced to change, as societies around the world respond to the public health crisis.
In America, lockdowns brought much of the economy to a standstill, and people largely shifted their activity online. In an effort to provide relief to families and businesses, the federal government infused trillions of dollars into various programs, including direct payments to individuals and loans to small businesses.
Against this backdrop, Nacha released data on the ACH Network volume over the first half of the year. The numbers offer valuable insight into the changes taking place in the economy. In addition, Nacha's figures reveal how reliable and valuable the ACH Network is to commercial and economic life in the U.S.
To better understand these numbers and the broader trends in the economy, PaymentsJournal sat down with Michael Herd, Senior Vice President of ACH Network Administration at Nacha, and Sarah Grotta, Director of Debit and Alternative Products Advisory Service at Mercator Advisory Group.
ACH Network volume increased, even during the pandemic.
Anyone who has been following the payments industry is likely aware of how strong the ACH Network's growth has been in recent years. With paper check use declining and electronic payments on the rise, the ACH Network has grown tremendously. Part of the growth was fueled by Nacha rolling out Same Day ACH in 2016, which allows payments to be posted and paid on the same day.
During the first quarter of 2020, the ACH Network continued to grow at its normal rate. The network's overall volume grew by 7.1% compared to the previous year, and Same Day ACH volumes rose by 42%. In total, over 6.4 billion payments hummed across the ACH Network during the first quarter.
"We had a fairly normal pattern for things like direct deposit and internet-initiated payments," explained Herd. Then everything changed during the last 10 days of March. "It was as if the volume fell off a cliff."
During this time, areas around the country, especially where the outbreaks were more widespread, began to lockdown. Stores closed, shopping stopped, and people began quarantining at home. The rapid drop in ACH Network payment volumes reflects this sudden standstill to economic life.
Despite an initial drop, volumes surged back up again
Many expected the trend to continue as the pandemic showed no signs of abating. However, the numbers from the second quarter reveal that volumes picked back up again. Moreover, when one drills deeper into the data, some interesting trends emerge that reveal the impact of COVID-19.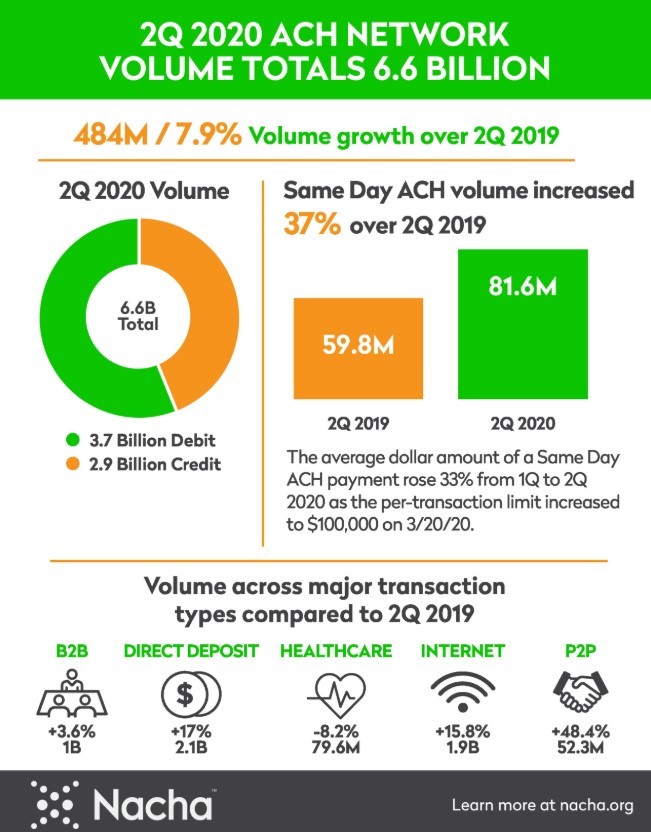 The ACH Network handled a total of 6.6 billion payments during 2Q 2020, a 7.9% increase from the previous year. Same Day ACH also experienced remarkable growth, up 37% over 2Q 2019.
Herd and Grotta attributed this growth to a variety of factors. For starters, the slowdown in the economy was counterbalanced by "a massive flood of dollars and number of payments being issued primarily by the federal government," noted Herd.
The federal government issued approximately 160 million direct payments to individuals, in what was termed economic impact payments. In one day, the IRS made about 81 million direct deposit payments. The ACH Network was able to accommodate this surge without issue, largely because the Network was designed to reliably handle massive transaction volumes:
At the same time, the government was also pumping hundreds of billions of dollars into companies so payrolls could be maintained. Those who lost their jobs received beefed up unemployment benefits, further adding to the amount of payments moving along the ACH Network.
Person-to-person  payments on the ACH Network also skyrocketed. Compared to the year prior, P2P volumes rose 48%, growth that Herd attributed to people being at home and unable to meet up physically to pay each other.
For all this growth, there were some areas that witnessed declines. Herd pointed out there was an 8% reduction in healthcare claim payments. While this may seem counterintuitive given the existence of a deadly pandemic, overall healthcare-related insurance payments declined because many people were putting off elective procedures and routine well visits.
Another area that saw a reduction in activity was check conversion (where paper checks are turned into ACH payments). It dropped by nearly 24% compared to the year prior, reflecting the flight away from checks in nearly all use cases. For example, with many retailers closed, retail-related check conversion payments dropped by a striking 45% compared to 2Q 2019.
Now is a great time to abandon checks
The drop in check conversion ACH payments speaks to a broader reality: Checks are an inefficient payment method in general, but even more problematic during a pandemic.
This is because checks are labor intensive, meaning that people are needed to physically write, send and process them. Therefore, it is difficult "to receive and process checks through a lockbox or in the mail when you don't have personnel in the office, and that became a significant pain point for a number of companies," said Herd.
He shared one salient example of a company struggling to continue using checks. The company had to set up a drive-by check signing process, where one employee would prepare all the checks, put them in an envelope, and then let them sit out for a few days to (hopefully) kill any virus that might be present.
Next, the employee would leave the checks outside, at a table, perhaps, so the assigner could drive by, open the envelopes, and sign the checks. Then the checks would sit out for a day before the company would send them.
"That's not an efficient process for making payments, and companies very quickly attempted to try to move activity as much as possible to electronic and remote forms, which certainly includes ACH," said Herd.
So while checks may work for some people during normal times, the pandemic has furthered the shift towards electronic payment methods. Jane Larimer, President and CEO of Nacha, recently published a blog post covering the topic.
Conclusion: The ACH Network's growth reflects broader trends in the COVID era
The numbers Nacha released show how the economy is changing. At first, payment volumes across the board dropped as people adjusted to quarantine and closed businesses. But as activity shifted online and the federal government stepped in to keep the economy afloat, payment volumes surged in some areas, but dropped in others.
With all the uncertainty and change taking place, the ACH Network remained a steady and reliable rail for keeping economic life going.