Podcast: Play in new window | Download
Debit is the most popular payment method both in the United States and globally. Influenced by the growing popularity of digital payments and evolving consumer preferences, it is projected that debit transactions will remain king when it comes to consumer payments. As a result, modernizing payments is now table stakes. Solutions with reusable technology and the ability to support multiple channels are key to successful modernization.
To learn more about why modernizing debit payments is crucial in the banking and retail sectors, PaymentsJournal sat down with Steve Kremer, Director of Sales – Payments at Diebold Nixdorf, and Sarah Grotta, Director of Debit and Alternative Products Advisory Service at Mercator Advisory Group. 
PaymentsJournal
The Time to Revitalize Debit Rails is Now
The state of debit card usage
The dollar amount spent on Visa and Mastercard debit cards increased by 14% in the United States in 2020, reaching over $900 billion. In comparison, credit card volume dipped when the pandemic struck. This is apparent in the chart below, which was provided by Mercator Advisory Group: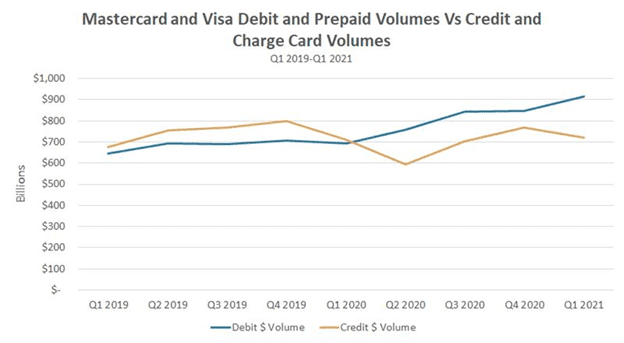 "Debit continues to make a very strong showing. From a consumer convenience standpoint, we can see the advantages of using debit over other payment rails. And then finally for the retailer, there are real economic advantages of debit-based processing solutions," Kremer added.
The growing popularity of debit is not unique to the United States. The global debit card market is anticipated to grow from $91.37 billion in 2020 to $94.08 billion in 2021. India boasts 900 million debit cards but just 55 million credit cards. In the Asia Pacific (APAC) region, bank accounts lead the race with transactions occurring using mobile apps and digital wallets connected to debit cards.
What is unique about the United States is the popularity of credit cards. "I think the U.S. is somewhat unique in its history, its legacy of being very credit card focused. That isn't necessarily the case around the world," said Grotta.
Some of the debit growth seen in 2020 can undoubtedly be attributed to the COVID-19 pandemic. "Did the impact of the pandemic and stimulus money have some impact on the increase of debit usage in 2020? I think it did. But I think that the pandemic also accelerated the consumer migration to digital payment channels," said Kremer.
The popularity of debit is here to stay
Another factor driving the growth of debit is evolving consumer preferences among certain demographics (i.e., young adults). While a segment of mature financial consumers prefers the perceived security and reward benefits of using a credit card, that is not universally true. Millennial consumers tend to prefer debit, and merchants prefer processing debit cards because it is less expensive than processing credit cards.
It is important to keep the customer experience at the forefront when modernizing debit rails. Consumers expect that their debit card will work for them 24/7, whether they are using an ATM to withdraw cash or purchasing merchandise online or in-store.
"Consumers want to make sure their cards and data are safe and that they can quickly pay for what they want. But what we're hearing from our customers… primarily the banks, is that the debit networks are being challenged with new payment types, and they've spent a lot of time and money on the overall upkeep and maintenance of their debit networks," said Kremer.
Many of the systems used to process debit cards have not been updated in decades. While legacy debit payment platforms were designed to quickly and securely approve and process payments, the future of payments is not so straightforward. The ability to manage authentication methods such as tokens and biometrics, fund payment types such as Buy Now, Pay Later, and conduct a true overhaul of legacy systems will be necessary for banks to remain relevant.
"Even though debit has been around for a really long time, there are still things that we can do as an industry to improve that user experience that dovetails into the ideas and concepts around modernizing the infrastructure… I think that a very interesting part of the payment ecosystem right now is really that intersection of things like debit and more modern infrastructure," noted Grotta.
How customers are revitalizing debit rails
So how are banks approaching infrastructure modernization? "Many larger banks are opting to build separate in-house silos to process these new payment types. And given the large number of dedicated channels that are required to process this vast array of payments, it quickly becomes a very complex undertaking [and] it generates significant cost of support," said Kremer.
Smaller banks are taking a different approach. "Meanwhile, smaller banks are tackling the same challenge by outsourcing services to vendors. While this may work in the short term, it too can become very expensive and really stifles differentiation and creates barriers to innovation," warned Kremer.
Rather, banks should use a "build once, use often" approach to modernization, which can yield significant benefits to the institutions that deploy it.
"With Vynamic payments, we're able to deliver on the promise of build once, use often. And Diebold Nixdorf is really moving digital payments processing to a new era and introducing open APIs, integrating with best of breed fintech solutions across banking and retail, and really delivering seamless customer-centric journeys on a state-of-the-art platform. So quite simply, it is a great time to speak with Diebold Nixdorf about the future of retail payments," Kremer concluded.