Consumer behavior is always evolving, and the pandemic has brought about an accelerated shift to digitization, as well as high growth in the adoption of e-commerce. With this increase in online shopping, there has also been an escalation in fraudulent activity, leading to a larger number of disputes from customers who never received their purchases or received damaged or incorrect items.
Customers have come to expect above average service from their credit unions, and disputes management is no exception. When a consumer suspects fraud or wants to dispute a merchant transaction, they want that dispute handled quickly and seamlessly, with a timely resolution to the problem.
To further discuss how PSCU plans to optimize and streamline the disputes management process to meet and exceed consumers' expectations, PaymentsJournal sat down with Jack Lynch, Chief Risk Officer, PSCU and President, CU Recovery & The Loan Service Center, and Raymond Pucci, Director of Merchant Services at Mercator Advisory Group.
PaymentsJournal
There's No Disputing It: PSCU's New Initiative Will Create a Better Disputes Management Experience for Credit Unions and Their Members
Disputes management trends
Mercator Advisory Group's primary data service and analytics took a look at the disputes management trends over the past few years: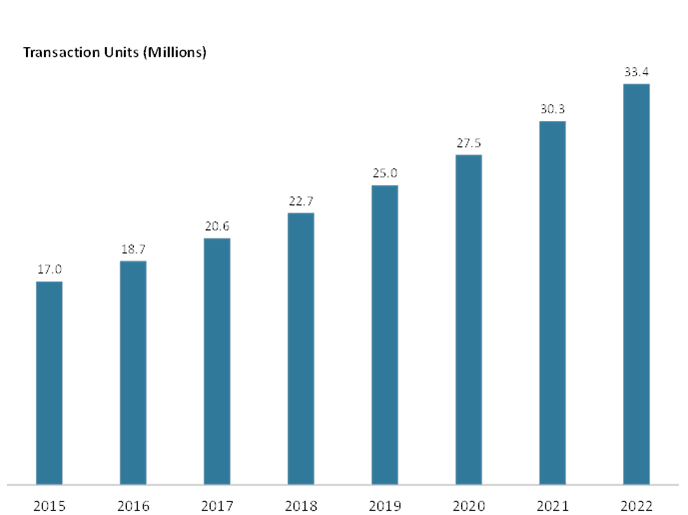 The chart above shows that credit card disputes have significantly increased with the rise of e-commerce. Raymond Pucci projects a 50% increase from 2018 to 2022. "There's going to continue to be a rise in disputes simply by the sheer volume of online transactions," said Pucci. Particularly in today's climate, consumers are going to want to see immediate action taken by their financial service providers to resolve their disputes.
"This increase becomes even more dramatic when you include debit in the process," added Lynch. There's been a dramatic increase in debit usage in the e-commerce space, in part due to COVID-19. The volume of disputes has carried the upward trend from the 2020 holidays into the first quarter of 2021 and show no signs of trending downward.
What's driving up disputes volume?
The pandemic has changed the game in more ways than one. The need for a more e-commerce friendly environment has accelerated the adoption of online shopping this past year. In addition to the expected fraudulent disputes, there was an uptick in non-fraud disputes. But what exactly does a non-fraudulent dispute look like?
During the height of COVID-19, when delivery services were still developing their abilities to handle the volume of orders they were receiving, customers would sometimes begin to lose their patience due to shipping delays. These delays were often the result of a combination of factors, including reduced staffing, temporary closures, and increased online transactions, amongst other shipping issues. The long wait led some consumers to dispute the charges from their orders. Other consumers purchased products that never showed up.
Additionally, there were massive travel cancellations, with customers demanding deposit refunds for previously booked trips. "They were really taxing the system, demanding their credit unions to actually refund the money when other people were holding [it] back from them," explained Lynch.
Lastly, chargeback fraud, or "friendly fraud," rates also continue to increase. This happens when the purchase made was valid, but the consumer changes their mind or can no longer afford the cost of the product and uses the dispute process to seek returned funds. Other times, they may have forgotten that they made the purchase, or another member of the household bought something and didn't tell the primary cardholder. "All these factors together, beyond the e-commerce piece of this, have really driven disputes to the highest levels we've ever seen," added Lynch.
PSCU's Disputes Optimization Initiative
PSCU saw the upward trend of disputes management and decided to take matters into its own hands. PSCU made a multi-million-dollar investment in the entire disputes management process, with the goal of enhancing the experience for credit unions and their members.
PSCU started this particular journey by meeting with credit unions and hosting brainstorming sessions. "The goal was to address and identify what credit unions and their members really wanted to see, in that experience, to find the goals for an optimized disputes management process," explained Lynch. These credit unions reported that they were looking for more real-time visibility into the case status, a place for customers to initiate disputes, and better workflow, as well as an overall faster process for these disputes.
"[Credit unions] wanted that process sped up, a one-stop shop for everything related to what they were dealing with—friendly fraud, non-fraud, fraud disputes—and also [the] ability to incorporate everything into the credit union's digital experience," continued Lynch.
Over the next two years, PSCU will be partnering with two market technology organizations, Lean Industries and NICE, to create a solution with direct connections and a flexible case management system. "With that volume and cardholder confusion around disputes, we really wanted to provide the cardholder a direct line into knowledgeable, focused dispute representatives to provide updates [and] guide them through the process, as opposed to calling the help desk or general call center just to initiate a disputes process," added Lynch. With consumers expecting the fastest service possible, PSCU's main goal is to streamline the overall process.
Key benefits for CUs and their members
PSCU's Lynch believes that their credit unions don't have to wait for the Disputes Optimization initiative to be fully implemented in order to enjoy the benefits. It will be launching the new system this summer for credit unions using PSCU for non-fraud credit disputes servicing. PSCU will then continue to have ongoing releases with debit disputes, credit fraud, and many additional features over the next two years. "We know there [are] going to be more things that come up [and] more things and features that are going to be asked for."
The key benefit will be an overall improved experience for the cardholder. Credit unions will be able to access the status of cases via mobile or online platforms, and the customer will get to choose their means of communication, whether it be text or email. Both PSCU and their credit unions will have access to the centralized dashboard so that they can easily access data without having to run through the entire case management process. Also included in the new program is a status-tracking mechanism for credit union members. PSCU and its credit unions' members will have real-time visibility into a case status.
Lastly, PSCU is trying to avoid the disputes process altogether by reaching out to merchants to provide credits back. "In many cases, based on workflow, these will be automated as well," said Lynch. "And this is going to result in millions of dollars in credits back to the cardholder, increasing their satisfaction immediately, and eliminating our credit unions [having] to go through the disputes process as well as our cardholders." This new initiative is expected to bring value to credit unions, as partners in finance with their members.