Inflation creates risk in the credit card business. The typical U.S. household, with a median income of $68,521, must juggle the budget to cover household expenses and their long-range savings plan. And while many social programs ensure that people have sufficient food on the table throughout the year, one common thread is the right to a turkey dinner, which is as American as apple pie. The National Turkey Foundation, whose website is www.EatTurkey.Org, projects that 88% of Americans say they eat turkey on Thanksgiving. Fortunately, turkeys typically sell as loss leaders, where retailers lose money on the turkeys but make up for their margins with pies, gravy, and potatoes.
To take this turkey-talk one step deeper, let's look at a recently published industry report by Wells Fargo. Yes, turkeys are serious business. According to Wells and the U.S. Department of Agriculture, the weighted average for a turkey just exceeded $1.40 a pound at wholesale prices. Same time, last year, the wholesale price was $1.12, and the five-year average was $1.00. Detailed below is an illustration.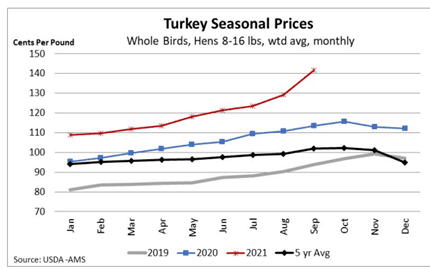 Inflation is a significant driver, but so is turkey production. The 2021 turkey product expectation is 5.51 billion pounds; in 2017, the metric was 5.9 million. So you have the classic market storm. First, prices are up because production is low, and demand is constant. Now, with escalating inflation, the cost accelerates.
That's plenty of turkey talk, but let's roll this back to the household budget. One challenge credit card issuers will face next year is that rising costs will impact the consumer's ability to repay. Back in April 2021, the White House published an article that minimized the risk of inflation, but a few weeks later, the Washington Post noted:
Inflation at the wholesale level climbed 8.3 percent last month from August 2020; the Labor Department reported Friday, the biggest annual gain since the department started calculating the number in 2010.

Those prices are passed on to consumers: Meat, poultry, fish, and eggs are up 5.9 percent over last year and up 15.7 percent from prices in August 2019, before the pandemic.
According to the USDA, consumers spend 8.6% of their disposable income on food: 5% on food at home, and 3.6% on food away from home. The food at home expense line has been steadily declining since 1960 when the metric was 14%. At the same time, the average home spent 3.27% of their income on vehicle fuel, and prices are up over last year by more than $1.00. In addition, rents and mortgages are not getting cheaper, so when it comes time to pay your monthly American Express, Discover, Mastercard, and Visa bills, you will probably pay less.
Note that credit card issuers have an opportunity since more credit will revolve. U.S. consumer revolving debt is now over $1 trillion, and the average interest rate charged is 14.54%. While the increased revenue creates opportunity, top credit card companies like Bank of America, Capital One, Citi, Chase, and Wells do not want to rely on more credit card revolvers because it is a risk indicator. Rising revolving debt indicates that households cannot extinguish their debts quickly.
Back to turkeys, now. The price increase for turkeys indicates increased stress on the household budget. It means there will be less money left in the consumer budget to pay for credit card bills. So, enjoy your turkey, but credit card issuers must watch for increases in their record-low loss rates.
And, one happy thought. This year, the White House released a video of Peanut Butter and Jelly on Twitter, the two turkeys that President Biden will pardon today. So, for them, at least, next year will be rosier.
Overview by Brian Riley, Director, Credit Advisory Service at Mercator Advisory Group