It's not news to anyone that the global pandemic has changed the way we live. Restaurants have limited capacity seating, holiday events have been cancelled, and buyers are opting for online rather than in-store purchases.
In the era of the "new normal," more and more consumers are implementing contactless payment methods into their daily spending routines. With the assistance of new data from the annual Eye on Payments Study conducted by PSCU, PaymentsJournal sat down with Tom Pierce, Chief Marketing Officer at PSCU, Norm Patrick, VP of Advisors Plus Consulting at PSCU, and Ted Iacobuzio, VP and Managing Director of Research at Mercator Advisory Group, to discuss some of the purchasing trends emerging in the wake of a COVID-19 altered reality.
An increase in online shopping
Unsurprisingly, respondents in this year's installment of the Eye on Payments Study showed an increase in shopping online. According to the data, the number of survey respondents who said they shopped online a few times a week increased by nearly 50%, as reflected in the chart below.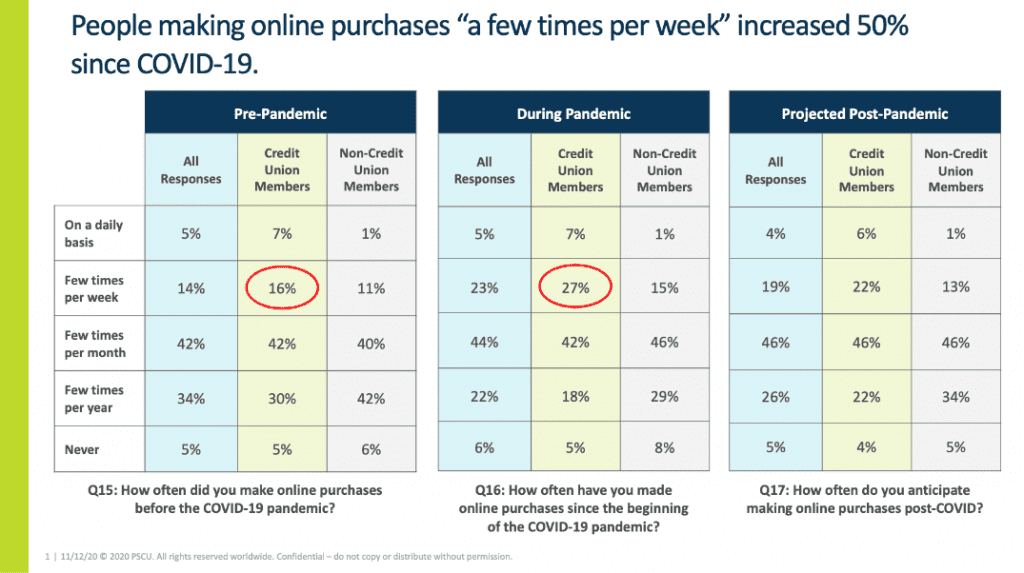 "One of the more pronounced changes," said Patrick, "has been with credit union members who make online purchases at least a few times a week, which is up nearly 50% since pre-pandemic." And this doesn't just go for the younger generations, but throughout all various generational segments as well.
Twenty-two percent of credit union (CU) members said they will continue this purchasing behavior post-pandemic. "I will watch that [trend] very closely," remarked Iacobuzio. It is important for CUs and other FIs to understand which behavioral changes are temporary and which will remain once the economy has weathered the COVID storm.
CU members and contactless payments
One clear piece of evidence that can be taken away from the study is that there has been significant interest and growth in regards to contactless card usage. From 2019 to 2020, the percentage of credit union members with access to a contactless card has nearly doubled.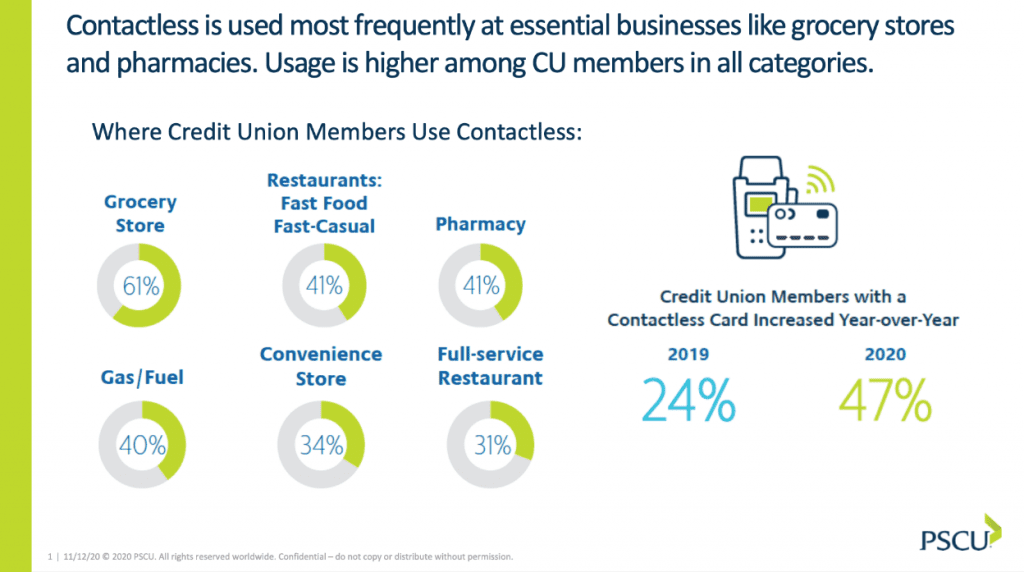 As consumers seek out "clean" forms of payment that limit or eliminate human contact, there has been a 72% year-over-year increase in survey respondents who report having a contactless card. "They're projecting, even after the pandemic, that 69% [of survey respondents] will be using contactless cards on a regular basis," said Pierce.
Unsurprisingly, the majority of respondents reported that they used their contactless card most frequently at essential businesses, with grocery stores coming in at the highest frequency rate (61%), followed by fast food/casual restaurants and pharmacy (41% each), which are closely trailed by gas/fuel (40%). Convenience stores also received a good amount of contactless payments (34%), with full-service restaurants finishing off the list (31%).
"As more and more of these retailers start to provide access to contactless cards at the point of sale, you can see that consumers are going to be more actively choosing this really clean form of payment behavior," said Pierce. "But it's not just on contactless, there's clearly opportunities on the mobile payment side as well."
Opting for the safest choice
Driven by fears of contracting COVID-19, most consumers choose to err on the side of caution. "Food pick-up or delivery being ordered through a mobile device has gone up 50% during the pandemic period," said Pierce. "Seventy percent of respondents say they make decisions about how to pay primarily based on what is the most physically safe type of opportunity at the point of sale."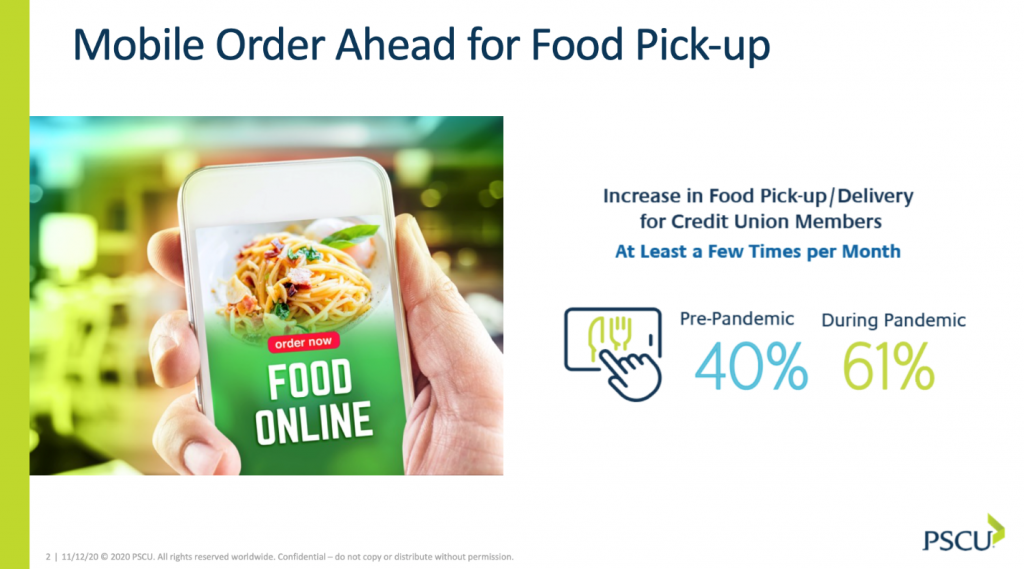 It is clear that COVID has had a significant impact on what consumers are choosing in terms of their purchasing behavior and payment options. Most respondents indicated that they expect to continue using these channels post-pandemic.
More CU members use a mobile wallet
Along with the increased usage of contactless payments, there is also an uptick in consumers who use mobile wallets and digital banking. "Looking back to 2019, 32% of our respondents had stated they were likely or extremely likely to use a mobile wallet in the next six months," said Patrick. "And in our 2020 study that increased to 38%, lift[ing] [mobile wallet usage] about eight percentage points year over year."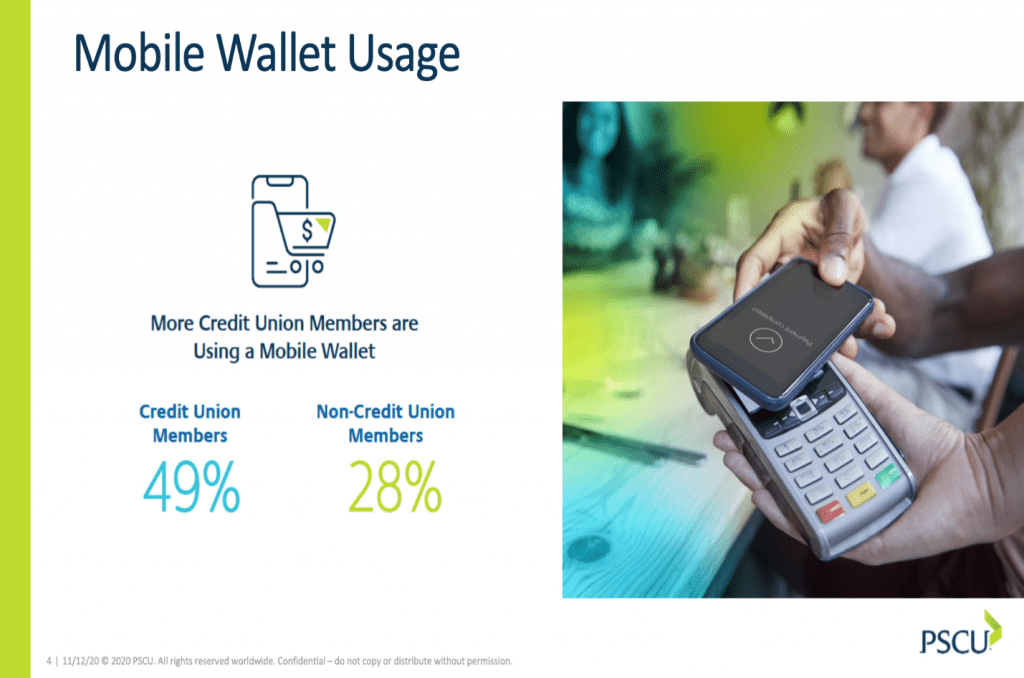 When comparing CUs to non-CUs, there is a noticeable gap between consumers who are using a mobile wallet. Forty-nine percent of survey participants that belong to a CU reported using a mobile wallet, while the non-CU participants came in at only 28%.
"Mobile banking also continues to trend up," continued Patrick. "We're seeing that respondents who either make payments or do their banking by a mobile device were up three percentage points year-over-year." While debit remains the preferred method of payment (41%), 35% of participants stated that they prefer using credit, reminding CUs that traditional payment methods are still very important to consumers.
Payments through generations
Across generations, it is not uncommon to find differences in payment preferences. According to the study, the Boomer generation has seen the least change in their payment preferences since COVID-19 began. Before the pandemic, 48% said they shopped online at least a few times per month, and that number has risen by 27% during COVID-19.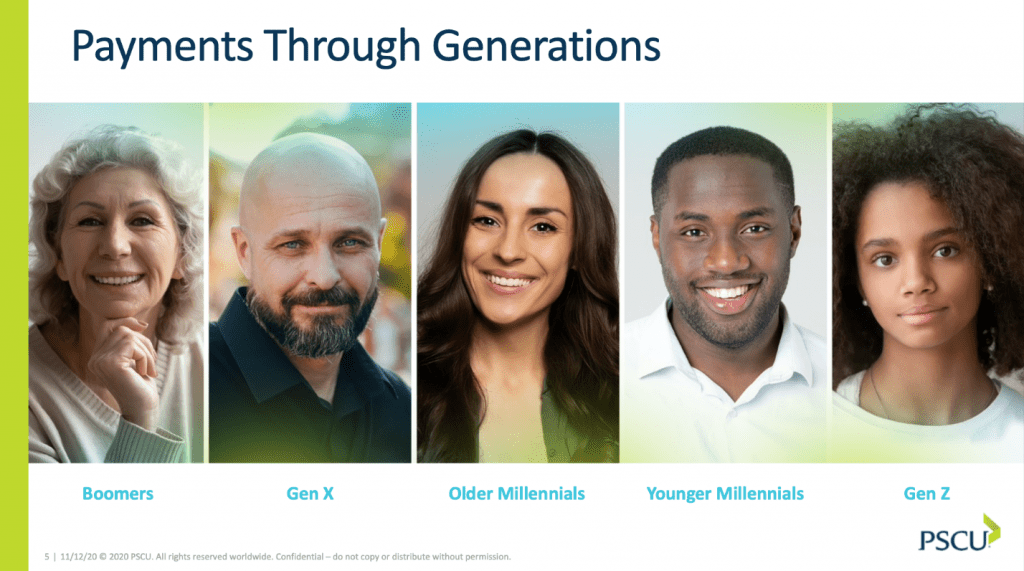 Gen X and "older Millennials" still have a preference for debit card use, but their interest in credit cards as payment methods has grown notably. Prior to the pandemic, 62% of Gen X respondents used contactless cards at least a few times a month, as opposed to the 74% reporting now, with that number expected to continue to steadily increase.
"Older Millennials" continue to be avid online shoppers, with the pandemic increasing the frequency of online purchases. Thirty-seven percent reported shopping online at least a few times a week prior to the pandemic, with that number increasing to 45% as a direct result of COVID-19. "They, like their younger counterparts, tend to make payments or do mobile banking on their mobile phones," remarked Patrick.
Millennials in their mid-to-late 20s and early 30s are a mobile-savvy generation and openly embrace new technologies. This generation, as their predecessors, still lean toward debit as their primary form of payment, but they do show a higher interest in mobile wallet technology. Six percent of younger Millennials even cited their mobile wallet technology as their preferred payment method.
Gen Z, the youngest generation of adult consumers, indicates a strong preference for debit. In fact, they are the demographic that most prefers debit cards, with 44% of respondents from 18-22 choosing their debit card as their preferred method of payment, up from 39% in 2019.
This generation also reported strong contactless card usage prior to COVID-19, which has only increased since the pandemic hit. Seventy-four percent report using their contactless card at least a few times a week since the start of COVID-19. "The Gen Z group has been the most impacted from a lifestyle perspective here, reporting the most negative financial effects from COVID-19 relative to a loss of job, income or health care coverage," added Pierce.
Takeaways
While most CUs managed to adapt to the COVID-19 lifestyle, they must now be looking ahead at a post-pandemic world. Within the "new normal," some consumers may never want to step into a branch again, while others may prefer to return to the in-person style of banking. It's important for CUs to make sure all channels are working together seamlessly, so that each consumer has a personalized experience that meets the expectations of every individual.
To keep customers satisfied, CUs must keep pace with member demand for new technology and compete with other FIs. They must keep innovating the digital space, especially as AI and biometrics advance. CUs must be careful to gauge what their customers want and expect, rather than innovating for the sake of it.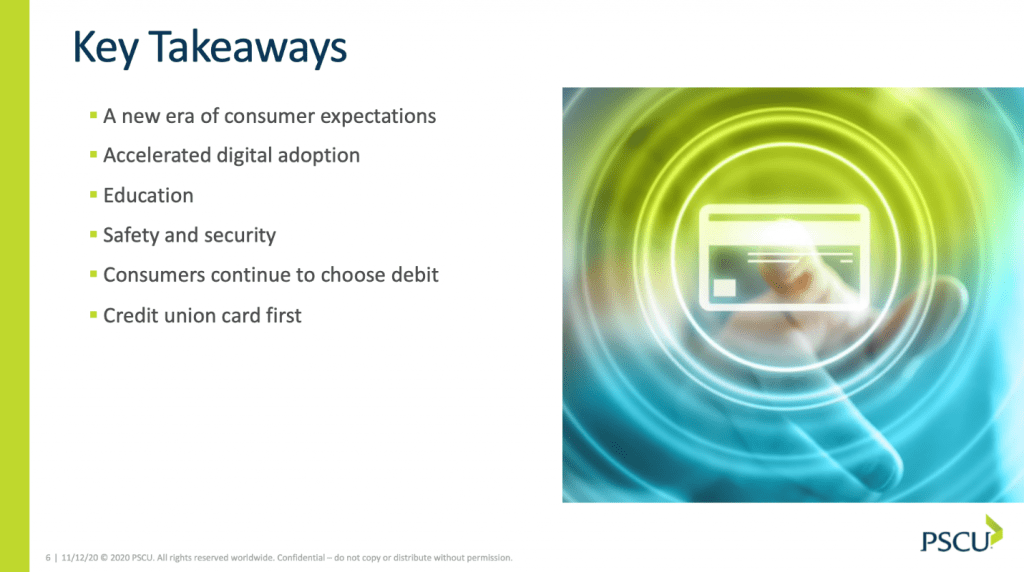 And with these new technologies, "it's really the role of the credit unions to help make members more comfortable with a lot of these new emerging payment forms," remarked Pierce. CUs have a responsibility to educate their members about fraudulent events, emerging technologies, and more. With many people reporting they do not feel safe using contactless cards or mobile wallets, CUs must continue to focus on safety and security features while simultaneously meeting consumer demands and expectations.
Debit remains the first preferred payment method amongst those surveyed, even during the height of the pandemic. It is used most for everyday shopping—groceries, restaurants, retailers—while credit cards continue to be most popular for larger purchases.
Lastly, CUs need to push their members to choose their CU-issued card across all channels, whether in mobile apps, online, or in stores. "The notion of safety and security is key," added Iacobuzio. "But I'd like to add a third aspect, and that's trust." Once a user stores a card in their digital channel, it is likely they will keep it as a preferred payment method, and member trust in a CU is what will ultimately push the industry forward.