The financial landscape is always transforming. And while big banks are still a good option for consumers seeking some extra cash, they are not necessarily a one-size-fits-all solution. More and more borrowers are looking into alternative financing to fulfill their financial needs.
According to "Waterfall Lending: An Emerging Trend in Alternative financing"—a white paper created by Mercator Advisory Group, in collaboration with Mastercard—6% of households in the U.S. have no connection to a bank, and 16% are classified as "underbanked." These consumers are left looking for alternative financing options. Additionally, 32% of credit cardholders revolve monthly and prefer to keep their credit line open, while 21% of consumers worry that their credit card application will not be approved.
As the demand for financing options increases, the ever-evolving economy must adapt to the needs of the consumers. Alternative financing is a good way to address these new demands because it offers flexibility to borrowers who are seeking different options.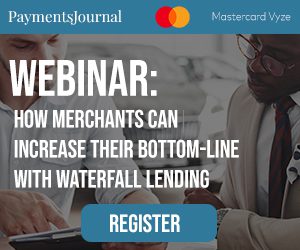 More lenders, more buyers, more sales
Alternative lenders usually offer repayment options as installments, or set monthly payments, which consumers use in multiple formats to meet their budgeting needs. For example, a furniture company may allow a consumer to finance a sofa and pay off its value over a 12 month period of time. By financing the purchase this way, borrowers do not need to add large expenses to their household line of credit.
If the customer has a positive borrowing experience, the likelihood of repeat business increases, resulting in more sales. The best model for alternative lending happens in real time, quickly and efficiently, either face-to-face in a retail environment, or online through a digital channel. By offering these flexible financing options paired with a great customer experience, retailers will be able to cast a wider net to broaden their base, providing options that are right for every consumer, not just those with payment cards. For further success:
The prospective buyer should not need to wait long.
The process should be seamless—no hiccups in the transaction.
The experience should leave the borrower feeling confident in the retailer's ability to assist in closing the sale.
Technology as a solution for alternative finance
The technology required for alternative lending differs from what is used to process traditional, payment based cards. While the two forms of lending are similar in that they must integrate into the retailer's sales platform or transaction management process, alternative lending does not require an instant authorization.
This does not mean that alternative lending requires the borrower to wait a longer period of time for a decision; on the contrary, the transaction must be efficient to ensure a smooth and timely checkout, whether online or in-person. The best and most successful model occurs in real time.
Real-time decisions are made possible by using a multiple set of lenders to increase approval odds. This multi-lender model is referred to as waterfalling.
Increased approval odds with waterfall lending
For retailers and consumers, the waterfall lending process occurs in the background. A consumer fills out a single application and it is presented to a variety of lenders to increase the odds of loan approval. The borrower's application is usually sent to traditional and alternative lenders to increase the odds of finding a match most suitable for the consumer's needs. Each lending partner makes an independent decision about the application. The application is not sent out to lenders simultaneously. Rather, it takes a specific path beginning with an individual lender. If that lender approves the application, the process stops; if they decline, the workflow continues on to a second lender, with the process repeating until there is either an approval or an exhaustion of potential matches.
Helping merchants offer alternative lending
Merchants interested in offering waterfall lending should consider partnering with a third party specializing in that form of alternative lending. Mastercard, for example, empowers retailers to attract and retain consumers with best fit financing through Mastercard Vyze.
The solution connects lenders and merchants for a buying experience that leaves consumers feeling assured and in control when checking out. Vyze uses the waterfall method to decrease lender risk for the merchant and increase approval rates.
To learn more about alternative lending, the process of waterfall lending, and why waterfall lending should be an integral part of retailer's lending strategy, consider reading Mastercard's whitepaper, "Waterfall Lending: An Emerging Trend in Alternative financing."