Podcast: Play in new window | Download
The economy is in a precarious situation due to the pandemic. As COVID-19 continues to spread, some industries—including live events and tourism—remain mostly on pause, forcing millions of people out of work and depriving communities of essential revenue streams.
Even the companies that have been able to reopen must frequently do so with reduced staff, limited customer capacity, and a range of other measures that protect public health but restrict economic growth.
When the pandemic first began, the government was able to avert immediate economic disaster through a series of aggressive stimulus packages with trillion-dollar price tags. This money was used to make grants and loans to struggling businesses and industries, send direct payments to qualifying Americans, and beef up unemployment benefits.
However, the government interventions had limits. The beefed-up unemployment benefits expired, the loans and grants did not fully meet the needs of struggling businesses, and many individuals have already spent their direct payment money. Congress remains divided over how to best address these issues, making a new stimulus package uncertain.
As of September, unemployment levels remained at 7.9%, more than double the unemployment rate from the same time last year. All of these economic challenges mean that many Americans are out of work without a steady stream of income—and will be for the foreseeable future. That means that in the coming months, many Americans will struggle to pay their bills, including their credit card bills.
To understand how these bleak economic conditions impact delinquencies and how credit unions should respond, PaymentsJournal sat down with Bryan Moffitt, Vice President of Business Development at PSCU's CU Recovery, Inc. & The Loan Service Center, Inc., and Brian Riley, Director of Credit Advisory Service at Mercator Advisory Group.
PaymentsJournal
The Delinquencies Are Coming! The Delinquencies Are Coming! Here's What Credit Unions Should Do about Them
Delinquencies & the profitability of any financial institution
Delinquencies occur when a customer is unable or unwilling to pay their credit card bill. If months pass and the bill remains unpaid, the creditor will eventually have to write-off the amount, meaning it's not just the consumer that is adversely impacted.
"Delinquencies play a very important role in the profitability of a financial institution because as delinquencies happen, you lose income," explained Riley. This happens because an increase in delinquencies represents an increase in credit risk.
"And with that credit risk, of course, comes write-offs," said Riley, adding "and with the write-offs, [financial institutions] have to have a strategic plan on what to do with these volumes, so that [they] can offset the net charge of freight on a financial institution."
Therefore, for credit unions, the current economic conditions are worth thinking about.
The link between unemployment and delinquencies
"When you look at the history involved, going back to the Great Recession, there's a really close alignment between unemployment and credit losses," said Riley. This intuitively makes sense because when people are struggling to make ends meet, they prioritize putting food on the table and paying for housing rather than making credit card payments.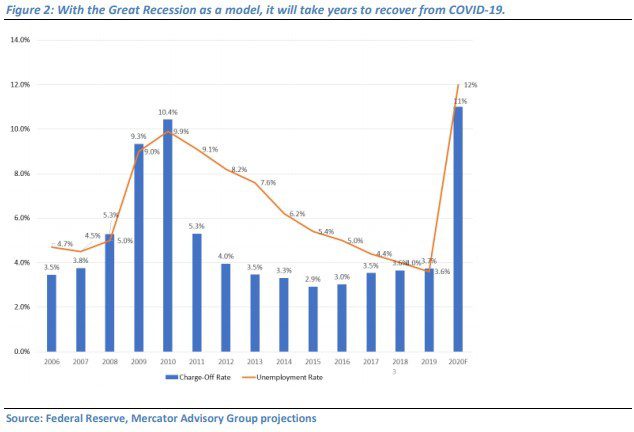 Since unemployment has shot up, many analysts are forecasting a corresponding surge in missed credit card payments. "Right now, we're trying to figure out when that spike is going to happen," said Moffitt.
PSCU has been monitoring the pandemic's economic impact on delinquencies and the results so far have been surprising. "Despite expectations that delinquencies would be increasing, rates have actually been declining," Moffitt noted.
However, both Moffitt and Riley agree the decrease is only temporary; the expected surge has only been delayed. Credit card companies and financial institutions have been very accommodating to cardholders by extending payment deadlines and offering deferments. In addition, many consumers were able to use the improved unemployment benefits and stimulus checks to make credit card payments.
With these unemployment benefits having lapsed and no new stimulus payment likely, delinquencies will surely surge. As Moffitt succinctly put it: "We know it's going to spike."
Credit unions should focus on the member experience
Even though delinquencies have yet to climb, credit unions should begin bracing themselves. Instead of viewing collections as simply a numbers game—where it's all about calling as many delinquent customers as possible, as has historically been the case—the member experience should be front and center.
Most people actually want to pay off their debts but cannot because of serious financial difficulty, whether its illness or joblessness due to COVID. Given this, credit unions should focus on "helping the member through the storm," said Moffitt.
During the collections call, credit unions should be compassionate and empathetic. They are encouraged to spend more time on each call to find out why the customer hasn't paid their bills and help develop an appropriate solution. If done right, the interaction between the collector and the member is "a key touch point where you can actually build loyalty back to the credit union," said Moffitt.
Such an approach is in line with the historic relationship between credit unions and their members. As Riley explained, "The credit union member is an owner and a shareholder. And there's a whole perspective historically in the credit union business of having that closer relationship to the member." A member-based approach is also just more effective, as Mercator Advisory Group noted in a recent report.
Consider outsourcing collections for the best results
More delinquencies mean that credit unions will need more skilled employees to handle collections. But this is easier said than done. "It's hard to find good, qualified collectors that have the mentality of helping people," explained Moffitt.
Therefore, to best confront the upcoming increase in delinquencies, credit unions should strongly consider partnering with a third-party company to handle collections. PSCU, for example, provides expert collections staff for credit unions, drawing from its decades of expertise in the credit industry.
No matter what third party a credit union ultimately selects, the key is to act fast. "If we wait until delinquency is here, it's too late," concluded Moffitt, adding that "it'll be very difficult to play catch-up as the delinquency snowball rolls downhill."